This is the scene: My diminutive, white-haired, almost-70 mother walking through a hotel parking lot in San Diego one morning in a purple satin kimono with ostrich feather trim over boxer shorts and a t-shirt that says, "Put on your big girl panties and deal with it!" Plus red cowboy boots and a red cowboy hat.
Add several other "older" ladies dressed equally outrageously. Off to one side, a group of French tourists stunned and gawking at the show, taking pictures like paparazzi. When my mom and her friends saw they were on Candid Camera, they stopped to pose. You don't see this kind of thing in France. French ladies tend not to make spectacles of themselves. (Poor dignified creatures don't know what they're missing.)
These women are members of The Red Hat Society, of course. Are you cringing? Embarrassed for them? Sorry for them? Well, cut it out.
At a certain point in their lives, women can start to feel invisible. I've experienced it myself. My closest girlfriend and I (both of us 50) have noticed that when we're casually dressed and not made-up, we'll often be acknowledged by waitstaff or sales clerks after younger people or men (of any age), even if we arrived before they did. Women of a certain age can begin to lose confidence in themselves  -- particularly in societies that prize youthful beauty. They can lose their sense of purpose after the kids leave, or after they stop working. They can feel rudderless after divorce or widowhood or other major upheaval.
The Red Hat Society puts older women back on the radar and helps them get their groove back. That said, the organization is open to women of all ages. You just have to wear a pink hat/lavender dress combo till you're 50, at which point you can graduate to red and purple.
That particular morning in San Diego, my mom and the ladies of her Red Hat Society chapter were on their way to join hundreds of others in the hotel's huge dining room for a Pajama Breakfast, one of many events that draw Red (and Pink!) Hatters from cities far and wide. She's also attended Valentine's Day "Sweetheartless" Balls (no boys allowed), taken annual trips to Laughlin, Nevada (see the video below), and had high tea on the Queen Mary.
When she went on a three-day cruise to Ensenada with one of her chapters (she belongs to two), some bikers outside the restaurant where they had lunch invited them to take pictures of each other sitting on their vintage Harleys. Which of course they did.
These are girls who really want to have fun. And that's what the Red Hat Society is all about. I take both that mission and the organization itself very seriously. So does this Penn State study.  
In the late 90s, my mother was forced to retire early after a mild stroke. She had to move to a retirement community near my brother's home, leaving behind her friends, colleagues, the condo she'd bought in the city where she'd lived half her life -- everything familiar and cherished. She could no longer drive. She had a hard time cooking for herself. It was a brutal lifestyle change. The Red Hat Society helped her adjust and move forward. It helped her circumvent despair.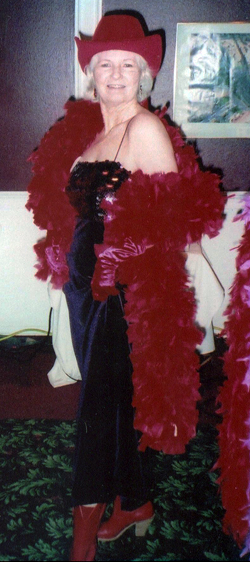 Fortunately, her mild disability doesn't keep her from being completely independent and active, but last summer, she ran into another bump in the road. Cancer and months of chemo. She stopped socializing, including all her Red Hat activities (except each chapter's Christmas party), though she never did stop shopping for purple and red stuff, which kept me reassured.
The Red Hats offer my mother not only companionship and fun, but also a significant creative outlet. You should see the outfits she concocts! I always had the best Halloween costumes. She would spend hours digging through remnant bins, scouring thrift stores, bent over her sewing machine to create them for me. Now she gets to be her own dress-up doll and go out for treats.
I knew she was finally back on track after her cancer treatment when, just a few weeks ago, she told me she was going to start getting together with her Red Hat friends again.
Maybe you think you (or your mom, or sister, or aunt...) are not cut out for this kind of thing, but there's a great deal of flexibility in Red Hat activities. Some chapters choose to focus on high culture, others on charitable projects, others on lunching or movie-going. It can be what you want it to be. And it can do you or someone you love a lot of good.
This year I turned 50, which means I'm eligible to wear a red hat. But I don't think I'll join the Red Hats quite yet. For one thing, there are no chapters in Paris (although I could start one if I wanted to, or join as a supporting member and have access to the online social network). I'm not ruling it out for the future, however, even though it'll scandalize the Parisians. Maybe I'll start sporting a red beret in preparation. I already have red cowboy boots to match...
(Photo used with Mom's permission!)