The same traditional Thanksgiving foods that are good for our insides are also good for our outsides. Pumpkins are rich with nourishing omega-3 and omega-6 fatty acids, cranberries are an excellent source of anti-aging nutrients and antioxidants, and ginger's antiseptic properties help detoxify skin. All with the added bonus of being 100% natural. Some seasonal favorites: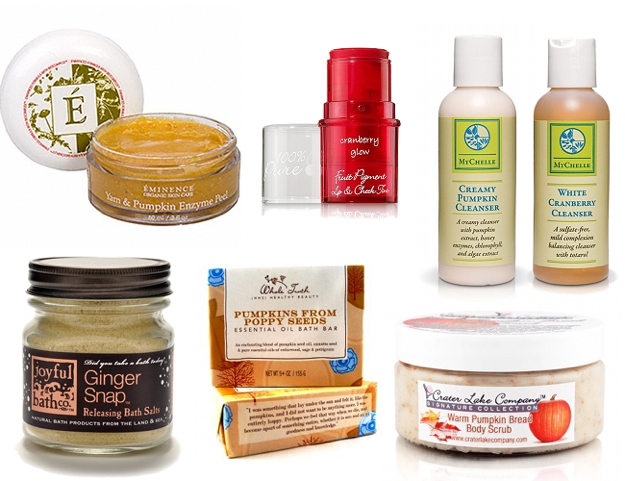 Clockwise, from top left:
Éminence Yam and Pumpkin Enzyme Peel: Using this product feels a lot like smearing sweet potatoes on the face -- that is, until the tingling sets in. That's the glycolic acid working, which combined with the natural plant enzymes of the yam and pumpkin extracts helps exfoliate the complexion, stimulate collagen, and boosts cell turnover. $46 at DermStore.com.
100% Pure Cranberry Glow Lip & Cheek Tint: This rosy red blush and lip color is pigmented with cranberry and other fruit extracts, blended into a base of grapeseed, shea butter and vitamins C and E. The all-natural ingredients help create a natural look for the face. $15 at BathAndBodyWorks.com.
MyChelle Dermaceuticals Creamy Pumpkin Cleanser & White Cranberry Cleanser: The perfect antidote for winter skin blahs. The cream cleanser contains vitamin-rich pumpkin extract to fortify sensitive skin and cinnamon to sooth irritation. For dull, blemish-prone complexions, the cranberry cleanser employs antibacterial cranberry juice to nourish the skin while potato extract exfoliates. $9.69 each at Mychelle.com.
Crater Lake Company Warm Pumpkin Bread Body Scrub: Pumpkin oil, cane sugar and a sprinkling of pumpkin flakes moisturize and polish the skin in one step. And the stuff smells so delicious, it'll make your mouth water. $20 at CraterLakeCompany.com.

Whole Truth Solutions Pumpkins From Poppy Seeds Soap: This all natural, handmade cleansing bar contains certified organic seed oil and cocoa butter to nourish and moisturize, while organic poppy seeds gently exfoliate. Sage and Cedarwood Oils add astringent properties and calming aromatherapy. It comes beautifully wrapped in 100% recycled materials. $4.90 at WholeTruthSolutions.com.
Joyful Bath Co. Ginger Snap Releasing Bath Salts: A therapeutic mineral bath made with ginger to detoxify, ease muscle aches, and stimulate circulation. Other all-natural ingredients include moisturizing coconut milk and a medley of Mediterranean, Dead Sea and Epsom salts. $16.50 for a 9 oz. jar at JoyfulBathCo.com.