In this economic climate, the only part of me that's allowed a new Fall wardrobe is my fingertips. What my hands will be wearing this season:
Glam camo
I am in love with these military-inspired shades of khaki, camel and moss. And from the looks of things on the runways, so is damn near every designer on the planet.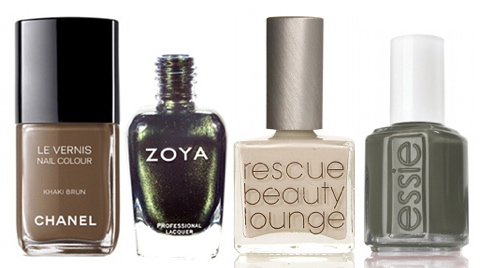 From left: 1. Khaki Brun by Chanel, a muddy brown creme that premiered at New York Fashion Week. 2. Edyta by Zoya, a forest green sparkling with gold, olive and grey glitter. 3. Jane by Rescue Beauty Lounge, a pale beige with subtle pink and gold shimmer. 4. Sew Psyched, an olive drab creme by Essie.
Deep purple
Purple cosmetics are a huge hit this season -- but on the face these shades make me look like a zombie prostitute. Purple on the nails is infinitely more wearable.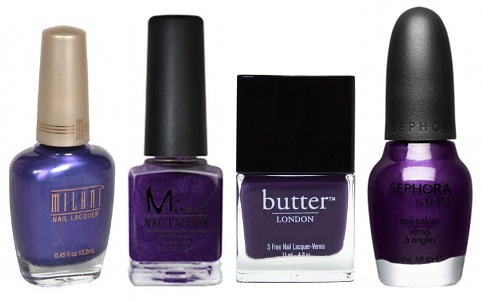 1. Purple Passion by Milani, a violet frost. 2. Spinning Out of Control a deep blurple by Misa. 3. Marrow, a dusty plum by Butter London. 4. Just a Little Dangerous from Sephora by OPI, a bold purple loaded with bright pink shimmer.
Red, red, and more red
Red nails are always in style, but this season's shades are especially rich, velvety and vibrant -- as good an excuse as any to buy several new bottles of polish.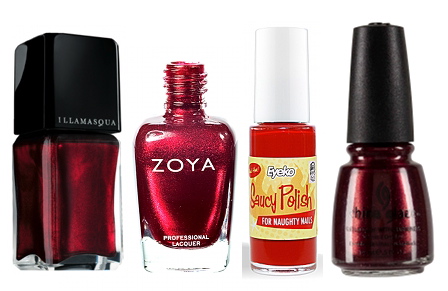 1. Scarab is a dark ruby by Illamasqua. 2. Karina by Zoya is a glittery crimson red. 3. Saucy Polish by Brit brand Eyeko is a deeply pigmented red creme. Opaque in one coat! 4. Riveter Rouge by China Glaze, from the Vintage Vixen collection. It's a shimmery rust red with fine silver glitter.
Nail Noir
Deep, inky, and nearly black -- the perfect antidote to summer's neons.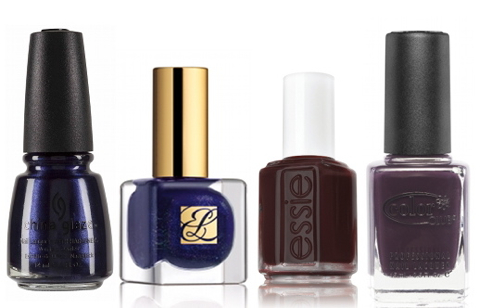 1. First Class Ticket by China Glaze, a dark purple with blue shimmer. 2. Blue Dahlia is a blackish blue creme, much darker than the image shows. From Estée Lauder. 3. Little Brown Dress by Essie, a deep espresso brown. A classic Fall color. 4. Ready to Royal by Color Club, a vampy eggplant creme.

Click to images to see how the polish looks on the nails! Khaki Brun not pictured.