August is truly the cruelest month, especially when your face is melting off. These products can stand up to the heat, the sweat, the steamy sex -- whatever you have scheduled.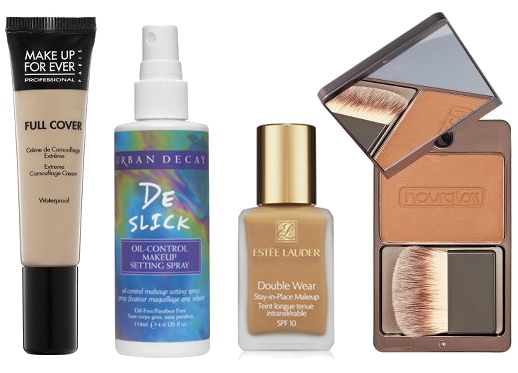 From left:
Make Up For Ever Full Cover Concealer is highly pigmented to cover imperfections, and does its job even underwater. • Urban Decay Makeup Setting Sprays use nanotechnology to keep your makeup frozen in time. Which sounds like something out of Star Trek, and even weirder, it works. • Estée Lauder Double Wear Foundation provides a lightweight matte finish and an SPF 10 sunscreen for sunny days. • Hourglass Superficial Waterproof Bronzer applies like any lightweight powder bronzer, gives the same beachy glow, but doesn't cake or melt off like its lesser cousins.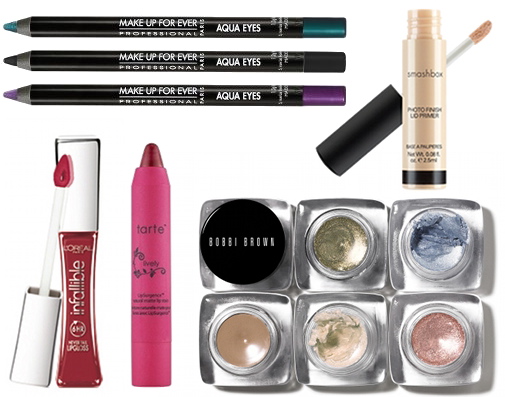 Clockwise from left:
Make Up For Ever Aqua Eyes Pencil comes in Fuschia, Turquoise, Lime Green - all the brightest Summer colors, and is remarkably water-resistant. • Smashbox Photo Finish Lid Primer keeps pigments in place and is available in both neutral and shimmering gold shades. • Bobbi Brown Long-Wear Cream Shadows stay on all damn day and well into the night without creasing or smearing. • Tarte's LipSurgence Natural Lip Stain is a lightweight alternative to the long-wearing lipsticks that can cake and feel dry. To keep your stained lips glossy, coat with L'Oréal Infallible Never Fail Lipgloss. Lipcolor will last through your 7th Margarita, even if the rest of you doesn't.
And something to keep in mind with long lasting makeup formulas -- you have a limited amount of time to smudge and blend. Once the product sets, it's staying put, mistakes and all.