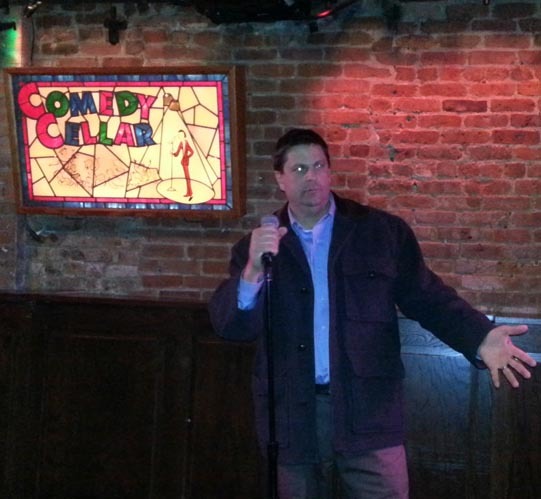 I'm 48 years old, poor, fat, and angry and I have little hope that my life will improve anytime soon. I have a victim mentality, I'm a chronic complainer and I have a tendency to blame everyone else for my problems. I've gotten and lost countless jobs and started and lost just as many businesses. In short, I am your typical white, suburban, middle-class, American family man... and that's why I decided to try stand-up comedy.
For me, there was only one road left to travel, one shot left to take, one last Hail Mary pass to throw: If I am ever going to make anything out of this miserable existence of mine, then the time is now, dammit! Sure, comedy is not the best career choice, but I'm too old to enter nursing school, and as far as I know, the Yankees aren't looking for a 48-year-old fat guy to play the outfield, and even if they were, I threw out my arm when I was in little league.
The first question is: Where do I start? So I Google "stand-up comedy classes NYC" and find no shortage of comedy hucksters offering their own special brand of funny training. After some investigation I settled on Rick Crom's Comedy Class offered at the Comedy Cellar in Greenwich Village. The deal seemed good: six classes and then a graduation showcase performance at the world-famous Comedy Cellar.
After working hard all day trying to sell people shit they don't need so I can feed my family, I showed up for the first class on a chilly October night. There were about a dozen students in attendance, and I was clearly the oldest. This got me thinking, "What kind of a loser starts taking stand-up comedy classes at 48 years old?" But whatever, I paid the money, so I'm, stayin'.
The class was made up mostly of unhappy-looking young professionals and recent college grads. The teacher, Rick Crom, introduced himself, talked about his comedy bona fides (of which there are many) and then gave us a lesson on types of comedy, types of jokes, etc. We watched video of great comics and discussed what made them great, and then we were given our assignment: Go home and write jokes and bring them back next week for review.
The following Tuesday, I was prepared with three pages of handwritten material. When my name was called, I stood up in front of class and let them have it. I felt like a complete asswipe, I thought my material sucked (and much of it did), and I felt like quitting, which, if you know my history, wouldn't be a stretch. But Rick, in his infinite comedy wisdom, was able to mine a few nuggets from my material, and he gave me some ideas on how to improve it.
Over the next three weeks I returned with more pages of new and improved jokes. It all sounded awful to me. Moreover, my delivery was total crap. I was nervous, and I had zero timing and even less confidence. Rick let us know that with just one more class before our performance, we needed to memorize our material and get our five-minute routine down. "Holy crap!" I thought to myself. "I better get a move on!"
Determined, I went home and memorized my material -- that was key for me. I stood in front of my bathroom mirror and practiced my routine over and over again. I would recite the material as I was driving my car, taking a shower, even when I was walking the dog. By the time the final class rolled around, I stood up in front of the class and recited my material with a new sense of confidence. For the first time, it sounded like a real comedy routine. When I finished, Rick gave me a couple of final adjustments and then said, "I've got nothing else to say. That was good."
The moment of truth had finally arrived. The performance was held the following Thursday night at the Comedy Cellar's annex location at the Village Underground in New York. I had invited a few buddies to come and check me out. My wife was not in attendance; the thought of her sitting there watching me make an ass out of myself was too much to bear. When I arrived, Rick handed us the list of performers. I was last. "That sucks," I thought. "I'd rather go first and get it over with, but it is what it is."
Oddly, I wasn't very nervous; instead, I was anxious. I wanted to get up there. As I watched my fellow classmates perform one by one, some doing well, others not so much, I was getting more and more excited to get up there and do my thing. Normally, I would be scared sh#*less in this situation, but not tonight. This night, I was on a mission, and for once I was going to nail the friggin' thing.
The Moment of Truth
Rick introduced me as a "very funny guy who's been working all over town" -- and then, the next thing I knew, I was standing on that brightly lit stage, a little uncomfortable, a little scared, but ready. I steadied myself in front of the microphone, took a deep breath and uttered the first words of my routine. And with that, I was officially a comic.
Before I knew it, I was shaking Rick's hand and walking off the stage. It was the fastest 6 minutes of my life. I honestly couldn't remember all that much about my performance at the time except to say that I thought it went pretty well.
So the question is: Now what? Do I follow another pipe dream only to have it whack me upside the head when it doesn't pan out, or do I go for it? Forty-eight is old to start any career, especially a show business career. Plus, I have mouths to feed and money to save for college. I can't just walk away from my job of selling people crap they don't need. Or can I? Do I say eff it and throw up that Hail Mary pass and try to spin my 48-year-old miserable life into comedy gold? I haven't made up my mind about that yet, but I'll tell you this: I can't wait to get up there and do it again.
Just in case you're curious, you can check out my debut below (NSFW):