(Image via Planet Magazine)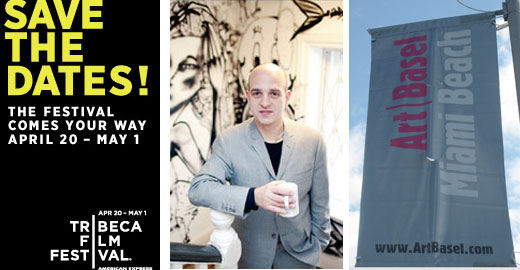 Steve Lazarides is best known for popularizing street art, most prominently as Banksy's dealer, an association that has now ended, according to an article in the Financial Times. Lazarides' advocacy of this once outre art form has made him the go-to guy for publications generally clueless about the underground culture that spawned and nurtured the indie-pop art movement. What's most revelatory in this article, which largely rehashes Lazarides role in the "gold rush" that ensued as the prices for once-ignored work grew higher and higher, is the revelation of what FT calls his "most audacious move" yet: that Lazarides intends to take on Miami Art Basel by organizing a mega event in association with Live Nation and the Tribeca Film Festival.
Lazarides most audacious move yet will see him take on the might of Art Basel Miami Beach in December, with his biggest US show yet, revolving around a venue with a capacity in excess of 90,000. He hopes to challenge the self-declared "most important art show in the United States" with a range of crossover events incorporating both music and film, working with Live Nation, the entertainment group, and the Tribeca Film Festival.
Audacious indeed! But what he's describing is pretty much what happens at Miami Art Basel anyway, with art, films, concerts, parties, etc. spread out across the city. And that 90,000 number seems quite high with the only venue large enough to accommodate so many people being the Orange Bowl.
An insider tells us Lazarides was at the Miami Art Basel fair this year, keeping a low profile and looking at the downtown area as a possible location, perhaps the American Airlines arena, the home of Lebron James and the Miami Heat basketball team. With basketball season in full-swing during Art Basel, however, that also seems like an unlikely location. Nonetheless, this will be just one more thing to jam into your Art Basel week, as we don't foresee many Basel regulars trading one event for the other. -- David Hershkovits