by Clotilde Dusoulier, Contributing Editor to Paris by Mouth
Many readers would struggle to name an iconic French dish that isn't based on (or mightily improved by) something that came from an animal. But according to Clotilde Dusoulier, who just released a new cookbook celebrating the bounty of our local markets, an important shift is taking place in France.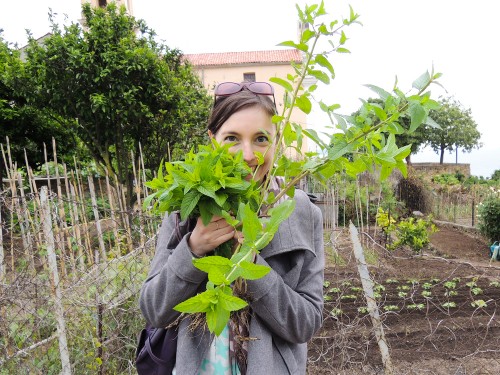 --
My Life As a Flexitarian
Ever since my interest in cooking and eating bloomed in my early 20s, vegetables have been my primary motivation. Creating a meal has always started with deciding which seasonal greens or roots or stalks I wanted to feature, and my restaurant choices have long been influenced by the question, "What's this served with?"
This personal inclination meant that I ate mostly vegetarian dishes when I was home alone, but I did incorporate meat or fish into the meals I shared with my boyfriend, out of cultural habit and the vague notion that men need their animal protein.
Fast-forward to five years ago, when both he and I started reading more and more about the environmental and ethical consequences of the foods we choose to buy and eat: our discussions naturally led us to decide that from then on, we would be eating much less meat, fish and dairy.
These five years have given me plenty of opportunities to explore the world of vegetarian cooking, and I'm happy to report I feel considerably richer for it: I've experimented with ingredients and techniques I might have otherwise overlooked, and have built a strong repertoire of satisfying, high-flavored, meatless dishes, many of which I share in my upcoming cookbook.
I haven't actually become a vegetarian: I do enjoy eating meat and fish on occasion, and my job description includes trying a great variety of new restaurants and types of cuisines. I've simply shifted heavily toward a plant-based diet. Call it flexitarian.
And when I do consume meat or fish, at home or at restaurants, I do my best to ensure it is raised or fished responsibly, which means asking a lot of questions -- not the easiest thing to do in France, where food professionals easily get defensive -- and making the most informed choices I can.
But I'm happy to report that in recent years, the Paris dining and food shopping scene has become increasingly veg-friendly, with hip new restaurants popping up all around the city, and natural food stores that are no longer the dusty granola kind.
5 favorite veg-friendly restaurants
5 veg-friendly stores
For more from Clotilde Dusoulier, visit the blog Chocolate & Zucchini and check out The French Market Cookbook.