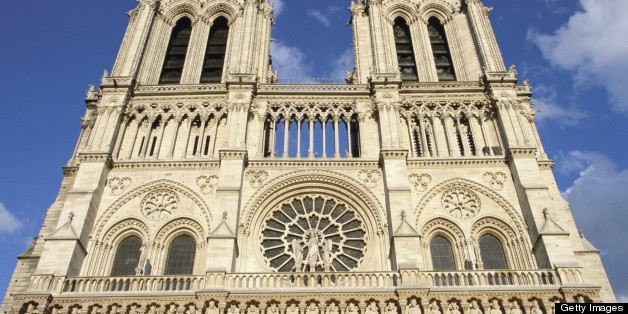 To save the 13 million travelers who visit Notre Dame each year from the 13 million terrible restaurants that surround it, we present you with our 13 favorite places to eat near the great cathedral.
Walk-Ins Welcome
1. Brasserie de L'Isle Saint Louis- This classic brasserie has been in business since 1953, and is still run by the same family.
2. Le Porte-Pot- An address for simple food and a decent glass of wine in the Latin Quarter. They also sell bottles to go, too.
3. Maison David- Squeeze into this tiny butcher shop for a standing lunch and watch owner Michel Kalifa in action.
Book a Few Days in Advance
4. Isami- Since 1992, chef Katsuo Nakamura has been impressing Parisians with formidable skill and quiet rigor at this tiny Ile Saint-Louis sushi bar.
5. Mon Vieil Ami- A contemporary bistro where vegetables rule on the Ile Saint-Louis from noted chef Antoine Westermann.
6. Itinéraires- A popular modern bistro from Sarah and Sylvain Sendra with dégustation menus (59€, 79€) at night.
7. Sola- A refined Franco-Japanese address that is an absolute favorite for its elegant and fresh food.
8. Le Ribouldingue- Le Ribouldingue is not for the faint of heart, but for those who want to eat it. Heart, that is. And bones and liver and tongue and kidney.
9. Lengué- An Izakaya joint, serving small plates, Japanese beer and cocktails, in the heart of the touristville.
10. Fogón- A popular, contemporary Spanish table.
11. Benoît Paris- Open since 1912, this picture-postcard Paris bistro is part of the Ducasse group.
12. Le Sergent Recruteur- Michel Bras' protégé Antonin Bonnet has taken over the former tourist trap near Notre Dame and transformed the space into a sleeker, chicer dining experience.
Book a Few Weeks in Advance
13. La Tour d'Argent- Chef Laurent Delarbre is modernizing this landmark table but hints of the classic repertoire remain, including the famous numbered ducklings.
Still have room after your meal?
No visit to Notre Dame would be complete without sampling a cone of the famed Berthillon ice cream.