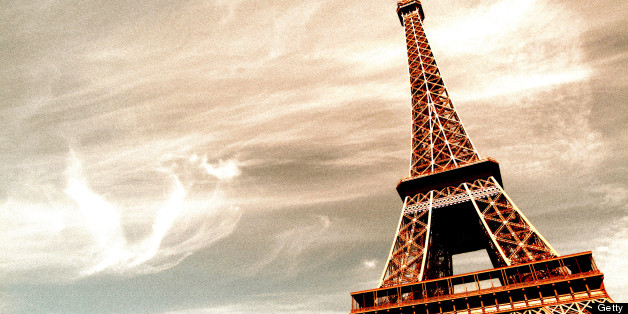 We don't recommend visiting the Eiffel tower without a solid plan for eating, whether to fortify yourself for the wait or to restore your sanity after the harrowing elevator ride. Here are some tables to consider that don't require a crosstown trip.
Walk-Ins Welcome
1. Café Constant - With three restaurants on the street, Christian Constant is the unofficial mayor of rue St. Dominique. This casual, no-reservations café serves classic bistro fare and is open all day, starting at 8 a.m.
2. Les Cocottes - More modern than his Café, this second address from Christian Constant serves dishes in individual cast iron pots (cocottes) on long counters with high stools. Their no-reservations policy makes this a good last-minute option for crowd-pleasing, contemporary comfort food. Expect a wait if you arrive at 8pm.
3. Alain Milliat - Known for his exquisite juices and nectars, fruit man Alain Milliat is now in the restaurant business, serving a fresh and colorful (but limited) menu at lunch and dinner. They're also open for afternoon tea and coffee, if a drink and snack is all it takes.
4. Le Petit Cler - A well-priced and very casual spot on the rue Cler from from the people behind La Fontaine de Mars.
Book a Few Days in Advance
5. Les Fables de la Fontaine - Seafood is the specialty at this lovely/pricey rue St. Dominique address. Open every day.
6. Pottoka - If you believe everything tastes better deep fried, try this tiny Basque joint from the duo behind Les Fables de la Fontaine.
7. FL - Young chef Nicholas Valanchon is drawing attention for inventive cooking that's grounded in the traditions of his native Picardy.
8. Le Caisse Noix - Le Casse Noix is helmed by Pierre-Olivier Lenormand, who spent six years at La Régalade. A charming neighborhood bistro, with an antique-filled room and generous, updated bistro cooking. Don't miss the ginormous ile-flottante.
9. La Fontaine de Mars - The Obamas ate here! The Obamas ate here! This anglophone favorite on the rue Saint-Dominique offers classic cooking with a southwestern tilt - cassoulet, duck confit and other diet busters. Open every day.
Book a Few Weeks in Advance
10. L'Abeille - Chef Philippe Labbé set the city's haute dining scene abuzz when he opened this posh restaurant in the Shangri-La hotel back in 2011. At more than 200€ per person, this is perhaps the most expensive option on our list.
11. La Table d'Aki - Akihiro Horikoshi left L'Ambroisie to open this little showcase for his talents which, according to reviews, are many. Patricia Wells calls his cooking "pure, simple, and sensational in an understated way."
Book Before You Buy Your Plane Ticket

12. L'Astrance - Pascal Barbot continues to impress diners (those who manage to get a reservation) with a culinary high wire act that is both grounded and innovative, French and global, serious and playful. To wit, his signature dish: A galette of thinly sliced, raw champignons de Paris and verjus-marinated foie gras (also raw), with hazelnut oil and lemon confit.
Also Not Terrible Near...