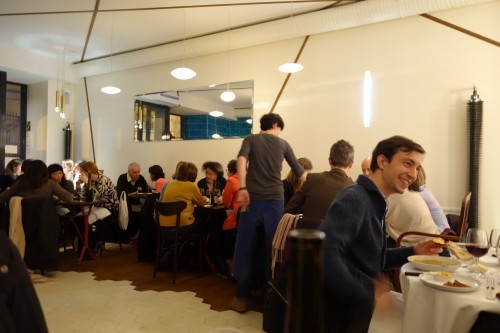 Photo by Meg Zimbeck
No silly categories or kooky awards -- just the top 10 new restaurants of 2013 according to the Paris by Mouth contributing editors.
Among the hundreds of debuts in 2013, we added more than 50 new openings to our guide to Paris restaurants. But what did we really love? To narrow it down, we asked our contributing editors -- a diverse group of Paris-based food and wine writers -- to nominate their favorite new openings of 2013. Among their top picks, a few trends are clear: half are helmed by young foreigners (Canadian, Australian, Japanese, Italian), more than half include a bar for drinks and nibbles, and most are second or third offerings from an already-popular restaurant group.
The restaurant named as a favorite more than any other in 2013: James Henry's Bones.
Bones

Opened January 2013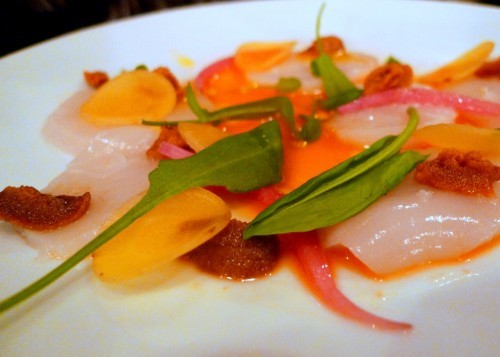 Photo by Meg Zimbeck.
Bones opened as a restaurant with chef James Henry (formerly Au Passage) breaking down whole animals, baking his own bread, curing his own charcuterie, and challenging diners with preparations both delicate and robust (heart, anyone?). But what really gets us excited is the bar up front. Serving a long list of wines by the glass and offering a chalkboard menu of small plates that are perfect for sharing, it's become a regular hangout for restaurant industry types and a good number of our contributing editors. Catherine Down says, "I'm never really sure if I'm actually cool enough to hang out here, but this is my go-to place for small plates and drinks. The suckling pig sandwich carved at the bar is a treasured late night snack. I always have a great night out there." Aaron Ayscough agrees. "As much as I adore James' menus, I think his primary innovation at Bones is cultural: he showed Parisians that a lively, free-wheeling bar could co-exist with serious, sought-after cuisine. That such a dynamic is already de rigeur in London or New York in no way diminishes the achievement."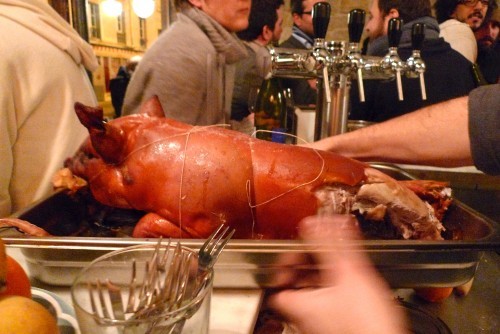 Photo by Meg Zimbeck
See the 9 other best new restaurants of 2013 in the full story on Paris by Mouth.