Is it coincidence or divine intervention that one of the hottest nightlife destinations in the world has the word "bar" at the front of its name? It must have been written in the stars, seeing as this beautiful Spanish beach city seems to have as many watering holes as there are balls of gas burning holes in the night sky.
Wine bars, whiskey bars, cocktail bars, sports bars, beer halls, and pre-game-for-the-club bars all can be found with ease. Heck, there are even beach bars where you can swim off the last round. And we at Party Earth know such exhaustive options can be overwhelming, even driving people crazy enough to drink (did we just figure out Barcelona's secret to its nightlife?).
Anyway, we'll stop theorizing and do our jobs, which is to clear through the clutter and show you some of our top spots to go. So whether you want loud and rowdy or trendy and upscale, below are some of our favorite bars in Barcelona, with enough combined variety to please all alcohol-inclined tastes.
Chupitos Barri Gòtic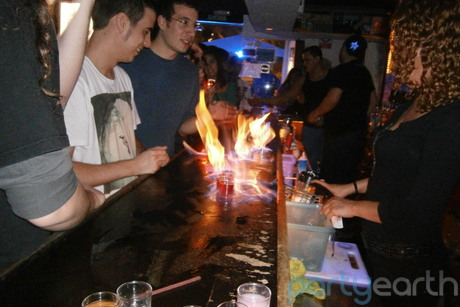 Here's a quick Spanish lesson for today: "Chupitos" means shots. And in the case of this unruly Barri Gòtic bar, it means an absurd amount of them. The options are posted across the entire wall behind the long bar, and with more shots on display than LMFAO could shout in a single song, it'll take a lot more than one visit to try every one of these depravity-inducing concoctions. The bartenders at Chupitos Barri Gòtic are as much entertainers as they are drink pourers, lighting things on fire (don't worry, your hair is safe) and ordering patrons to partake in drinking activities that you'd never want the boss to see. With no descriptions or ingredients listed, picking your shot is like a drunk man's Russian roulette: maybe you'll get a delicious glass with blue flames dancing on the surface, or you could find yourself sucking down liquor out of a phallic-shaped squirt gun -- either way, you'll be too drunk to care.
Dry Martini Bar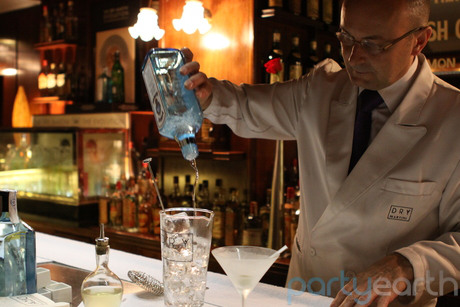 Those who prefer their drinks made with vermouth, dashed with bitters and pinched with unique crushed herbs only a botanist has heard of should head to Dry Martini Bar, an upscale mixology joint in the L'Eixample neighborhood. Plush leather seating and fine liquors lining the portrait-laden walls highlight the upscale atmosphere, all enjoyed by a regular clientele that is more mature than what's found at your average Barcelona drinking destination. An evening here means joining the well-dressed denizens slowly savoring the flavors of their expertly crafted drinks rather than throwing them back in one rambunctious gulp. So put on your best Sean Connery voice and tell the white-tuxedo-toting waiter that you'd like your martini "shaken, not stirred." Then sit back and let them do whatever they want -- they know more than you.
Soho El Raval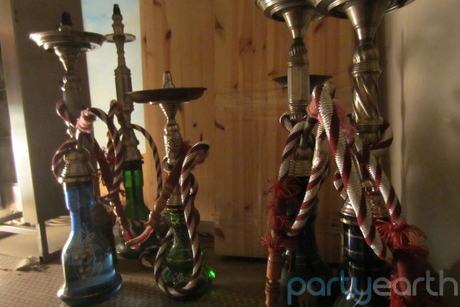 Less than 10 miles away across the Strait of Gibraltar, it's no surprise that Morocco's culture is so widespread in Spain. And for those looking for a signature North African experience in Barcelona, Soho El Raval may be the city's best, and certainly most authentic, Moroccan hookah bar. If you want to blow rings of fruity smoke with your friends while you pass the day, just step into the open entrance and take a seat against the Egyptian tapestries that line the ground floor or head up to the cozy second floor loft. It's a shabby little place; its warm and friendly atmosphere makes up for any lack of décor. With a variety of beer options and delicious shawarma also available, hookah lovers visiting Soho for the first time will be saying to themselves that this could be the start of a beautiful friendship.
London Bar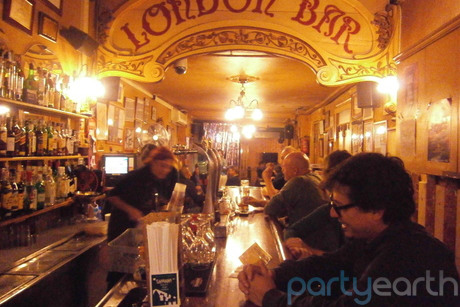 The historic London Bar has been open since 1910 and was once the favored watering hole of such hard-drinking notables as Ernest Hemingway, Salvador Dalí and Pablo Picasso. Character oozes from the art deco walls lined with antique adornments and even an old piano, keeping the bohemian vibe alive and well inside. Expats and travelers escape the hectic flow of nearby Las Ramblas with a cold beer during the day, and a backroom opens up later in the night to accommodate the growing crowds. Whether it's to drink within the walls of history or simply make a mellow stop before hitting the crazier bars in Barcelona, we think that if London Bar was good enough for one of the greatest drinkers (and writers) of the 20th century, then it's probably good enough for you.
For more articles and reviews, go to Party Earth.