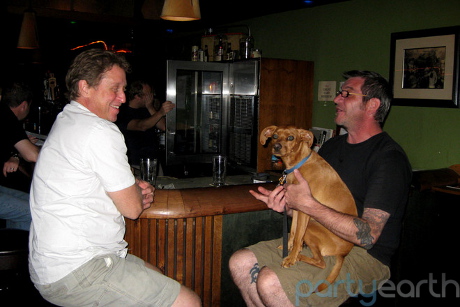 For dog owners, a guilt-free night on the town can be hard to come by, knowing that every time the door shuts, old Rex is sitting there, whimpering and waiting with sad puppy eyes, just wondering whether his owner will ever come home again. Luckily, scientists have solved this problem by combining the awesomeness of bars with man's best friend to create: the dog-friendly bar. And being the progressive place that it is, there may be more dog-friendly bars in San Francisco than any other city.
So when you just can't bear to leave the pup home alone, or want an easy way to meet new friends, or maybe just don't feel like drinking by yourself, here are five of the best places to enjoy a drink in the company of your best bushy bud.
Stray Bar is the most popular dog-bar in the city, but don't worry about the name -- the canines here have owners too. Say hi to the ever-present Australian Shepherd as you enter, park yourself on a comfy bar stool, and enjoy a home game on the flat-screen as you let your pup have the evening out for once. The cozy bar gets crowded with sports fans dragging their mutts along come game-time, as well as for Stray Bar's movie-night Mondays and drag queen hosted trivia on Tuesdays. The bar even serves doggy treats for all the little guests.
Delirium

If you're in the Mission District and don't want to decide between a rowdy night out and time with your dog, head to Delirium. Located in the middle of the Mission district's nightlife scene, it's a hip bar with graffiti-covered walls and the cheapest drinks around. There's a little dance area that gets pretty bumping once the night heats up; so when you spot an attractive partner, let your cute pooch's face lure them in and then impress them with your moves on the dance floor. But be warned, when it gets late on Thursday-Saturday nights, there is barely enough room to walk on two legs, let alone four.
For those in the Mission district who want to avoid the mobs of grungy flannel, Lone Palm is a sanctuary from the rowdy hipster scene just a few blocks away. The upscale cocktail bar is one of the few classy establishments in the city that Rex can enjoy too. So tell him to put on his best birthday suit and bring him along as you indulge in one of their famous martinis amidst the dim lighting and burgundy boiserie. Constantly inhabited with first-dates and young mingling professionals, love is always in the air, making Lone Palm the place for you both to find some puppy love.
Another dog-friendly Mission bar is the nearby 500 Club, a relaxed hole in the wall that's good for just about anything. The place has karaoke nights, a killer happy hour, and is a Mission favorite for Giants and Niners games. The walls host a collage of clippings, advertisements, and photos, and you might just find your dog in a staring contest with the Burt Reynolds portrait in the corner. Before you leave, duck into the photo booth so that you can show all your pals how much fun you had with your furry friend.
Toronado, a laid-back little bar in the lower Haight, is a beer-lovers paradise. To get there, simply crack open a strong brew, let your hound get the scent, and then follow them as their super-smell senses lead you to the pungent aroma of beer that diffuses from the cool dive. With an ultra-casual atmosphere and over forty beers on tap, Toronado is great for a relaxing night out with the pooch at your side.
For more articles and reviews, go to Party Earth.