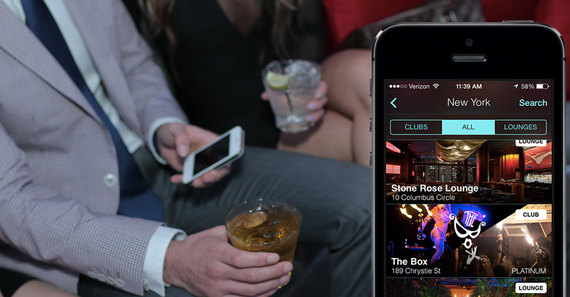 Envision this scenario: You and your friends are planning a big night out at one of the popular clubs or lounges in New York City. You're celebrating a birthday, a promotion, bachelor(ette) party, or just looking to give your normal weekend an extra kick. You head out, buzzed and excited, only to hit a giant line at your destination. You finally get to the front, and a curt doorman informs you of the $25 cover. Once inside, you find yourself waiting again at the bar every time you need a drink. Finally being served, you realize it will take far too long for your friends to wait as well, so you get your friends a round since they'll get the next. They don't.
Sound familiar? This is a problem that many NYC partiers encounter on a weekly basis. The New York nightlife scene, especially the higher-end clubs, has a stigma that the only way to get in, or to have the best time, is to "know a guy." Otherwise you're stuck with the rest of us peons dealing with lines, covers, poor service, and ultimately a less-than-satisfying night out.
Democratizing the Space
Enter Tablelist, a mobile app and web platform that's looking to solve this problem by letting users book VIP tables and bottle service straight from their phones or computers. Considered the "OpenTable of after dark," members can search for venues by price, vibe or neighborhood, select their table location, customize their bottles and chasers, and in an Uber-esque fashion, split the bill with friends -- all within the Tablelist app. Just arrive at the venue, state your name, and get escorted directly to your table where everything will be waiting. Top it off with your own personal server for the night, and you can see why it's an enticing option for any tech-savvy New Yorker.
Tablelist believes that everyone deserves VIP treatment and access to the city's premium nightlife venues, regardless of status or "pull." In a recent article from VentureBeat, Tablelist's founder and CEO, Julian Jung, put it this way; "We're trying to democratize this space, to a certain extent. It's an industry that's been shrouded in mystery, and now you can push a button and get that access." Jung continues, "It's the VIP experience at the venue that people are looking for. Your own table, own waitress, not waiting in line. If you can pay for it, it's yours." In other words, you no longer need to have an "in" with the bouncer or doorman to get special treatment - through Tablelist everyone gets it.
Changing the Way People Think About Nightlife
Three years ago the idea of a black car being your main mode of transportation seemed crazy. But Uber changed the industry by changing the way people thought about getting around. They put the focus on convenience. Open an app. Get a car to come pick you up. Tablelist is hoping the same vision can work with bottle service. By making it super easy to book a table and get the full VIP experience, the "mystery" and negative stigma around NYC clubs -- dealing with promoters, wasting time in lines, paying covers -- will go away. And to that, we can raise a glass.
Check out Tablelist on the web and download the mobile app for iPhone or Android.
This article by Party Earth.
Click here to get the inside scoop on the best concerts, festivals, parties, and more in your city every weekend!