When a celebrity gets hitched, some naysayers get out their stop-watches to count down the days, months or years that the break-up will take place after the "I-do's" are exchanged. Cynical, yes; inevitable ... not so fast. There are celebrities who have never signed divorce papers. Really. Indeed, The Huffington Post is proud to present the following celebrities who have just said NO to divorce and YES to "'till death do us part."
Chuck Berry
Chuck Berry, one of the greatest Rock 'n' Roll singers of all time, has been married to his wife, Themetta "Toddy" Suggs for 67 years! The "Johnny B. Goode" singer once said, "I would sing the blues if I had the blues." Mr. Chuck Berry most likely never had the blues because he has always had the love of his life right by his side! We love you Mr. Berry, more than you'll ever know! Many blessings to you and your beautiful bride.
Rita Wilson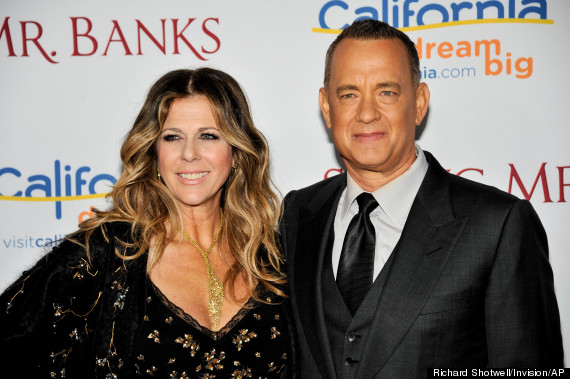 We're not sure who's luckier, actress Rita Wilson or her actor husband Tom Hanks. They have each other so it's obviously a tie! The Forest Gump actor was married once before, but this is the first marriage for the AM/FM singer. This thespian couple defies the odds with their long-term Hollywood marriage -- 27 years. Their secret? He said: "My secret to a happy marriage is just being married to the right woman. I got lucky with the wonderful Rita Wilson. I'm the luckiest man alive." She said: "You've got to want to be married to the person you're married to."
Jon Bon Jovi
Who wouldn't like to have that handsome pop idol, Jon Bon Jovi, ride up on a white horse and scoop us away? Well, ladies, don't hold your breath. The "It's My Life" singer married high school sweetheart Dorothea Hurley in 1989 and they have never looked back. He told me in '06 that he wasn't sure how he became the poster boy for a good marriage, but I'll bet it's just in his no-sign-of-uncoupling DNA.
Henry Winkler
Henry Winkler married his lovely bride in 1978 so they've been a happily married couple for 37 years. Perhaps his beautiful wife Stacey shares the love of his outdoor adventures (he loves to go fly fishing). The "Fonz" may have had a way of snapping his fingers to make the ladies come running back in the day, but we're betting he doesn't try that at home. He's earned the reputation of being the nicest guy in Hollywood (and we'd make bets that he's the nicest hubby also).
Meryl Streep
Merry Streep and husband Don Gummer will celebrate 37 years of marriage this year. The academy-award-winning Sophie's Choice actress shared her secret to a healthy marriage -- "communication." "You have to talk about all the issues that arise, even the smallest things" she once told "New Zealand Women's Weekly." "You have to listen to your partner's problems, suggestions and advice, and accept that you're not always right. Conversation is the key to a successful marriage."
Ron Howard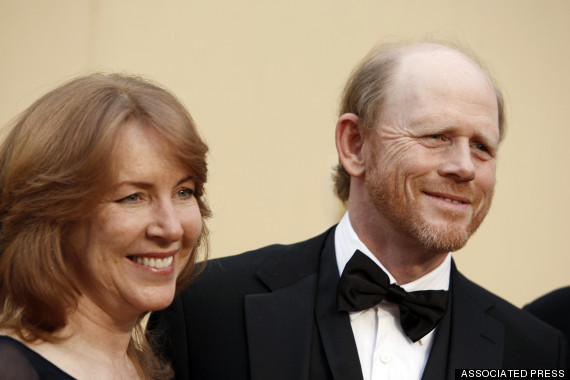 Ron and Cheryl Howard will celebrate their 40th wedding anniversary this year. The Happy Days actor (and A Beautiful Mind director) spoke with HuffPost Live in 2013, sharing a few tips on why his marriage has worked. "A lot of good luck," he said. "It does take a little luck to grow together.... compatibility and her good patience. I don't like to hold it up as if I have some kind of inside secret. I felt really lucky when we met. It's crazy -- we were teenagers, it shouldn't have worked. We got married young, that shouldn't have worked either, and yet it really and truly has."
Susan Lucci
Daytime's leading lady, Susan Lucci, may have been divorced about 24 times (OK, eight or nine) as soap opera diva Erica Kane on ABC's All My Children, but in real life her marriage to husband Helmut Huber has been unflappable. The Emmy award-winning actress and her husband will celebrate their 46th wedding anniversary this year! (In case you forgot, her on-screen husbands were Jeff Martin, Phil Brent, Tom Cudahay, Adam Chandler, Mike Roy, Travis Montgomery, Dimitri Marick and Jackson Montgomery.)
Kevin Bacon & Kyra Sedgwick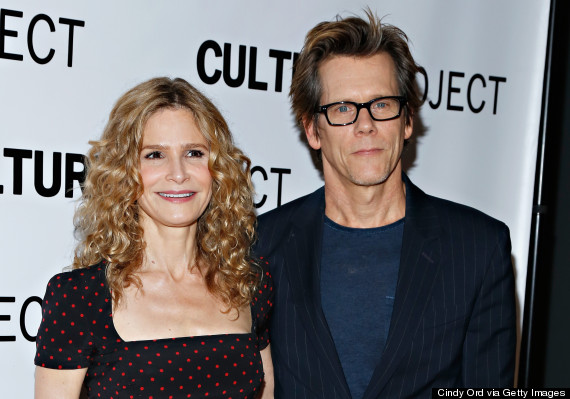 Actor Kevin Bacon and his actress wife, Kyra Sedgwick happily celebrate their 27th wedding anniversary this year. If they seem perfect for each other, maybe it's because they feel the love every waking moment. When we caught up with the Footloose actor two years ago, he shared his true feelings. I asked: I read a quote from your wife where she said that you have a way of making her feel like she's the most beautiful woman in the room -- and the only girl in the room. How do you do that? "It's not something that I'm doing, it's just the way I feel," he gushed. (How perfect is that?!)
Sharon Osbourne
Yes, Ozzy Osbourne, aka the Prince of Darkness, has been divorced, but his lovely wife, Sharon, hasn't. "The Talk" co-host set her sights on the Black Sabbath lead vocalist 33 years ago and has managed to keep herself out of divorce court by walking the walk and talking the talk (pun intended) even though there have been a few rough patches in their marriage.
Donny Osmond
At 57, former teen idol Donny Osmond has managed to keep the happily-ever-after marriage dynamic going strong for 37 years. His career remains on track (with his new album "The Soundtrack of My Life") but his personal life has always been a priority. The "Puppy Love" singer knew he was going to marry Debbie Glenn the moment he first laid eyes on her. His secret to a happy marriage? "Keep it real. I'm serious," he told Robin Leach. "You have to take out the selfishness, you have to realize you're on a two-way street, not a one-way street. And whenever you have an argument, she's always right." (Yes!)

Mark Harmon & Pam Dawber
NCIS actor Mark Harmon married Mork and Mindy actress Pam Dawber in 1987 so they're at 28 years and counting. It seems as if the happy couple purposely keeps their personal brand to themselves when it comes to answering questions about their long-term Hollywood marriage. Works for them. Works for us. (Although, can't we see at least see you two hold hands on a red carpet somewhere? ... Please! We love happy couples.)
Martin Short
Comedy-legend-in-the-making, Martin Short -- and one of my personal favorite comedians -- never got divorced because for 36 years he had a marriage made in heaven. Sadly, the Three Amigos! actor lost his dear wife, Nancy, in 2010, but that doesn't diminish his long-standing love and devotion to the wife he adored. In his memoir "I Must Say: My Life as a Humble Comedy Legend," Short touches on his devotion to Nancy. He writes: "So some night, when I'm really missing her, I'll grab a rum and Coke at twilight and sit on the couch on our front porch, or perhaps upstairs, on the balcony off of our bedroom, with the Pacific Ocean in view. 'I'll call out, 'Hey, Nan!' Forming the words just feels good in the throat." ("Memory is a way of holding onto the things you love, the things you are, the things you never want to lose." ~ From the television show The Wonder Years)
Denzel Washington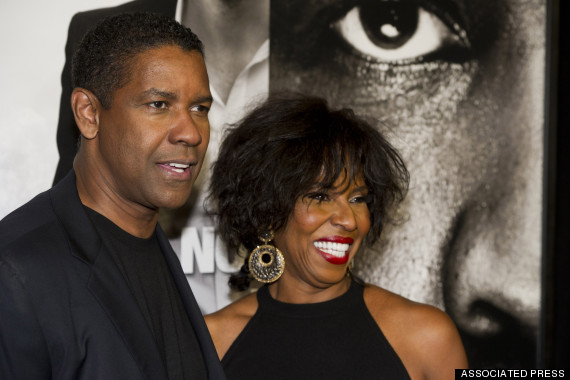 A devout Christian, actor Denzel Washington married Pauletta Pearson in 1983. The Glory actor answered questions about his marriage in a Reddit AMA: "Well, you know, I don't know if it's show business that has a monopoly on divorce, it's just that you hear about it. I don't know what statistics are, or I don't know if people in show business have a higher rate of divorce, but I just think that you have to work at it. Not give up on each other. It's a commitment. It's not all the honeymoon, it doesn't last forever, so you work at it. And hopefully you're good friends first, that might help!"
Scott Baio
In 2007, at the tender age of 46, Scott Baio married the lovely Renee Sloan. So, yes, that's only eight short years ago, but they haven't called a lawyer yet so we're optimistic that they will go the distance. The Happy Days actor's parents were married 53 years. That's a good sign, right?
Patrick Duffy
Let's just cut to the chase here. The Dallas star explained why his marriage has lasted for 40 years when THP asked him to explain the secret to a happy marriage. "I think everybody has their own secret, and there's not an actual formula. My secret is I had to learn how to acquiesce to a certain number of things without feeling like I was giving up, or I was owed something for it, and that was a big transition for me to stop keeping a tally book of, Okay, I did this for you, and now you'd better do this for me. Once I got over that -- which is really sort of a juvenile way of looking at life: who gets the bigger half -- then everything just became as easy as can be, and we started doing things, I would say, close to 100 percent of the time to make the other person happy."
Jay Leno
Jay and Mavis Leno's anniversary cake will have the number 35 on it this year. The former Tonight Show host explained to me in 2011 why he's a happily married man. "I enjoy being in the room with my wife," he said. "When she's reading and I'm fixing the car, just knowing that she's right over there, I like that, I like that feeling, I'm comfortable with that. I know so many men and women, you know, they take the long way home subconsciously, they stop off and they have a drink. Do you know what that means? It means you don't want to go home. I like to go home, and when you don't want to go home, that's a bad sign. That's really the trick."
Jeff Bridges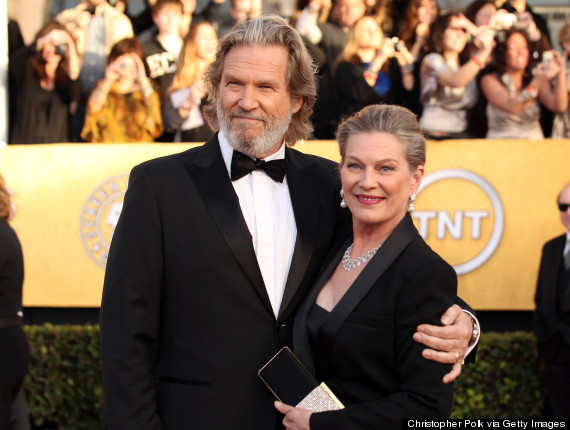 Thirty-eight years is plenty of time to figure out if things are going well in your marriage. The Crazy Heart actor met his future wife, Susan Geston, on the movie set Rancho Deluxe in 1974 and after his fear of marriage subsided, he took the plunge on June 5, 1977. Obviously the marital fear factor proved to be unfounded. Congratulations -- and keep on keepin' on!
Bette Midler
Bette Midler has a healthy sense of humor when it comes to her love connection. Midler once joked, "I married a German. Every night I dress up as Poland, and he invades me." Her husband Martin von Haselberg has put up with her wicked sense of humor for 31 years. "I try not to drink too much because when I'm drunk, I bite," the Divine Miss M has confessed. (He's one lucky man!)
Ellen DeGeneres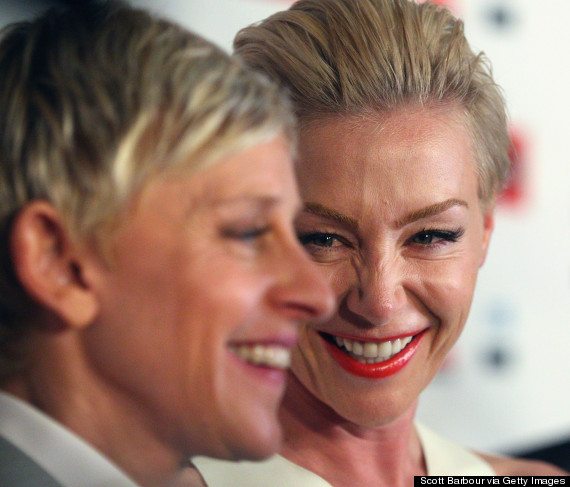 Cover Girl Ellen DeGeneres married the love of her life, actress Portia de Rossi, in 2008. Although the Alley McBeal actress had previously tied the knot, this is Ellen's first marriage, and we're pretty sure there won't be a divorce in this union. Whether one is in a heterosexual marriage or a gay marriage, this is one of the best quotes EVER from Ellen, so we're tossing it in here just because... "I was raised around heterosexuals, as all heterosexuals are, that's where us gay people come from... you heterosexuals." ... ED (For more "brainy quotes" from Ellen, go here.)
Sissy Spacek
Academy award-winning actress Sissy Spacek married art director Jack Fisk 41 years ago, and it appears that it has been smooth sailing for these two. Perhaps it's her thoughtful insight about how some things in life are meant to be: "If I hadn't left Texas, I might not have met the director Terrence Malick, and I wouldn't have met my husband and I wouldn't have had the children that I've had. Life is interesting like that." ... SS
Kathy Ireland
Supermodel Kathy Ireland and her husband Greg Olsen tied the knot in 1988. According to my calculator, that's 27 years. Her philosophy in life has served her marriage well: "I believe there are three keys to success. For me it is keeping my priorities in order: It's my faith and my family and then the business." ... KI
Richard Chamberlain
In 2003, TV Guide published an article with the headline "Richard Chamberlain Has Been Married For Twenty Years (To a Guy)." That guy was his manager, Martin Rabbett, and the two have been happily married for 32 years. The Dr. Kildare actor did not come out until the age of 69, so now, at 80, he's living his life the way it was always meant to be! (Here's hoping someone makes a biopic of your life... we love you! Congratulations!)
Mariska Hargitay
Actress Mariska Hargitay was 40 when she married Peter Hermann in 2004. The couple, who met on the set of Law & Order: SVU, have three children and we're certain that her late parents -- Jayne Mansfield and Mickey Hargitay -- are looking down from heaven with bountiful approval. In an interview with "Good Housekeeping" Hargitay once described her marriage as "the perfect balance of opposites" ... 'I bring him out, he brings me in; he slows me down, I make him go faster,' she said.
Billy Crystal
Comedian Billy Crystal took Janice Goldfinger as his bride in 1970. We're guessing laughter makes the heart grow fonder. Crystal once said, "Women need a reason to have sex. Men just need a place." That's worked for 45 years, huh? Wait... Janice will like this BC quote better: "When you realize you want to spend the rest of your life with somebody, you want the rest of your life to start as soon as possible." (Let's all say it together: 'Awwwwwwww!')
Michael J. Fox & Tracy Pollan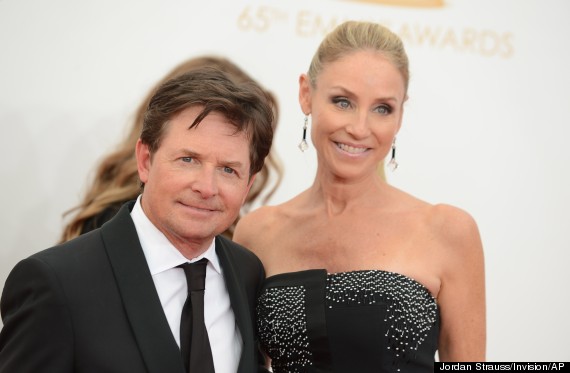 Family Ties actor Michael J. Fox married actress Tracy Pollan in Arlington, Vermont on July 16, 1988. Oprah Winfrey once interviewed Michael and Tracy, making a profound point on the subject of marriage: Oprah: "I've talked to many people who never discuss their ideas about marriage. When they take their vows and say 'For better or for worse,' they have no idea what 'for worse' might mean." Michael: "When Chris Rock did a benefit for our foundation, he talked about the marriage vows. He said, "What do they mean when they say, 'For richer?'" Of course a woman will stay with you if you're rich! The vows should ask, 'Will you stay with me if I'm sick and broke?' If the woman says yes, then you're in."
Jamie Lee Curtis & Christopher Guest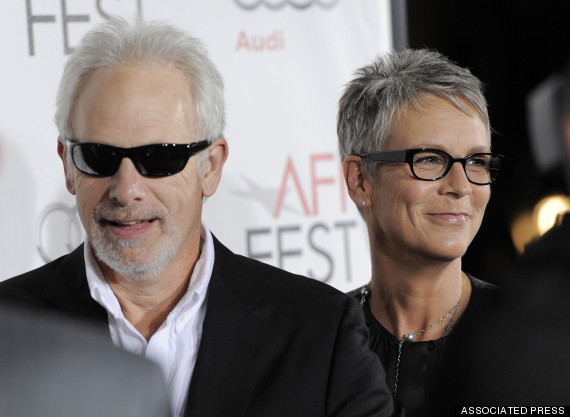 Actress Jamie Lee Curtis and her SNL alum husband, Christopher Guest, have a great love story which explains why they will celebrate 31 years of marriage in 2015. Parade.com explains: "Curtis was flipping through a magazine when she first saw a photo of Guest. "I'd never seen him before, but I pointed at him. 'I'm going to marry that man, I said to my friend,'" wrote the actress in an essay for " O Magazine." "Chris and I have a wonderful, complicated, imperfect life. And a very real marriage. I'll never know why I thought we'd understand each other when I saw his photograph. Hidden in that smirk, I think, was a little secret that only I knew."
Paul Reiser
Comedians, for some reason, seem to have a pretty high rate of long-term, enduring marriages. Paul Reiser is no exception. The Mad About You comedian married Paula Ravets in 1988 so we're thinking that laughter helps defuse those little household-chore squabbles that crop up every now and then. "My wife likes to buy groceries, I like to put them away. I like the handling and discovering, and the location assignments." ... PR
Frankie Avalon
You might want to sit down for this one. Former pop teen idol Frankie Avalon and his wife Kay will celebrate 52 years of marriage this year. They have eight children and here may just be his secret to his long, healthy marriage: "You respect and love one another. There are so many elements to a good marriage. You have the great times, which are the majority, and the lousy times that you go through and you hang in there and remember the good times, because you'll have them again." ... FA
Warren Beatty
It may be a well-known rumor that actor Warren Beatty had a few dalliances in his bachelor days, but when he met actress Annette Bening -- who had been married once before -- he settled into a matrimonial blissful state that has been going strong for 23 years. What does he think of monogamy? "Marriage requires a special talent, like acting. Monogamy requires genius." ... WB
Sarah Jessica Parker & Matthew Broderick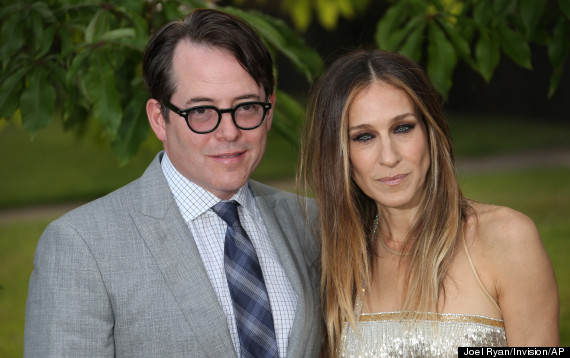 When two entertainment giants meet, marry, and have three adorable kids with homes in NYC, Ireland and The Hamptons, what could possibly go wrong? Apparently nothing. The Sex and The City actress and the Tony-award-winning actor will celebrate their 18th wedding anniversary this year. Apparently love permeates their space... love is always in the air.
Bono
U2 front man Bono married Ali Stewart in 1982 so he's had 33 years to think about what marriage means to him. Here's a clue: "Marriage is this grand madness, and I think if people knew that, they would perhaps take it more seriously." .. B
Christopher Walken
Christopher and Georgianne Walken will celebrate their 46h wedding anniversary in 2015. This couple keeps their private lives pretty close to the vest. Even so, The Deer Hunter actor has a pretty good handle on his life: "I've been married for 46 years, and I live in a nice house, my grass is always cut, I pay my bills, and my cat loves me!"... CW (What more could a man want?)
Bob Newhart
Comedian Bob Newhart and his wife Ginny just celebrated their 52nd wedding anniversary. Two years ago -- on their 50th -- I asked him "When did your marriage go from the 'honeymoon' phase to the 'you're in my space' phase after the wedding?" His response: "I would say the next day. That's a joke. I'd say the reason it has lasted is we have a partnership. She tells me what to do and I do it." (Perfect!)
Alan Alda
Another long-term marriage success story. Actor Alan Alda and his wife Arlene will celebrate a remarkable 58 years of marriage this year. When Marlo Thomas asked the M*A*S*H actor how he and his wife maintained a successful marriage in the spotlight, he said: "The trick is to move out of Hollywood." He went on to say that they "give each other confidence and are truly happy when the other succeeds."
Jerry Seinfeld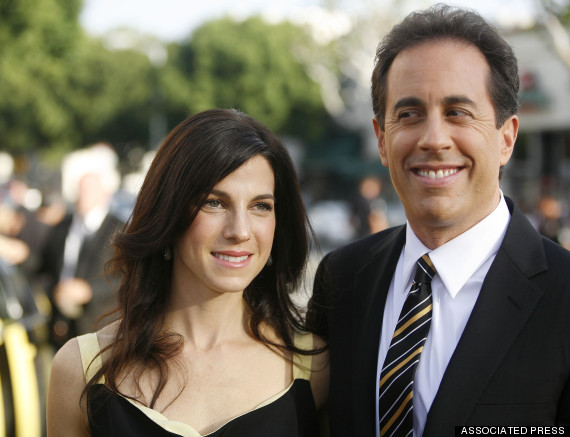 Comedian Jerry Seinfeld waited until the respectable age of 45 to marry the lovely Jessica Sklar. That was in 1999. After 16 years and three children, it seems like the 'D' word has never crossed his mind. (Jessica was married briefly pre-Seinfeld so the funny man must be doing a lot of things just right.) We love this Seinfeld quote: "Being a good husband is like being a good stand-up comic -- you need 10 years before you can even call yourself a beginner." (Looks like beginner's luck for Jerry. Lovely!)
Don Rickles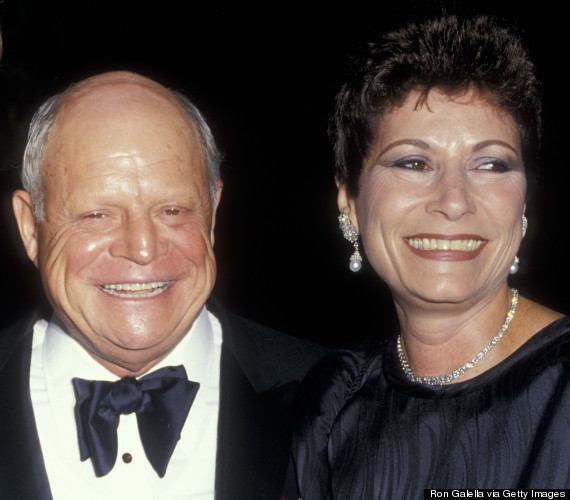 Mr. High Energy, Don Rickles, married his "low-key" lady, Barbara Sklar, on March 14, 1965. They say that opposites attract so could that explain this 50-year union? "We have great love for each other and respect each other and enjoy each others company," Rickles told me two years ago (even though he tried to pull a fast one on Barbara when they spoke on the phone for the first time). Read about that here. Happy Golden Wedding Anniversary you two!
Tom Bergeron
Dancing With The Stars host Tom Bergeron is closing in on 33 years of marriage with his lovely wife, Lois. We caught up with Tom three years ago and asked what's his secret to a happy marriage? "Not taking [marriage] for granted and knowing -- like anything -- it's a growing, living thing; you don't exchange vows, put on the ring and then say 'OK, that's done.' You've got to keep it alive and real as you grow and as your experience in life grows ... as parents, and now we're sort of semi empty-nesters. We're both very strong people individually. We know that we'd be OK on our own but we're much better together. I think that we constantly renew that choice to be a team." (Ah, TEAM Tom and Lois... we're still waiting for that photo of the two of you, Tom!)
Marlo Thomas
That Girl actress, Marlo Thomas, took a leap of faith when she married the divorced-with-five-kids, talk-show-host, Phil Donahue 35 years ago. In 2012, Thomas shared her thoughts on being married for 32 years with HuffPost Women. "May 21st is our anniversary date, and it's hard to believe that so many years have flown by. It's especially surprising for me since I was very wary of marriage when I was younger. I always thought of it as a confining place for women -- a place where only one person could reach for their dreams, while the other was a kind of support system. But then I met someone who showed me that marriage could be a roomy place for two people -- and, more important, two people's dreams." Go down memory lane with Marlo and Phil here.
Rob Lowe
It's 24 years of marital bliss for Rob and Sheryl Lowe this year. We're not sure how Sheryl feels about being in a successful marriage, but here are The West Wing actor's thoughts: "Being in a successful marriage is no different than being cast in a successful movie. It's all about who you pick; in that first moment, did you pick the right person? I think you need to pick somebody who's more interested in being married than in getting married."
Jerry Stiller & Anne Meara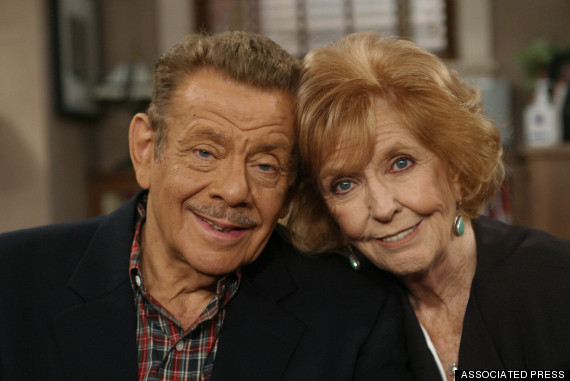 Cupid was right on target when the romance guru paired these two stand-up comedians together -- later becoming man and wife. We're not sure who got shot in the heart first by the little guy's arrow, but after 60 years of marriage, it doesn't really matter. There's obviously great chemistry on and off the stage for this happy couple. (We're guessing Jerry's "Serenity Now!" shout-out keeps their arguments manageable.)
Martin Sheen
Actor Martin Sheen and his wife Janet have been enjoying each others company -- as a married couple -- for 54 years... through the good times and the rough patches. Here's some revealing insight about celebrating his 50th anniversary as revealed to thegardian.com four years ago: "A Hollywood A-Lister married to the same woman for five decades? How on earth have they managed it? 'I haven't a clue,' says Martin, laughing. 'I really don't. I've never met a person with more integrity in my life, though. I honestly couldn't keep up with her. It's taken me a long time to be as even and direct with her as she has been, always, with me. And that's the relationship. I honestly don't have a clue who she is because when I get to the point where I've caught up with her, she's gone.'"
Bob McGrath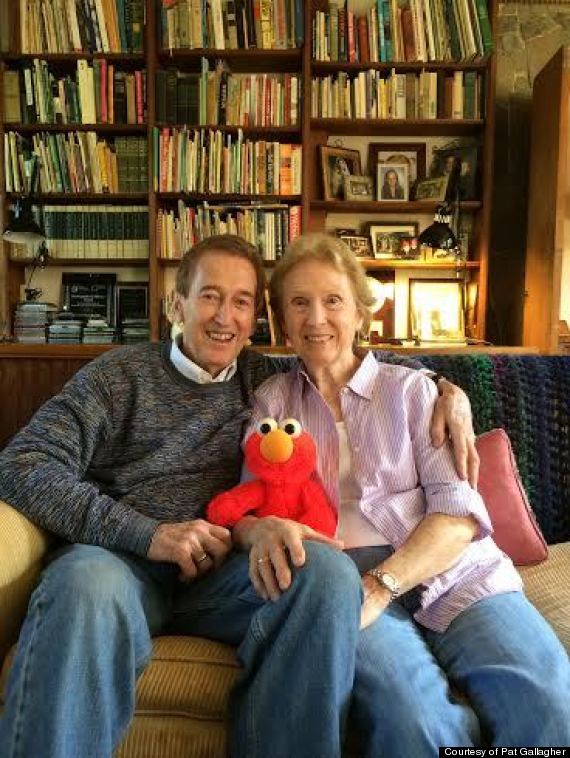 Sesame Street's Bob McGrath just celebrated 45 years with the iconic children's television show. More important, he will celebrate 57 years of marriage in 2015 with his beautiful wife, Ann. Bob and Ann have been married much longer than those adorable muppets Miss Piggy and Kermit so they have obviously served as good role models since none of those four have even considered divorce. Bob went down memory lane with HuffPost: "We were married on June 14th,1958. Ann and I went to a pawn shop in downtown Manhattan to purchase our engagement ring. On the bus back to 97th St., we discussed what to do if we had a disagreement or argument during the day and decided that we would never go to bed without saying we were sorry for getting mad, even if we still did not agree. We only failed twice in 57 years. Both times we woke up and couldn't believe we hadn't done it. So far..so good!"
Dolly Parton
On May 30, country icon Dolly Parton and her husband Dean will celebrate their 49th wedding anniversary. I had the pleasure of interviewing Dolly a few years ago and asked her a few question about her long marriage: "Given the huge divorce rate, did you ever consider packing it in or do you have the perfect marriage?" Dolly: "Well, there's no perfect marriage, and, no, I've never thought about packing it in. I just kick his ass and go on the road. (Laughs) Or, he'll kick mine and go to the barn. We never argue or bicker back and forth. I've never wanted to be married to anybody but Carl, and even if he died, I don't think I'd ever marry again. I may date or something, but I think he's probably it for me." For more fun facts about Dolly's marriage (flirting, cheating, and how Carl makes her feel pretty), go here.
Carl Reiner
Iconic comedian Carl Reiner, 92, was married for 65 years until his wife, Estelle, passed away in 2008 at the age of 94. Reiner writes the most poignant and emotional account of his beloved wife's last day on this earth in his memoir "I Remember Me." When I interviewed Carl in support of his book, I asked him what kept his marriage alive for 65 years? "My wife came up with the absolute best answer," he said. "We were asked this a number of times and Estelle answered it, and I think this is perfect. She said, 'Marry someone who can stand you.' And that's absolutely true! There are many, many reasons to break up but if you can stand the worst of what they do, why break up? (Laughs) You're only going to get someone who will annoy you in another way so whatever little annoyances there are, you can stand that. We were able to stand each other very, very well."
Kevin Kline & Phoebe Cates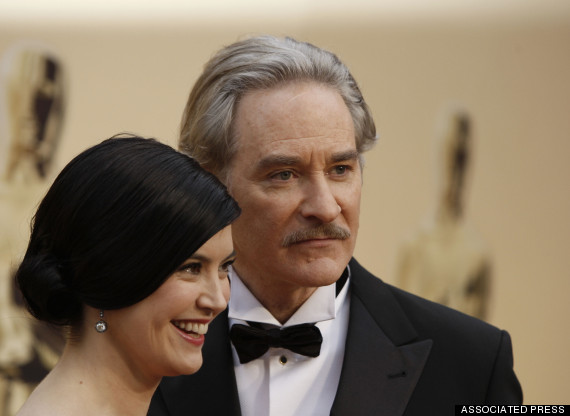 Actor Kevin Kline and his actress wife, Phoebe Cates, will celebrate 26 years of wedded bliss this year. It can't be easy for two actors to co-exist in the pressure-cooker we know as Hollywood, but somehow they've managed to do just that. If you have any doubt why, I beg you to take a look at this 3 minute 32 second "The Perfect Husband" video starring these too love birds. (This is your only warning: You WILL giggle out loud, so you may not want to watch this video in the office.)
Earlier on Huff/Post50:
PHOTO GALLERY
9 Odd Post 50Celebrity Friendships