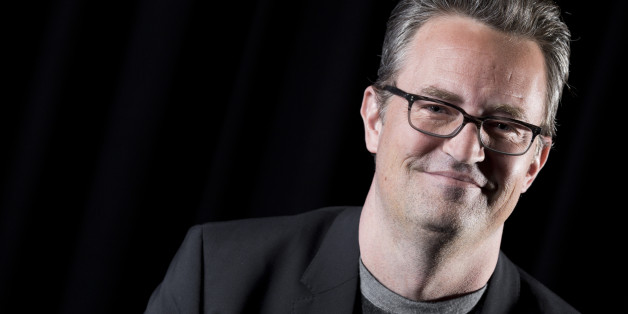 So far, we only know Matthew Perry from what we've seen him do on television. Is there any reason to bring up Chandler Bing on "Friends?" Or, Associate White House Counsel Joe Quincy on "The West Wing," or any number of other shows he's been on? I think not. Those roles pretty much speak for themselves. They're just pretend people.
Ditto with his creative (funny and wildly enjoyable) portrayal of the sports talk radio host/hoarder Oscar Madison on the new CBS (soon to be hit-show) "The Odd Couple." When you watch it (and you know you will), you'll see for yourselves how good he is so no need to go on and on about that right now.
Let's just move along to the real Matthew Perry. He's adorable in anyone's book, but what makes him tick and does he have a junk drawer at home? Isn't that what everyone is really wondering?
I sat down to chat with him to find out how long he can go with dishes piled up in his sink before he loads them into the dishwasher, what's a deal breaker for him in a relationship and other eye-opening domestic questions that address (almost) everything you've ever wanted to know about the 45-year-old bachelor but were afraid to ask.
Here are 20 (plus) questions that will help us (sort of) get to know Matthew better:
Before we get started on the little pop quiz, I just wanted to ask you one "Friends" question. You have a legion of fans from back in the day who watched the show originally and now there's a whole new group of fans who catch it on Netflix. Are you just sick to death that your fans want a "Friends" reunion or do you embrace it and are flattered by it?
It's very flattering. I don't know that we'll ever do it. We tend to do these little mini reunions like I had Courteney [Cox] on my show "Go On" and I went on "Cougar Town." I just did an episode of "Web Therapy" [with Lisa Kudrow] and I hope to do an episode of "Episodes" [with Matt LeBlanc]. So we do these little mini reunions but I don't think we'll ever get ourselves organized to do a real reunion show. I think all the stories were pretty much told.
I want to get into your role as Oscar in "The Odd Couple" plus find out a little bit more about you than we think we already know. I'm going to give you some rapid-fire questions to help us all decide if Matthew Perry is more like Oscar or Felix. Is that okay?
Sure!
In real life are you a hoarder or a neatnik?
I'm more of a hoarder than a neatnik.
What's your most obsessive compulsive habit?
I play video games for hours and hours and hours at a time.
Do you have a junk drawer at home?
No.
Do you take out your own garbage or you pay somebody to do that for you?
I pay somebody to do that for me.
When you were a bachelor with no money, before you could afford a housekeeper, how long would it be before you would change the sheets on your bed?
Three months.
How long do you go with dishes piled in your kitchen sink before you load them in the dish washer?
The sink gets pretty full.
I love that Oscar cleverly placed his mail in an attractive woman's mail slot in his building so she would have to knock on his door and he could meet her. What's the most clever thing you've ever done to meet a woman that you really wanted to meet?
Being on a hit TV show for ten years.
You're saying you had your pick, right?

I did okay.
Oscar is in a place where he says he doesn't want to fall in love. We think he might still love his ex-wife but on a scale of one to ten, how important is it for you to be in love? One, not so much; Ten, extremely important.
Nine.
Is it important for you to date someone exclusively or do you like to play the field?
No. I'm looking for Miss Right at the moment.
Would you go on a blind date under any circumstances?

It's hard to go on a blind date with me.
That's a good point. I mean if someone wanted to fix you up with someone that you had never met.
Yes, I would do that.
Have you ever done that?
Yeah, I think I've done that sometime in the last five years.

What's a deal breaker for you in a relationship?
Someone who's unhappy.
How many times would you ask a girl out if she turned you down the first time?
I think I would give up after the first time.
What qualities in a woman could you just not tolerate?
Being unhappy, not liking the move "Annie Hall" and being unhappy with the movie "Annie Hall."
Are you so preoccupied with your career right now that you don't have time to date or do you try to?
I have a lot of downtime right now so I could potentially date. We've finished the episodes now. Right now I'm doing a lot of press so I need to go lie down for about two weeks and then I'll maybe go on some dates.
Is there a girl you'd like to see at your high school reunion?
Yes.
She'll be excited. Do you want to say her name?
I don't want to say her name.
How do you act when you have a huge crush on someone?
I act like an imbecile. I try to impress them and I just act like a ... I try too hard at times I think.
When was the last time you got the first date jitters?

I think I'm having them right now with you.
(Laughs) I'm flattered. (Even though this is a phone interview and he can't see that I'm 105, I'm still flattered.) What would your idea of a fun date be?
Maybe go play Bingo.
(Well, we're in the ballpark here.) If you went on a date and in five minutes you knew it just wasn't going to be fun or you weren't attracted to the person, would you suddenly get a headache and leave or would you stick it out?
I would stick it out.
That's so sweet... Your character, Oscar, is single and he's going through the awkward stage of trying to date. Switching gears, can I ask a couple of questions based on how you think Oscar would answer them?
Okay.
Oscar's at a party and someone hits on his date. Would he ignore it or would he ask the guy to step outside?
Oscar would probably ask the guy to step outside.

Do you think Oscar would believe in living happily ever after -- like the storybook ending?
I think he longs for the love of his ex-wife.
Watch "The Odd Couple," CBS, Thursday Nights (See your local listings for times.)