It's tax-filing season, and the fastest-growing way to receive tax refunds is on prepaid cards. So it is a great time to review how prepaid card vendors can do a better job explaining how the cards work and what the true costs are. More clarity will help reduce people's anxiety about managing their money and avoiding unnecessary fees.
With the goal of doing just that, the Center for Financial Services Innovation (CFSI) proposed a model for fee disclosure box for prepaid cards two weeks ago. Three card issuers -- Green Dot, Ready Credit and Plastyc (I am the CEO of Plastyc) -- agreed to test the new disclosure box. Plastyc also published a draft of such a disclosure box on the company blog here.
The disclosure box is a good step. But prepaid issuers can do more. CFSI laid the groundwork with a set of principles, the
Compass Principles
, for the financial services industry. Here is a look at the four principles and how prepaid card issuers, or any financial service provider, can help reduce people's anxiety by adhering to them.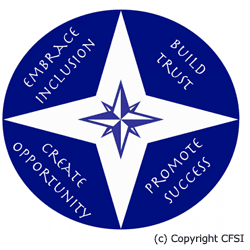 Principle 1: Embrace Inclusion
Many Americans are denied credit cards or bank accounts because they lack credit history or have prior issues. Reloadable prepaid card programs typically welcome people with poor credit or low balances as well as those with more financial resources. But there still are some barriers. For instance, applicants have to provide their date of birth and social security number to meet federal requirements. If the numbers aren't recognized, applicants often have to take additional steps, such as faxing in a utility bill, to prove their identity. Those steps can hinder the inclusion of people who, for instance, don't have easy access to fax machines. By understanding customers' day-to-day environment and better modeling processes to accommodate them, prepaid issuers can embrace inclusion and reduce anxiety-provoking barriers.
Principle 2: Build Trust
Good communication builds trust, and trust helps reduce undue anxiety about problems. For instance, during tax-filing season, calls to Plastyc's UPside Visa support line usually surge with customers who haven't received their funds as quickly as anticipated and worry that someone might have intercepted the money. When calls get answered by someone in an overseas country who has no first-hand experience with U.S. tax returns, it can reduce trust and increases anxiety.
As issuers, we need to keep our fees down, and staffing a round-the-clock call center with high-quality American workers would cost too much. But there are alternative ways to improve communication and trust. A company called Personetics provides technology that can embed personalized support right in the account holder's smartphone or online dashboard. So, for instance, a cardholder can log in and click on a question in a bubble symbol next to a transaction to learn why it was denied. This kind of communication helps build trust and reduce anxiety-provoking uncertainty, and it has the potential to scale without adding undo costs for cardholders.
Principle 3: Promote Success
In the era of "big data" there are so many opportunities for providers to point customers toward smarter financial decisions (and reduced anxiety). For instance, behind-the-scenes software could notice that a customer is incurring weekly ATM fees for cash withdrawals and generate an automated tip: Avoid ATM fees by getting cash back at the supermarket. The software could notice that someone is building a surplus and send an alert suggesting setting some money aside. By helping customers avoid fees and get the most out of their prepaid accounts, we providers promote their long-term success and, in turn, our own.
Principe 4: Create Opportunity
It drives me crazy when my cell phone provider introduces cheaper new plans but doesn't tell me about it. For prepaid cardholders, opportunity could mean learning about new plans and offers (even if it means reduced fees for the card issuer). Or, they may be interested in learning about options to move to a credit card, or to a standard bank account. Financial options create opportunity, and opportunity helps reduces stress and anxiety.
The Compass Principles are a good framework for issuers to think about reducing customers' money anxiety. But what can consumers do? For one, pay attention. Just checking accounts once a week is a good start toward making sure all is well. And make the effort to stay on top of the options to manage money better. Because being in the know definitely feels good.