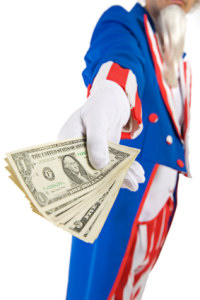 The IRS is the first to tell you that the fastest way to get your tax return is by direct deposit. And tax preparing services such as H&R Block or Intuit's TurboTax are actively supporting the IRS efforts by inviting tax payers to provide their direct deposit information as part of the filing process.
But what if you're one of the estimated 17 million US adults who don't have a traditional bank account for one reason or another? Consider this: some reloadable prepaid cards branded by Visa or MasterCard now come with a direct deposit account number, so you can get your tax return deposited straight to these cards from the IRS (or any bank transfer, for that matter).
Which prepaid cards exactly can receive tax refunds from Uncle Sam? Pretty much any prepaid card from an issuer that provides a card imprinted with your name and bearing a Visa, MasterCard, American Express or Discover logo. For instance, H&R Block offers its own prepaid cards, while Intuit partners with multiple card issuers to facilitate tax refund direct deposits. Gift cards that you can buy in retail stores and do not come with your name printed on them won't cut it though, even if they have the logo of one of the big four payment networks.
Getting your refund deposited to a prepaid card comes with benefits in addition to speed. You can open prepaid card accounts even if you have no or bad credit history. There's no chance your paper check will remain undelivered or get stolen. Your refund won't get eaten by overdraft fees, because prepaid accounts simply decline overcharges without fees or negative balances. Some prepaid cards even let you write checks, which makes them a viable substitute for traditional checking accounts.
There are long-term benefits to getting your tax return direct deposited as well. A few weeks ago, the Treasurer of the City of San Francisco, Jose Cisneros, speaking at a prepaid card conference organized by Visa, described his "Bank on San Francisco" program, which aims to financially empower as many city inhabitants as possible. He noted that once people opened accounts to get their tax refunds direct deposited, they also started getting their salary direct deposited. The result was that they saved the large, ongoing check-cashing fees they'd been paying before.
So, do yourself a favor: get your tax refund faster by direct deposit, whether you have a checking account or not.