Today, the Kardashian sisters are putting name and celebrity status behind a Mastercard prepaid card. The sisters, Kim, Khloe and Kourtney, are the latest in a line of celebrities who have launched branded prepaid cards, including Russell Simmons, Lil Wayne and Amar'e Stoudemire. [Disclosure: the Amar'e card is an UPside Visa Card. operated by Plastyc, where I am the CEO.]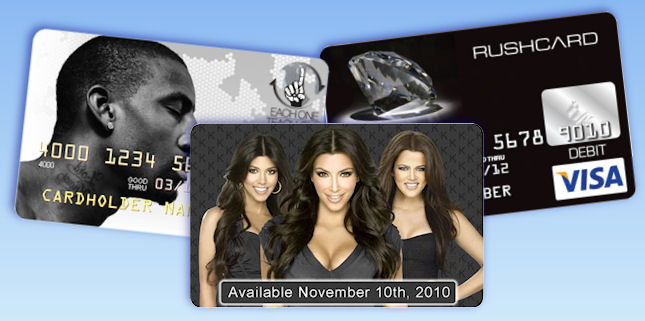 It's good that celebrities are raising awareness of reloadable prepaid cards. These cards are a great option for people who don't have traditional bank accounts, and their use is growing in general. They are also a good way for teenagers to handle money more responsibly than borrowing Mom's or Dad's credit card, provided parents can supervise and control their teen's prepaid card account. Nearly 12 million people are expected to have one by 2014. Unlike a credit card, you can't run into debt using them. Unlike a traditional checking account, there are no overdrafts. They use trusted payment networks such as Visa and Mastercard and most of them are federally insured. You can also receive direct deposits of salaries into these cards, a much better alternative to cashing a paper paycheck at check-cashing stores which can charge outrageous fees. I haven't seen the Kardashian's new card yet. It's scheduled to be available tomorrow, November 10. But here's how reloadable prepaid cards work in most cases:
You sign up for an account online by confirming your identity with a social security number. There's no credit check. If you are minor, a parent can sign you up.
A handful of days later, a card, imprinted with your name and account number arrives in the mail.
You load money onto the card in multiple ways such as having parents transfer money from their checking accounts, having paychecks direct deposited and by using cash to buy GreenDot MoneyPacks or to swipe your card at a Moneygram location.
You spend money in stores or online as you would with any other piece of Visa or Mastercard plastic.
You check your accounts on the Web or your cell phone.
But watch out. Not all cards are created equal. Just because there's a familiar face on the card doesn't mean the terms are good. And be skeptical of the word "free". Just as ATM and overdraft fees in "free" checking accounts can hurt your balance, some cards can carry high fees that leave you with a lot less to spend, if you're not careful. Every prepaid card issuer must post a fee schedule. Here are a few items in that fee schedule that you should take a closer look at:
Activation fee: this is the fee that some cards charge you just to begin using the card.
Monthly fee: this is automatically charged each month to keep the account open. Some cards waive or reduce this fee with a minimum balance.
ATM withdrawal fee: this is on top of any fee charged by the ATM network.
Transaction or purchase fee: this is a fee that some cards charge each time you use the card, regardless of the amount of the purchase.
Fees for loading money in the card from a bank account or another card of from a parent account.
The best cards will have no or low fees in each of these categories.
Another item to look at are features. Some cards have most of the features of a traditional bank account, including the ability to issue paper checks. Or they have features aimed at specific demographics, such as mobile payments, budgeting tools, or parental controls for teenagers. Make sure the prepaid card has the features you want.

Shopaholics beware! Money and emotions are a dangerous mix. Most celebrities do not need to watch their spending, but most of the rest of us do.
If you like the idea of a reloadable prepaid account but you don't like the fees or features of the celebrity card you're reviewing, check around. There are many, good alternatives.