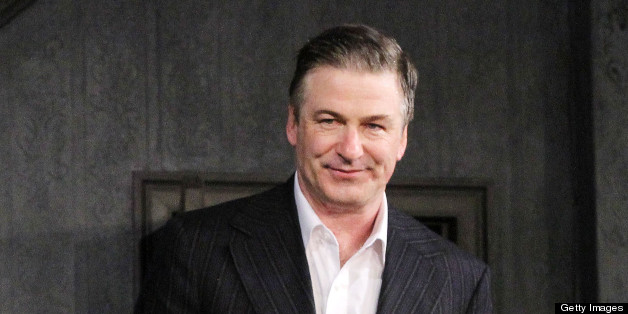 Some years ago I interviewed Alec Baldwin at a tribute for the legendary Elia Kazan. We talked about how Kazan had directed Marlon Brando in A Streetcar Named Desire and how his performance as the brute Stanley Kowalski had revolutionized American acting in style and sensibility.
Alec really loves theatre. He had once challenged himself by starring as Stanley in a Broadway revival of Streetcar and he was swaggering, vulgar, and very, very funny, playing the character like a wiseguy and a baby. When he screamed "Stella!" and then collapsed sobbing, I forgot all about Brando.
"When you're doing a play there's no such thing as too much work," he told me then. "Everything matters."
Flash forward to 2013: Alec has returned to Broadway for the first time since 2006 in Lyle Kessler's surreal psychological thriller, Orphans, playing a mysterious gangster named Harold. Held hostage by two feral orphan brothers in their dilapidated house, Harold turns the tables on the boys and, with gun in hand, transforms himself into their teacher, healer, and surrogate parent. (Orphans began in a 1983 production at the Matrix Theater in Los Angeles, followed by a high-voltage Steppenwolf version directed by Gary Sinise; after three decades the play continues to be produced all over the world.)
"Why did you choose Orphans?" I asked Alec in a recent phone interview.
"The language," he said. "It's an electric piece of writing. I knew I'd never be bored. So many layers to discover about fathers and sons connecting -- so many walks down a dark staircase."
Rehearsals were intense, he went on. When the producers' original Treat (Shia LaBeouf) was fired over creative differences with director Dan Sullivan and Alec, he was replaced by actor Ben Foster. LaBeouf retaliated by tweeting private e-mails between himself, Sullivan, and Alec. The incident went viral on the web for several days but the company ignored it.
They were too busy bringing Orphans' violent emotional confrontations to life. At one point Alec hurt his back and the two younger actors were so keyed up and nervous they confessed to vomiting every night before the curtain went up.
I caught the first preview and watched Alec shed his wisecracking celebrity mask and disappear into the bearlike con man-gangster Harold. Right off he tells the two brothers, "I'm an orphan..." He tenderly lectures the boys about the importance of family; he knows what it's like to be abandoned.
Opening night, the ensemble-playing between the three actors was remarkable. Foster brought a melancholy fierceness to the role of Treat, an angry hoodlum who, until Harold comes into his life, robs people at knifepoint to survive. British actor Tom Sturridge creates an amazing portrait of the emotionally damaged younger brother Phillip, who flies around the stage, literally climbing the walls like a monkey (he hasn't been outside his house in 15 years). The two play cruel games with each other. But they stop when Harold takes on the Daddy role. I especially liked the moment where he serves Phillip some bouillabaisse and dresses Treat in a suit and tie.
At the curtain calls, the audience was on its feet cheering the three actors -- Alec in the center, Ben and Tom on either side. They looked exhausted. That's when I remembered what Alec had once told me, that "when you're doing a play there is no such thing as too much work. Everything matters."