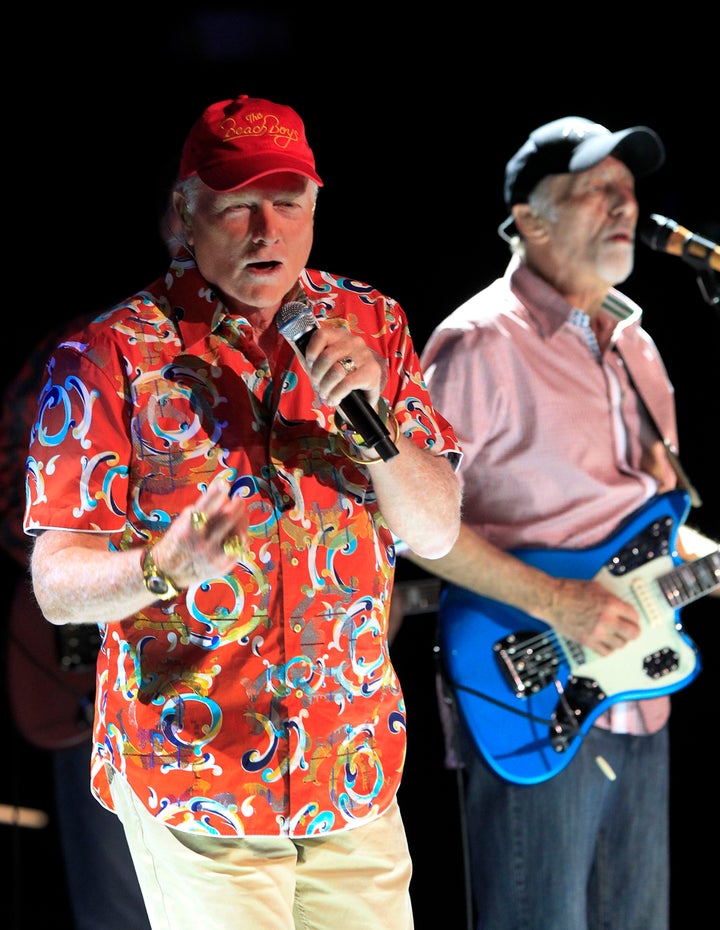 The marquee announced an auspicious event: The 50th anniversary tour of the Beach Boys, whose guitar strumming and tight harmonies helped usher in a new era of music. A half century ago, the Beach Boys were the three teenaged Wilson brothers -- Brian, Carl and Dennis -- cousin Mike Love and school friend Al Jardine. Later band members included David Marks and Bruce Johnston.
Today, at a sold-out concert at the storied Chicago Theater, there was history set to music, as the surviving members of the Beach Boys (Brian Wilson, Mike Love, Al Jardine, Bruce Johnston, and Dave Marks) performed hits such as "Surfin' Safari" (1962), "I Get Around" (1964), "Good Vibrations" (1966, and the band's unofficial anthem "California Girls" (1965). No matter that these former teen musicians looked a little like grandpas at a baseball game, they still had that signature sound -- even if it did take some help from a stellar backup band.
At mid-life, our favorite songs compile quite the anthology, from what we remember playing at the high school prom to the first dance at our wedding, as well as any number of momentous occasions accompanied by music. Looking back on our rock 'n' roll reminiscences raises the inevitable questions: Where was I back then? Where did the time go? What have I learned along the way?
And so I pondered five life lessons that I learned at a Beach Boys concert.
1. You're never too old. Age really is a state of mind. Besides, sometimes you need a few years behind you to not care if you look stupid dancing by yourself at your seat. (I didn't look that funny, did I?) If a bunch of late 60- and 70-year-olds can sing "Be True to Your School" with a straight face, then honestly, consider midlife to be permission to do whatever you want.
2. Don't lose the passion. No matter if it's rock 'n' roll, rock climbing, rock gardening or any other activity that did not fit neatly into my literary device. True, it may be easier if you're being paid handsomely to do something, like getting the crowd to its feet with such classics as "Help Me, Rhonda" and "Barbara Ann." But paid or unpaid, if you love it, then live it. With mid-life comes the realization: If not now, then when?
3. Treasure long-time friends who have journeyed with you. These are the dear ones who knew you then and understand you now. (Besides, they know so much, can you afford not to have them as friends?) Seriously, people who share the same memories and much of our history can keep us grounded in who we really are, while encouraging us to consider who we might yet become.
4. Value the timeless, but adapt. Granted, the oldies but goodies have earned a special place in our hearts, minds and sound tracks. But don't close your ears to the new -- and I'm not just talking about songs here (even the Beach Boys are recording new material). Adapt or die doesn't just apply to dinosaurs of the reptilian variety. The more we experience, the richer our lives and the greater our ability to contribute to the world around us.
5. You are the compilation of your life story, but you get to tell it your way. Nobody goes through life unscathed, and a Google search reveals the trials and tribulations of the Beach Boys, including Brian Wilson's health issues and the deaths of Dennis and Carl Wilson. What the band presented, though, was their history through music, with tributes paid to the late Wilson brothers and a frequent spotlight on Brian. The takeaway for me as I listened and watched was never give away the right to define yourself, on your terms. Now is all we have. It's up to us, today, to make the most of what we've learned through all the pain and disappointment, with encouragement that comes from the joys along the way.
And that led to the biggest realization of all: It's your life; make it joyful, and don't forget to listen to the music.