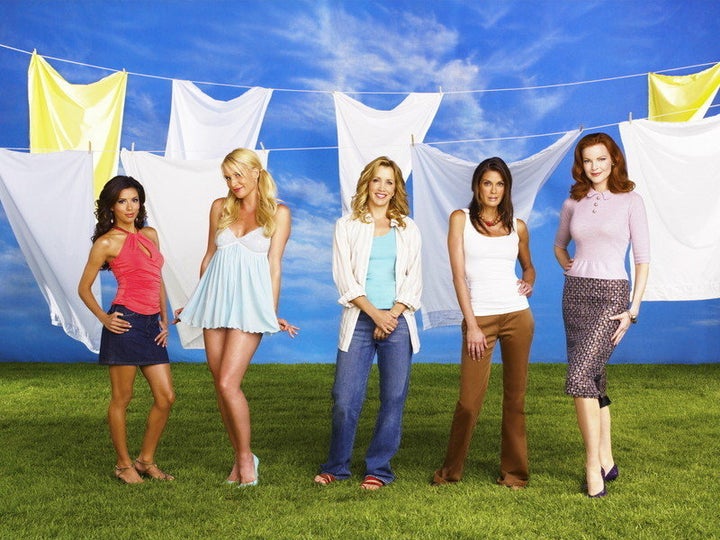 I never would have guessed last week that I would be writing about Desperate Housewives. In fact, when the show exploded in its first season, I told a reporter that I thought it had a short shelf-life. Mea Culpa! Although I was a fan from the beginning, slogging through seasons even the show's creator wanted to erase (lest we not forget the season they skipped ahead years to abandon failed story lines) -- my interest finally dwindled towards the end. On occasional Sunday nights I found myself watching Chopped Champions and I opted for the Survivor finale last Sunday, only flipping to Desperate Housewives during the commercials. However, I watched the last scene in full and I can't get it out of my mind; it was the antithesis of Sex and the City and made me long for Carrie and gang.
Here's a recap of the ending: the four friends (original cast members) play one last female bonding game of poker. They talk about their friendship and how they'll get together to play again no matter where life takes them. Then the narrator, their friend Mary Alice who committed suicide in the first episode, reveals that there will be no future poker game. The women all leave Wysteria Lane and start anew. We are then treated to flash-forwards of three of the characters -- all of whom are given fantasy futures. Lynette, reunited with her estranged husband after a season spent plotting and demeaning herself to 'win him back' (their marriage was troubled for the entire series and as a viewer I wished for years that they would divorce). She goes from stay-at-home mom to CEO when she moves to New York where she grows old amidst her kids and grandkids. Gabby and her husband move as he transforms her from a personal shopper into a boutique owner and their tempestuous marriage continues (despite the infidelity and other persistent issues in their marriage). Bree re-marries, yet again, and moves away to embark on a new career in politics. Susan is the only of the four original housewives not to receive a flash-forward. Recently widowed, Susan is not in a romantic relationship and thus we are denied a glimpse into her future. I guess without a man, the creator couldn't even imagine her future. It's sad, really, that a show about female friends so close they've gone through the birth of children, divorce, depression, alcoholism, infidelity, childhood abuse, suicide attempts and even covering up a murder together, ended by annihilating the bonds between these women in favor of futures focused on dysfunctional or new relationships with men. And then of course there's poor Susan, the original star of the show, whose future can't even be imagined.

Now of course the show has always been a satirical soap opera based on fantasy, exaggeration and melodrama and is certainly not expected to leave us with any 'positive' message. Nevertheless, after eight seasons of intense female friendship, heightened towards the end of the series, the flash-forward sequence was, for me, far from the fantasy the creator clearly intended. While years earlier the Sex and the City foursome all ended in romantic relationships (an error corrected in the first movie), there was no sense the friendships were diminished -- just the opposite.

After eight years of seeing the Desperate Housewives evolve from caricatures into characters, I was disheartened to learn they let their friendships fall away. Having said that, just this morning my husband and I were chatting about an upcoming work trip I'm going on to San Francisco. My husband asked if I was planning to extend the trip to visit my best and oldest friend Ally, in Los Angeles. I told him there wasn't time because I had to get back to Boston for work, our daughter and other obligations. Between work, spousal and parental obligations, as well as the expense of air travel, it's been years since I've visited Ally and I don't anticipate a trip in near future. Perhaps the conclusion of Desperate Housewives wasn't disheartening because individual families were privileged over the deepest of friendships, but because in the final scene, the totally unreal fantasy became believable.