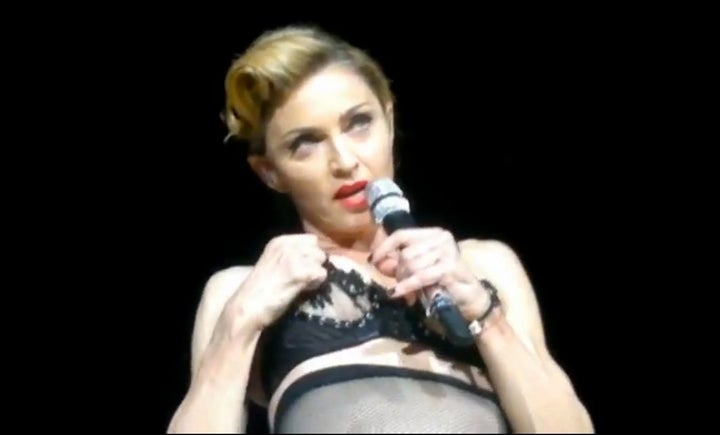 Over the past few weeks Madonna -- the publicity queen -- has been in the headlines for showing her nipple, flashing her bottom and other provocative erotic on-stage antics. The pop-provocateur has even been targeted with more mean-spirited media commentary regarding her tour costumes (some question if the 50+ singer can still sport a cheerleading uniform). All of the attention aimed at Madge and her tour is focused on her sexuality (and her never-ending attempt to share her sexuality with the world). However, the songstress has just released her most violent album to date, featuring the song "Gang Bang" in which she fantasizes about murdering her ex-husband, Guy Ritchie, simply because he left her (and took all her jack, as she exclaims). How is her nipple-baring more provocative than lyrics and on-stage performances that focus on murdering her former spouse? Moreover, what would male artists like Eminem and Chris Brown say about this double standard?
There is always a slippery slope between defending free speech and artistic license and taking responsibility for what we put out into the world. For many, the glamorization of domestic violence crosses the line. A well-known example is Eminem's "97 Bonnie and Clyde" in which the artist fantasizes about bringing his young daughter to help him kill his ex-wife (the child's mother). Although a commercial success, the song garnered extensive media attention regarding the reality-fantasy line and the normalization of domestic violence in contemporary pop culture. Feminist singer-songwriter Tori Amos covered the Eminem anthem on her 2001 "Strange Little Girls" album. Without changing a word of the song, Amos sang the song from the perspective of the mother, not quite dead, in the trunk of Eminem's car. Amos made the media circuit urging artists to take responsibility for the messages in their work and how they impact listeners. More recently, Chris Brown was critiqued for lyrics in his song "Deuces" that includes lyrics about the infamous limo fight between Ike and Tina Turner and that mirrors Brown's much-publicized incident of violence with former girlfriend, Rihanna.
Now an argument can be made that men simply don't live in the same world women do with respect to partner violence and thus, there are no real consequences to putting out art that depicts female violence against males. However, this line of thinking is problematic for two primary reasons:
1. Although intimate partner violence is typically committed by men against women, the fact is that boys and men are also the victims of violence both directly and indirectly.
2. If we legitimate portrayals of females' violence against their male partners we make it much more difficult to critique portrayals of male violence against female partners, which we know has real-world consequences. Moreover, in the case of Madonna's song, the female protagonist seems to feel her partner deserves to die because he left her with a hefty court settlement. In the real-world this perspective has led to assaults on countless women after they have left their abusive partners and it is a reason many fail to seek the spousal and child support they deserve.
I think this is a goose-gander situation. While I don't support censorship, consumers should think carefully about what they choose to listen to and artists need to take responsibility for the content of their work: neither of which should be dependent on gender. Madonna has made a career by pushing the envelope and the commercial viability of women in the music industry. I couldn't care less what costumes the icon sports in order to get our attention but I think we should call her out on her exploitation of domestic violence.