It was the last Saturday evening of the summer. A breeze off the lake cooled the crowd gathered in Millennium Park's Pritzker Pavilion to bid farewell to the summer. A former dancer turned politician, Mayor Rahm Emanuel introduced the Chicago Dancing Festival. He radiated pride as he welcomed his electorate to a night of world-class dance where all the seats were cheap seats...free in fact.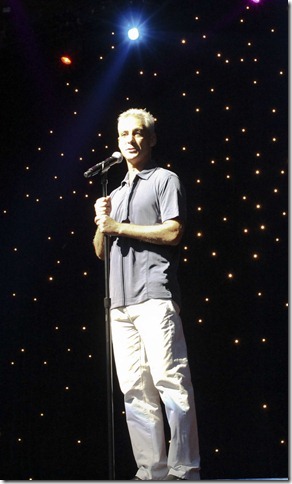 I jostled my way to the front to get this snap. Noting my presence, Emanuel turned and made eye contact with my camera lens, smiling serenely. For a guy noted for his intensity, it was a subtly commanding gesture.
Pundits wonder whether Emanuel can fill the shoes of the passionate, straight-talking Mayor Daley. Time will tell. But on one account, he's already delivering in spades--he IS the brand. Hard-working, hard-charging and wielding a reliable contempt for phonies, Rahm embodies Chicago's brand.
Civic marketing is helping cities tap the economic benefits of expressing a brand identity. Art and technology are key assets in that equation, as I discovered while undertaking an ethnographic study of Houston's creative economy. In an age of social media and 24/7 news cycles, big cities need big personalities to break through the clutter.
Consider the impact Cory Booker makes by personifying the come-back spirit of Newark, NJ. In Philadelphia, Michael Nutter cleverly evokes the spirit of ingenuity that birthed our nation to position his city. With a rapid ramp-up of 400 new startups, it seems to be working. I'd like to argue that any aspiring Mayor worth his/her salt must be a skillful brandmaker to position a city for success.
These days, brandmakers in all industries must kick down the doors of convention to break new paths toward growth. It's ambitious work for leaders willing to be a little weird. For a dancer-turned-power-broker, Emanuel seems like a natural. His training means he's nimble, disciplined, and pivots gracefully--all vital talents for new-economy leaders.
We, the people, have our part to play as well. Hacking our collective way toward brighter days demands creative thinking on the part of citizens and city employees alike. It's a scenario that necessitates that we kick our addiction to nostalgia about America and rally around leaders willing to speak frankly about vexing problems we need to solve together.
If the people who embody them define future brands, civic or otherwise, then winning politicians are Brand Ambassadors-in-Chief. From where I sit, Rahm has those dance steps down cold.
Photo credit: Patricia Martin