The first bright face I saw at the Producers Guild's Awards Show at the Beverly Hilton was our own Marlo Thomas, there to present an award named for her father, Danny Thomas, (who is truly a founding father of television), for episodic television for Louie. Marlo is like wine and gets better! She is as adorable as the day she became That Girl, should age but doesn't, and when I started to ask about the long-time crush I had on her brother, my courage failed me, so maybe she is still "That Girl" so much so that I look to her as a role model and not someone I can easily ask about her brother! Maybe I can do it here! What a doll and wise woman she rolls into one amazing woman! You go, Marlo!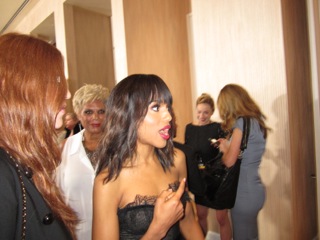 Next I saw a string of fabulous actresses including my favorite tall girls Anne Hathaway and Nicole Kidman. Nicole and I were the same size but we both looked up to see Anne who had lost so much weight for Les Miserables that she looked even that much taller! She could be a porcelain doll. Lovely Nicole was falling apart, literally, having broken a bracelet, and trying to gather the pieces and walk at the same time. It's not easy being green. Well, for me it was really easy because I wore a green beaded gown! The wondrous Julia Stiles is adorable and had a small but juicy role in Silver Linings Playbook and the talented Kerry Washington was quite simply pretty as a picture.
The most lavish and most produced movie is Les Miserables -- producers Tim Bevan, Eric Fellner, Debra Hayward, and Cameron Mackintosh did a smashing job merging its legacy in story and musical and finding magic. Eric Fellner told me, "It wasn't easy! The music was so complicated and with our stars -- none of whom had ever sung on screen before, it became a barrage of challenges!" Cameron Mackintosh said that it's amazing to think that the movie came about because of Susan Boyle singing "I Dreamed a Dream" from the show! It's popularity really spoke to him!
In another true story, Argo was based on the mind-boggling truth of the "Hollywood hostage" story made ripe for the telling. The key was to tell it well and did they ever with Ben Affleck's terrific directing and Ben Affleck, George Clooney, and Grant Heslov producing! It took the award for best film on this night. And, Skyfall and the James Bond movies have become a tad too dark and serious for me though I really liked the film in this new light and I really loved the Thomas Newman score.
Lincoln has been called a masterpiece and I found it a wonderful reveal of the man himself. We never think of our heroes as human and here the man is unearthed beautifully by the gorgeous directing Stephen Spielberg and producing of both Spielberg and Kathleen Kennedy.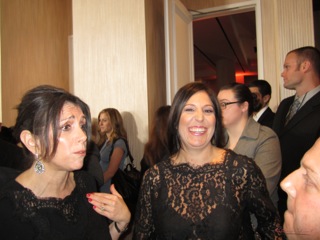 I loved Quentin Tarantino's Django Unchained and meeting his past employees/friends/producers Stacy Sher and Pilar Savone to whom he read his script then hired them on as his producers seems to be his modus operandi but it works for everyone involved! And I haven't yet seen Zero Dark Thirty but I am huge fan of Kathryn Bigelow.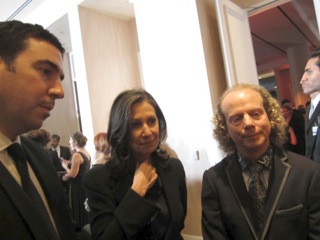 In terms of being really moving and having a movie really stick with you is Silver Linings Playbook. When asked about the "feel good quality" of Silver Linings Playbook, Jonathan Gordon, Donna Gigliotti, and Bruce Cohen qualified that. Donna said, "While you feel good about this movie, it is a very serious topic and David's ability to balance serious and humor, sometimes in the same scene -- what he's really talking about is taking those kinds of mental issues out of the closet, de-stigmatizing them."
Bruce added, "I haven't heard someone call it that in a while but in the context of everything that's happening now with the awards and with the reaction and with the box office I actually like it because it occurred to me that when you said it I thought, 'Wow, it's a feel-good movie in this deep, profound way.'"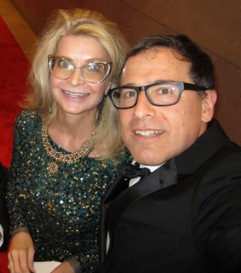 In talking with writer/director David O. Russell, I soon found out that he was as enamored with his producers as they were about him!
I love my guys... I love Bruce Cohen who did American Beauty and Milk and he did this picture; Jon Gordon who did Flirting With Disaster with me, and now this picture; Donna Gigliotti championed Shakespeare in Love, The English Patient, she championed The Reader --- I aspire to keep up with my peers who do the most innovative, original and heartfelt work, and I'm here to honor the guys who are my partners and who challenge me and support me;  I couldn't do it without them.  And also Harvey. Harvey Weinstein is the biggest challenger and supporter of me and I love collaborating with him.  If you don't get challenged you don't make a good movie.  Sometimes you've got to prove it to him... why is this scene in the movie?... alright I'll prove it to you. It makes the scene better.
Life of Pi is a glimpse at a life of Pi (from the book) that is so special, it simply has to be seen! Talking with director Ang Lee and understanding his process of juggling the adult/child producing/creative place within him brought him from God-like status to human for me. And what a sweet and gentle man he is. It's true that the creative has to play servant to the grown up tasks in order to get to the point where the creative stuff can happen! This is a man who loves directing and the whole process (such as discovering the actor to play Pi) exhilarates him. The film is so innovative that you will think the ferocious tiger will jump off the screen at you! And maybe it just will!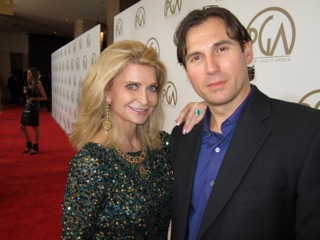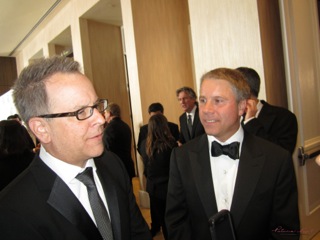 The producer of Wreck-It Ralph, Clark Spencer seemed more surprised than anyone that he and director, Richard Moore, won in the animation category for best produced movie and quickly turned the credit over to others, which only speaks to how nice and humble they are. They important thing is that everyone at Disney is talented and terrific and deserved to win in a town filled with talent. Wreck-It Ralph is a film brimming with color and heart and speaks to children of all ages. Go Ralph! The Oscars are soon enough and some believe that the Producers Guilds Awards speak to those results!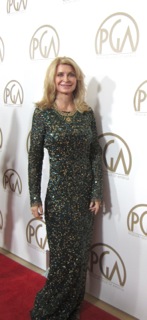 See you at the movies!
Patricia Rust is an active member of the Producers Guild and a former member of their board and founded their magazine. She is a blogger for The Huffington Post.
Photos by Patricia Rust