The story of La Traviata , the great Verdi opera, is classic 19th century female-disaster prone and turns on the love life of a woman with loose morals (see Madame Bovary, Anna Karenina, Nana et al) who has a change of heart. The original novel by Dumas, La Dame aux Camelias, has been the basis for many offspring including the Garbo film, Camille.
Violetta Valery, our doomed heroine, becomes a reformed party girl, probably the very worst kind. Notorious for her prior relationships with a variety of men, Vi makes mincemeat out of the heart of Alfredo, the scion of a wealthy family -- and then compounds the debris by actually falling in love with him.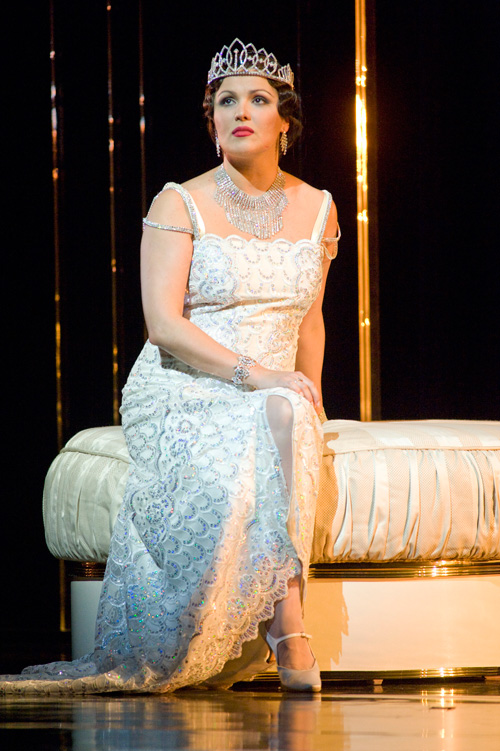 Anna Netrebko (Violetta Valéry). Photo by Terrence McCarthy
And where is it set? Why, Paris of course, home to all bad girls, sooner or later.
The anti-heroines of 19th century literature and opera are beautiful, sexy, irresistible Carrie Bradshaws who get consumption instead of Manolos, all because of falling in love with the wrong Mr. Big.
You know how some mothers remind you from birth you can just as easily fall in love with a rich man? Well Violetta has more or less been following this path.
And what does she do to try to get over him? Why resort to the default naturally: go out and party more.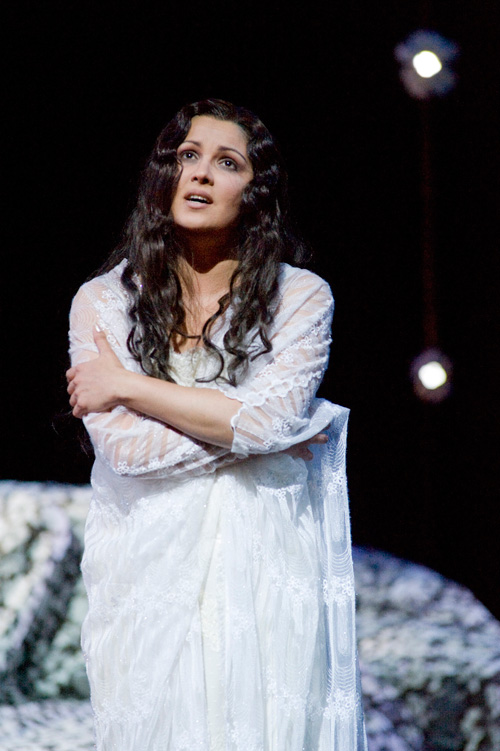 Anna Netrebko (Violetta Valéry). Photo by Terrence McCarthy
Last weekend, I saw the divine Anna Netrebko in San Francisco strut Violetta's stuff, rejiggered to the Flapper Era. Here was Violetta as Zelda Fitzgerald, a madcap heroine throwing herself onto overstuffed beds instead of into pools.
The gorgeous music from La Traviata will be recognizable to even the most opera-adverse among you, so download it. If one of my sons can actually accompany me to the opera, the least you can do is this -- it will make you cry every time you hear it.
Love songs, especially those that express longing and misery -- are often the way in which we survive relationships, especially when they are fraught with heartache.
San Franciscans have a chance to see Anna Netrebko, whose voice has only improved since motherhood (all of you who are complaining about multi-tasking, think what it would be like to be an opera diva, whose schedule is a bear, running all over the world, without the father of your baby, whom you haven't even had time to marry, having to be in perfect voice and working nights) a few more times.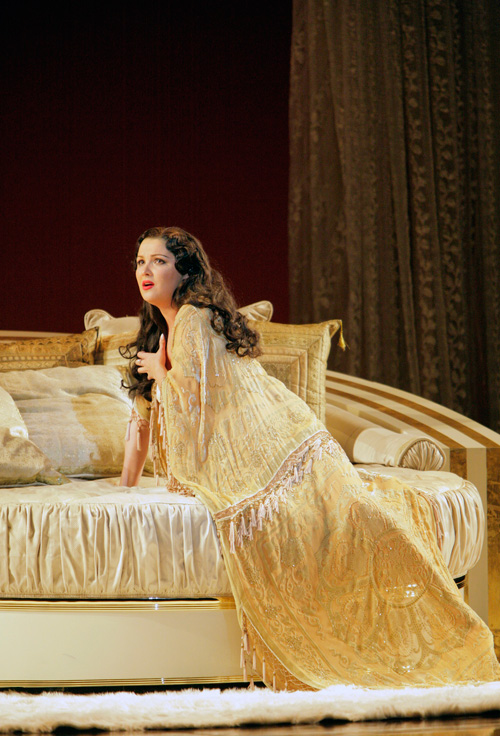 Anna Netrebko (Violetta Valéry). Photo by Cory Weaver
Angelenos are also in the midst of a lauded Traviata cycle and soon in Santa Fe you can catch Natalie Dessay, an actual French dynamo, sing it there. New Yorkers will have to wait until next season at the Met, when they do a Traviata of their own. It's the third most performed opera after Madame Butterfly and La Boheme -- two more operas with courtesan heroines.
Don't feel sorry for the courtesans -- they mostly had it nailed: they had all the perks of hanging out with rich men and none of the tedious obligations of the wives. Watching these operas makes it seem like this might be something we have to bring back a little bit: making men aspire to having us even if they have to give up everything in order to do it.
It's never too late to break a heart or two.
Check out your local opera's summer schedule or Met"s summer series of free concerts and HD presentations.