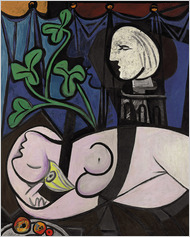 Estate of Pablo Picasso/Artists Rights Society, New York, via Christie's. "Nude, Green Leaves and Bust," a 1932 Picasso.
Even on a day when the stock market dropped two hundred points, dire reports of devastating oil spill costs circulated and the Euro imploded with the prospect of other countries besides Greece needing bailouts, Picasso once again proved his staying power as a 1932 portrait of his muse Marie Therese, Nude, Green Leaves and Bust, owned by Los Angeles collector Francie Brody, sold for $106.5 million, a record for any work sold at auction. Even from well beyond the grave, Picasso did not like anyone else holding a sales record which had recently gone to a Giacometti head in London.
Brody was known in LA for her marvelous Quincy Jones mid-century house filled with wonderful art and furnishings, and other pieces in her collection also went for high prices.
We don't know who bought this Picasso, but speculation is that much of the work that sold in the Christie's sale was headed outside of the United States to a Russian or Chinese collector.
Art dealer Barbara Guggenheim, who was in the room last night said, "What was amazing is that there were at least a half dozen players, some in the room, others on the phone, still bidding as the Picasso crossed the $60 million level. Often an auctioneer has to strain to get bids up. In this case, the auctioneer Christopher Burge needed a butterfly net to catch all the bids. Only at the very end, did he do what he does the best -- squeeze that little bit of toothpaste from the bottom of the tube."
This Picasso was purchased in 1951 for under $20,000. Late Picassos are now the rage -- the John Richardson curated show at one of the Chelsea Gagosian's last year and the pending exhibit at Gagosian London has only further anointed a period in Picasso's life that many once felt was a time of diminished facility. But there are so few of the earlier Marie Therese period that come to market that collectors know it's a rare prize; hanging one of these on the wall is even better than cleaning up in the derivatives market. So far, shorting Picassos does not seem to be in the offing.
Marie Thereses go down easy -- they are very pretty and depict a time in Picasso's life when he was in the flush of desire for this much younger muse. But the infamous incident with the almost-sold Picasso in Las Vegas that was damaged by an errant fist bump only served to highlight the craziness that the 20th century master can still generate.
Is this representative of the art market or just about Picasso, Giacometti and a few others? Sales tonight at Sotheby's and others later in the week will tell a fuller tale.