In the 19th century, they had to choose between sex, e.g. having fun, and spirituality, e.g. being pure. Literature was filled with people like Madame Bovary and Anna Karenina who got what was coming to them for daring to step outside the boundaries of civilized behavior.
Their interior struggle which always spilled over into messiness and heartbreak and always, always, eventual death for the sinner was not only the subject of novels; Jules Massenet, a French composer, took one of the novels of Anatole France to have himself a romp in the debauched city of Alexandria and its surrounding forbidding sands and teach us a thing or two about having to pay the piper whether he be Eros or God in the opera Thais.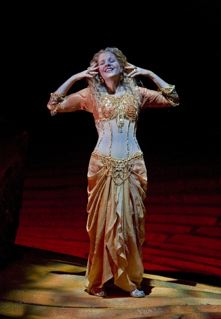 The story of Thais sets up a tortured monk Athanael (Thomas Hampson) (much more intense than the priest in Doubt) who is going absolutely mad crazy out of his mind over a sexpot courtesan, Thais (Renee Fleming).
He's a tsk tsk-er; she's a kiss kiss-er. He throws himself to his knees to pray; she throws herself to her knees, well, so they pay. He wears his hair long and curly to prove how little he cares about the way he looks; she wears her hair long and curly to prove how hot she is.
They meet somewhere in the middle, in the second act. She decides she must reject the life of the flesh, of love, which has proved empty and take up the life of devotion to God (who by the way will be so much more forgiving if she loses her looks and therefore the means with which to ply her trade), and follow the monk to spiritual bliss, which in this case turns out to be a schlep across the desert to a monastery (no half measures for Massenet). He however, having deposited her safely into the arms of the bonnes soeurs spends the rest of his life wandering and having visions of the temptress she was. When he at last makes it back to her, ready, it seems, to finally jump her bones, she has been declared a saint and is one foot into heaven.
It's all terribly inconvenient and just fabulous, over-the-top.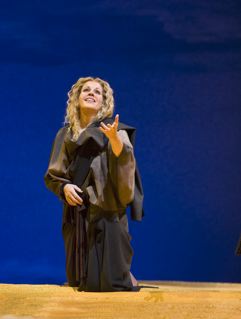 Renee Fleming shows off a voice and writhing bod worthy of inciting religious abandonment but she is not the only star of this totally absorbing confection during which I did not stop smiling. This whole new production is a little bit Cleopatra (the Burton-Taylor kind), a little bit Lawrence of Arabia (the Peter O'Toole kind) and some gorgeous, romantic music.
There is also a belly dancer, groovy long haired penitents, a fake Sahara that had the cast members peering carefully down to their sandals as they picked their way downstage, a starry sky, a giant throne and costumes for Fleming by Christian Lacroix which are great and sexy and pretty until the stiff white gown which marks her canonization. (Why do you have to look frumpy to get past the pearly gates?)
In Massenet's time, this saint or sinner thing was a no-contest: the good guys were always the ones with their belts nice and tight.
But the question remains even after this two star-crossed wannabe lovers have indeed crossed completely and taken on each other's cravings: can we pursue a life of the flesh and of the spirit simultaneously without having to enroll in the nearest convent?
Fundamentalists would say no and then run around anyway (witness all the religious folks who have gotten into trouble in the last decade). I don't know what Sarah Palin would say, she of the updo and expensive taste in clothes and wild man husband yet who doesn't approve of pre-marital sex (unless it's her daughter's). Libertarians (sexual and otherwise) would say the spirit is in the sex and not to fret so much.
When I went up to cruise the Metropolitan Opera Grand Tier at intermission to people-watch, they had definitely decided matters of the flesh came first; it was the Cindy Shermans come to life and I had quite a chuckle realizing that though some of us have gotten with the new frugalista program, some of us are still going to party at least through the holiday season like its Alexandria, fourth century, or if that fails, 2007.
At the opposite extreme, the Met is making cheap seats available at many performances this year so do not discount them when making plans for a date night.
There are a few more performances of Thais but luckily for the whole country, an HD at a theater near you on December 20th: do not miss this: if you were going to choose a way to celebrate the season where spirituality fights tooth and nail with sex on a daily basis, this could not be a better way to go.