This is the third anniversary of my column at the Huffpo.
Much has changed, yet artists and arts organizations are needier than ever. My very first post was on Art Basel which is being held this week under much diminished fire power. Truth be told, I never went back after that year. Already, in 2005, the energy seemed frantic: like the Wal-Mart shoppers who got trampled, the Art Basel shoppers rushed in on day one only to find that all the pieces had already been sold in backroom deals.
The new energy is coming from elsewhere, from pop up storefronts and inner city youth orchestras. The energy might even be coming from you! Now Carnegie Hall, Google and YouTube have joined in to create an online orchestra, and you can find out how to try out here.
But if there is any one person pointing us in the right direction it's Gustavo Dudamel, conductor-elect of the LA Philharmonic, just finishing his tour with the Israel Philharmonic. Though I have written a number of times before about Dudamel, he has become especially meaningful in these difficult times.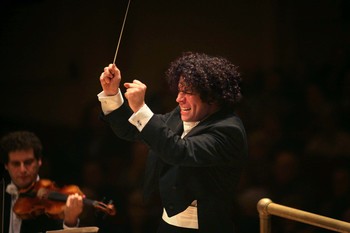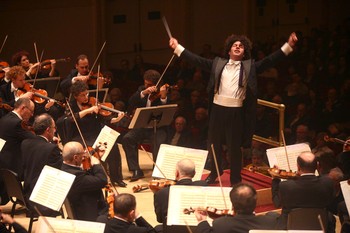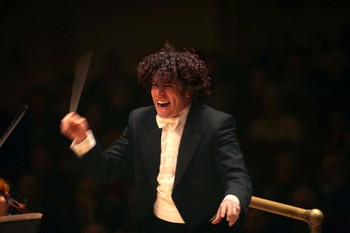 Photos are of Gustavo Dudamel and the Israel Philharmonic. Photo credit Steven J. Sherman
At Carnegie Hall with the IP, as befits the grand, traditional space, he was in tails. But at Disney Hall on a Sunday afternoon with his own orchestra-in-waiting, the LA Philharmonic, he is in a chic, contemporary suit, the shortish sleeves and double vented back highlighting his moves. (You can see him like this in the YouTube clip of him with his Venezuelan Bolivars below.)
Legs straight, bending from the waist, his arms reach out as if to coax, to embrace, his left hand fluttering with expressive inflection of a puppeteer. The last notes of the Ligeti fade away, but Dudamel conducts the silence. You have never heard such a still hall, even in the midst of cough season. He is riveting.
Crazy names pop into your head. Kobe Bryant. Baryshnikov. When his arms go up in a crescendo, you can see the three-pointer on its way. When he dips his shoulder it's as if Mischa were gliding his way through a Twyla Tharp piece.
You would think it distracts. Instead, it serves to highlight , to make you notice the individual musicians. I don't think I've ever paid such close attention to the winds and they are all the way in the center back.
He stands with his men and women, a general who takes his bows with his troops and not in front of them or above them. After singling out their performances by going over to them, he clasps his hands in a by now signature gesture of applause which then freezes into a meditative pose and symbol of being at one with them, and indeed, with us.
I am insanely jealous of the orchestra members and I want to play for him (I don't play!) just to be in the room with his infectious energy. Each orchestra who has played under his direction seems somehow rejuvenated, grinning, just as delighted as we are to be sharing the same musical space with his warm genius, his precocious musicality.
As the encore at one of the performances at Carnegie Hall, he led the Brazilian Tico-Tico No Fuba (love that title, whatever it means) and just about broke into a salsa right up there on the podium. When he conducts his own orchestra, the Simon Bolivar Youth Orchestra, they sway -- and you know it is completely right, to be so connected to the music that you cannot help yourself, even if you are part of making it.
You can get to see the Dude if you are lucky enough to be in NY in mid-January or in Chicago earlier in the month. Otherwise, he is in Beijing, Korea, Seville, England etc. It's a present you can give yourself for the holidays.
At the LA Phil, I think they think I am surely a Penny Lane (the iconic groupie from Cameron Crowe's brilliant Almost Famous).
But I am by no means alone. At Carnegie Hall, a woman walking up the aisle (people are so happy after a Dudamel concert that everybody talks to everybody else -- it's part of the communal energy) said she had never seen CH erupt quite as much, that she had just gone to Venezuela to see him conduct the Tchaik 4 (yes, there is abbreviated insider lingo it helps to learn, the Tchaikovsky Fourth Symphony). Another told me she had bought tickets to every one of his LA performances. The woman who sat next to me had never seen him, and she was melting; "What's not to like?!", she said.
I have a son just a tad younger than Dudamel: this is first time I can identify with the Housewives of Orange County who are constantly hitting on their kids' boyfriends!
The lucky LA Times reporter got to go and hang with him in Venezuela and went to salsa dance with him and his ex-ballet dancer wife! (Oh my God, to dance with Dudamel...!)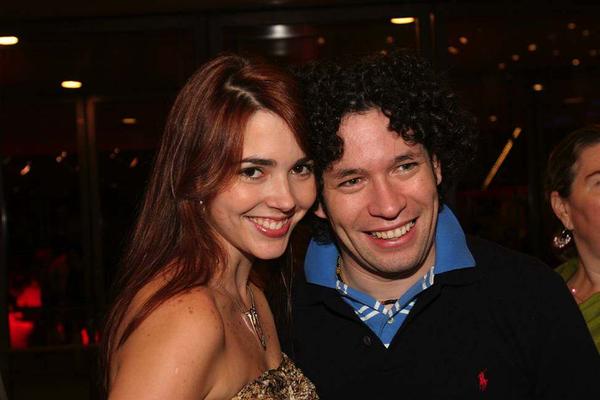 Image from Wikipedia
I haven't felt this way since I saw the Beatles at Shea and that's not dating me, that's just an honest evaluation of the star power of this young man. Check out the "60 minutes" piece and the many You Tubes to get a flavor. You don't have to take my word for it.
This weekend, Dudamel will conduct the YOLA orchestra, the new LA Phil initiative to give instruments and playing time to inner city kids. Though this isn't the first time an effort like this has been undertaken, you can tell Dudamel will have the chops to see it through to its logical conclusion, the Sistema-style orchestral system that has worked so well in Venezuela and of which he has been the most illustrious beneficiary.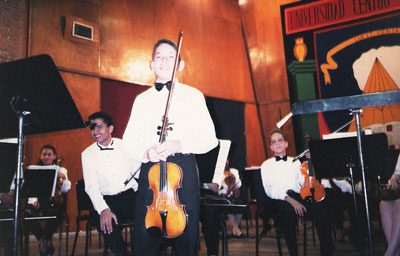 The son of the woman next to me, a violinist of twelve, had not seen a real performance though he studies across the street at the Colburn School in LA, our Juilliard. And she knew this was the man who in lifting up his own orchestra, and every orchestra he has conducted would be able to lift her son's boat too, an inspiration, only twice his age.
Like our president-elect, Dudamel is reaching out across the aisle to take us all in, to welcome. It is a new day in Washington, and in Los Angeles and Chicago and New York or wherever these two men are. After Obama figures out how to fix our economy and the environment, I pray he won't forget the arts. If anyone can get him to watch Dudamel conduct and then get in a room with him, he will see that they can be every bit as much of a mechanism to propel us forward to the future.
Imagine these two men in a room together! It's enough to give you hope.