I come late to the opera.
This, however, is turning out to be a good thing.
Instead of looking at it through the prism of an entire lifetime and having the rigor of knowing what I don't know constantly tapping me on the shoulder, I am free to look at and appreciate opera in my own, idiosyncratic way.
So naturally, I am looking at opera as a woman who is interested in the stories of the women who drive so much of Opera and the singers who are brave enough to interpret these demanding roles.
In other words, I am interested in the Opera Babes.
Women who whether they have lost their minds, have nothing to eat, are mistakenly suspected by their husbands of infidelity but who refuse easy categorization as victims, or, conversely, those who run roughshod over their men; by singing about and believing in the power of love, they transmute their actions into heroism.
It is true that Miss Alberta Cobleigh, my middle school music teacher and choir director (back in the days when music was a required subject) loved opera and introduced me to Joan Sutherland and Lucia when I was only 11. But she was also the one who cast me as Tom Sawyer, the lead in a production which followed many good operas in being blind to sex when it came to the voice being of the right register.
This season, courtesy of the Metropolitan Opera, I have plunged into the repertory, (much of it from the 19th century, my favorite for its great literature about fallen women) seeing some of the world's classiest Opera Babes.
Though there are many categories of soprano, I reacted to these women knowing only the most cursory amount about their vaunted vocal styles. I know they are astonishing singers, in demand the world over. They are passionate and consummately talented. They carry the weight of enormous productions on their often slender shoulders (gone, banished, are the fleshpots; these women are sexpots).
But as important, I believed them. They are actresses, too, and clearly, the days of singers being wooden stick figures with great vocal chops are over. They left no doubt that you could be suspected of betrayal by your husband and still love him to death, that you could be a flirt and a minx and still have a heart of gold, that you could be promised in marriage without your consent and go crazy over it, that you could become the wife of the most powerful man in the kingdom even if you are the other woman, that you could wait forever for the man you love believing in his faithfulness, that you could be a young woman who knew her own heart well enough to defy your family unto death, that you could be banished from your homeland, betrayed by your father and yet still be faithful to your family, that you could be under house arrest by one man but manage to fall in love and marry another.
If you are a woman, and are seeking troop strength about how to be a survivor in a world filled with powerful, demanding, or devious men, there is no better place to go than opera. There you will feel yourself amongst similarly flawed females, fatales or frustrated, who are just trying to get by.
The business of opera, despite its reliance on hot sopranos, is primarily a male enterprise.
But opera itself is female-centric--six out of eight of the operas I saw are named after their leading ladies. Marianne McDonald, one scholar I discovered who seems very wise, said the female characters in opera are either, "paragons of chastity or loose moraled....love may not triumph, but women do."
One critic compared opera to "erotic cheap film, pulpy novels and rock videos". Another critic, Michael Walsh adds, "...goody two shoes are not exactly catnip for composers...opera composers know...at its root, the human character is fundamentally amoral" Yet within the context of opera, they are presented as normal.
Hmmm. What has taken me so long?!
Here's another thing about opera. The source material is often in one language, the composers and the librettists from another country, the singers yet another. Yet the very polyglot nature of the enterprise makes me believe in the utter universality of the emotions. I am consoled by the fact that in opera as in history, women have been falling madly, headlong in love, both stimulated and terrified of using their sexual wiles as currency, and often dying because of them.
Opera took its first inspiration from the Greeks and the goddesses who withstood relatives and rivals trying to knock them off at every turn. As McDonald suggests, "even if they don't have Medea's chariot, they can escape through the upper range of their voices."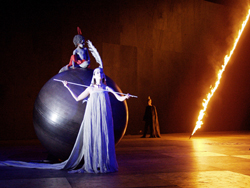 The Coronation of Poppea/Courtesy of De Nederlandse Opera
Monteverdi was the first one to take opera out of the realm of the Gods and settle it squarely on the aristocracy--rightly suggesting that our earthly gods (politicians, anyone?) were as ripe for consideration. I warmed up for the Met at The Coronation of Poppea (1642) last year, in a spectacular, modern, completely absorbing production at the LA Opera starring Susan Graham as Poppea. Poppea, a bad girl if ever there was one, so captivates Nero that he dumps his wife for her. Yet in the seventeenth century they didn't kill off the girl like they did in the 19th century--Poppea walks off with the guy and the kingdom. Graham, in this unsympathetic part, still managed to make me believe he had done the absolutely right thing.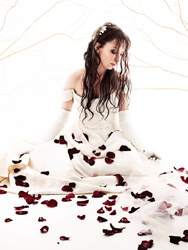 Natalie Dessay as Lucia
Lucia di Lammermoor (Donizetti, 1835) was first up at the Met. As I commented after opening night, who wouldn't go crazy if your brother made you give up the man you loved? Apparently, it is not uncommon to be distracted by the beauty of the production, as I was, but it was Natalie Dessay's portrayal that stayed with me.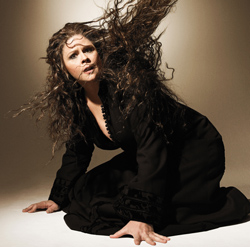 Susan Graham as Iphigenie
A brother-sister combo that instead demonstrates how deep the ties that bind siblings can be is on display in Iphigenie en Tauride. (Gluck, 1779). Susan Graham stars in a role very different from the haughty Poppea (and whom I know I would like since she has devoted part of her website to the death of her favorite dog), Graham is a regal American whose wild hair (Hair: very important in opera as a symbol of madness or wantonness) and priestess robes make her unrecognizable to her brother Oreste (Placido Domingo) and he to her, too. It's not until the last act that they figure out who each other is which only confirms the theory I have about brothers and sisters sharing little more than genetic material.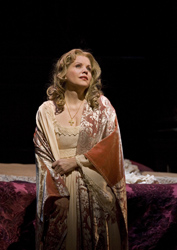 Renee Fleming as Desdemona
When Renee Fleming as Desdemona (from the two Greek words: dys=evil and daimon =spirit) dies and falls down on the steps in Otello, her back landing halfway between the risers and doesn't move for at least ten minutes, her control of her body is as compelling as that of her upper registers. Her centeredness confounds--she is able to project and soar, yet remain the troubled, restrained woman who cannot figure out how to make her husband believe her. A woman who can stay still, who doesn't shout to be heard yet who compels the eye to follow the nuances of her every move: this is a powerful woman.
Of course the underlying material counts: Shakespeare claims two of these adaptations, but Euripides, Sir Walter Scott, Beaumarchais, and Merimee offer stories that aren't to be underestimated either.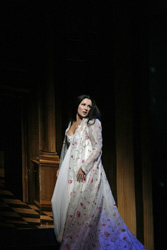 Anna Netrebko as Juliette
Juliette (Romeo and Juliette, Gounod, 1867) is known as an ingénue role so seeing very babelicious Anna Netrebko who seems to know her way around a bed,even when it's floating in mid air, in the part could make you think that Shakespeare had been subverted. Nevermind, Netrebko channels the other aspect of Juliette, the one who is willing to throw everything over for her love of Romeo, who recognizes that true love doesn't come around all that often.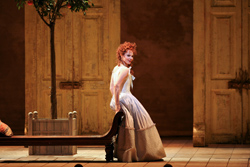 Elina Garanca as Rosina
Rosina in The Barber of Seville (Rossini, 1816) has been locked away (to keep her chaste). She is a high spirited witty flirt and so presumably is suspect for her easy camaraderie with men. She is clever and resourceful, however, and manages to sneak out herself as well as get her lover spirited in. ( A hundred years before, the Enlightenment made for a more optimistic view of life.) Do you remember the little red headed girl that Charlie Brown pined for, but whom we never saw? Elina Garanca, a Latvian mezzo sporting a curly haired strawberry wig is that girl! She flounces and pounces, strutting over the stage and in Bartlett Sher's progressive production (stay tuned for his South Pacific opening in a few weeks) literally out into the audience, a confection that we want to hug.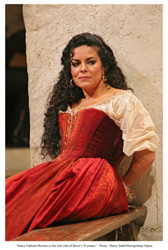 Nancy Fabiola Herrera as Carmen
Carmen is a manipulative, talented, promiscuous, extremely seductive young woman who knows the power of her sex and who is used to getting her way. Men want Carmen but she is able to juggle them, deploying her friends and then ultimately themselves against each other. She is the ultimate strategist, that is until the man who desperately loves her and who had abandoned his mother and hometown girl for her finally goes crazy from jealousy and just plain frustration and kills her. Nancy Fabiola Herrera inhabits this famous role and is able to hold her own against the copious menagerie that parades before us.
(Stabbing people is common in opera: Otello stabs himself after strangling Desdemona, Juliette also stabs herself, Lucia stabs Arturo and then Edgardo stabs himself, Jose stabs Carmen and so on, and while I am not recommending it as a solution to jealousy, it does have a certain efficiency which modern day Prozac does not.)
And who would not identify with Butterfly (Cio-Cio-San) (Puccini, 1896) who lets a guy into her kimono believing all the typical bullshit, waits for him for three years and still refuses to believe he has forgotten her and the son they have had together until she actually lays eyes on him with his new wife? I saw Madama Butterfly this summer in Aspen in a partially staged production. Even without the sumptuous sets of the Minghella version from the Met, Butterfly tears your heart out. Though betrayed, Butterfly is heroic, a devoted mother who believes in the power of her love and is a welcome counterpoint to the faithless Carmen. In the end both these girls rise above stereoytypical expectations of them (feisty Spaniard, subservient Asian) and it doesn't hurt that they have that amazing music to lean on, which turns out to be a heck of a lot better crutch than most of the guys they are hanging around with.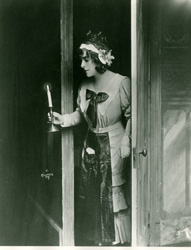 Frances Alda as Mimi
Of course in my own life recently I have been feeling decidedly Mimi-ish, that is Mimi from La Boheme ( Puccini, 1896) needing a candle to light my way up two flights of raggedy stairs. Mimi opens her heart to Rodolfo who isn't quite the man she believes him to be; like many women, she sees what she wants to see. (Angela Gheorghiu stars in a couple of weeks in a classic Zeffirelli production.)
The Met is absolutely packed with audience members of all ages. At Carmen, which is especially beloved for its over-the-top Zeffirelli production, there were hundreds and hundreds of twenty somethings on dates, all dressed up. A young cab driver I recently had was listening to opera and told me he and his girlfriend go as often as they can afford to. This is great news. Something is working.
It's impossible not to see potential operatic librettos all around once you start going to the opera regularly.
Today, for example, one might describe recent events in New York as the tragedy of a powerful man brought down by his very human nature.
Our presidential race could be looked at through the prism of opera too, to wit: the powerful wife of a former leader who has been humiliated and betrayed by her husband rises, a phoenix who has refused to let her emotions control her; she is about to regain the "throne" when an upstart, an Otello-like leader gathers the people and makes a rush to unseat her, claiming her heart is irretrievably damaged and she cannot rule. In the wings awaits a war hero who has been underestimated and has been quietly amassing the troops who are loyal to him alone...
It's not for nothing that Francis Coppola set the murder of the Godfather's daughter in front of an opera House.
But it's the Opera Babes who have my attention, even more than the plots. Virgil was the first one to say that "la dona est mobile" and even though it eventually morphed into an aria sung by a man whose cynicism about women became legendary in Rigoletto, it still is essentially correct: we reserve the right to change our minds, especially when it comes to love.
All photos of singers courtesy of The Metropolitan Opera