We are still technically both in the periods of Easter and Passover so though I am a bit late due to the distractions of grander constructions, Seders, and the Easter Parade, I feel entirely justified in recommending scooping up this last egg in the basket or hidden Afikomen of electric Kandy Kolored joy (thank you, Tom Wolfe) as it is the best prize one could possibly have and perhaps will make spring come along a bit faster.
There are often what are called show houses on the Upper East Side of New York, where sumptuous but empty dwellings are overtaken by the latest pod of trendy decorators, a way to showcase work and garner attention.
There are also fun houses where distorted mirrors make you fat or thin and slide you around scarily in a vortex you can't exit.
Then there is Disneyland, where candy colored rides and roller coaster thrills meld together.
Somewhere in the midst of all those marvelous things is the supremely delightful Alex Da Corte's Die Hexe (The Witch) at Luxembourg and Dayan, surely the most engaging exhibition to emerge on the upper east side or anywhere in Manhattan in quite a while.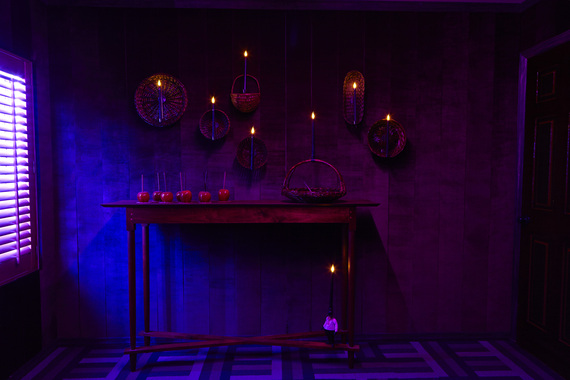 I don't want to give too much away because the thrill of entering the first dark purply chamber where the velvet lined walls (in strips -- I'd never seen such handiwork) which gives way as you mount the braided rug stairs to the orange confections surrounding plaid orange wall paper and a rocking chair, and then a white shag takes you to a seventies style Story of O-ish den and then a sort of wooden Larder of things that might have been put up yesterday or a hundred years ago, and finally a shiny green morgue which makes any other exit to the afterlife surely pale by comparison... this all will make you dream of hiring Da Corte to do your next makeover if you could ever afford him or at least invite him over for supper to recommend a few choice additions.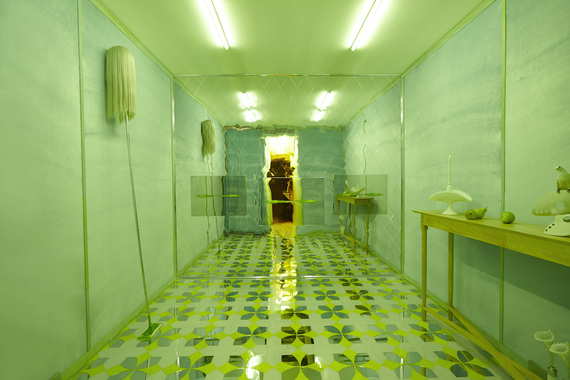 By this I do not mean to put him in the same category as a mere decorator. He is an artist, New Jersey-born, who lives in Philadelphia who seems to have come upon this genius combination of media in a way not unlike his creation, assembling and curating a sensibility both in tune with our times which sample other work but also invent new ways of seeing.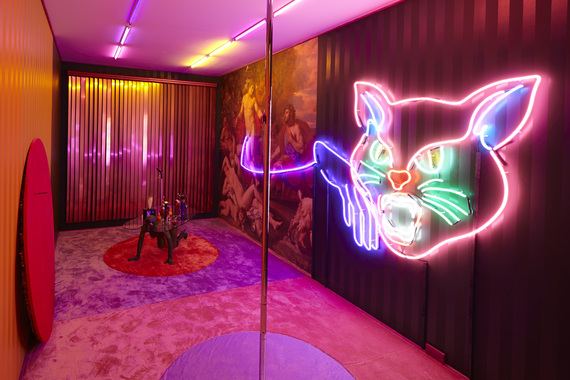 It took five weeks for him to redo almost the entire space at Luxembourg and Dayan with his assemblage of found/purchased/handcrafted/readymade/other artist objects with his small team. Da Corte has a degree in hand drawn animation -- something I know a little about from having interviewed and studied the artists of the Disney Golden Age for Vanity Fair There is a strong connection: perfect lines intersecting with perfect color with a playfulness and narrative that makes it look easy when in fact it is painstaking, extremely laborious work.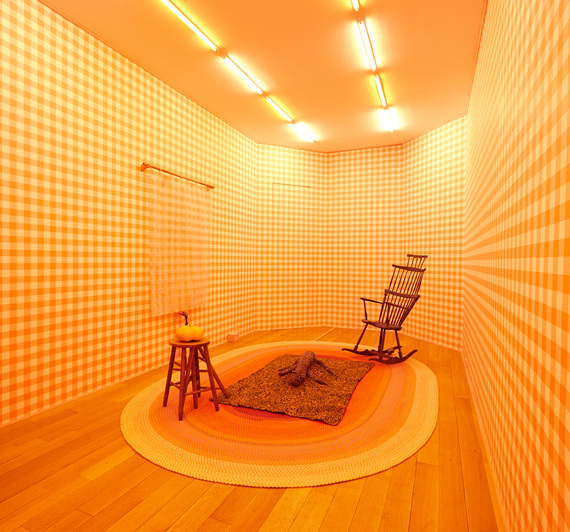 Nearby is Peter Galassi's marvelous installation of vintage photos of artists and their ateliers at Gagosian and Piotr Uklanski's curation of the photos he likes best in the collection of the Met, two other excellent ways to see how artists think and see and process the world around them.
Maybe there's hope and the Upper East Side is not over quite yet. Now if only Da Corte would open a restaurant nearby that stays open after 10 pm...
Hurry,the exhibition closes on Saturday, April 11th.
Installation views of Alex Da Corte, Die Hexe, 2015. Photos by John Bernardo, Courtesy of Luxembourg & Dayan, New York.