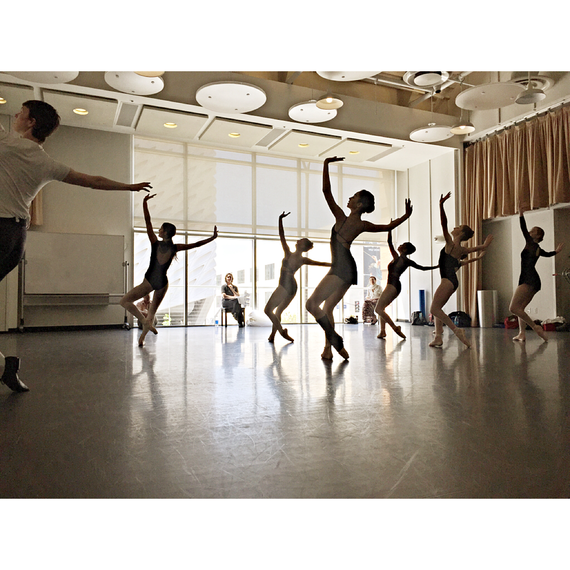 Photograph of Colburn School Academy Dancers in rehearsal by James Fayette
Los Angeles, generally decried as the most impoverished of ballet (and dance) cities, has in the recent years become truly rich with famous, mostly ex-New York City Ballet dancers. For a long time there had been lone pioneer Helgi Tomasson in traditionally dance-friendly San Francisco, and more recently Peter Boal at Pacific Northwest Ballet, but others in LA John Clifford, ex-NYCB etc, tried to get things going without much success.
There are exceptions. Colleen Neary, ex-NYCB, has been shepherding LA Ballet and Westside Ballet. And brave Melissa Barak -- whose short season I caught this year at the Broad Theater -- has started her own small company. LA's export of dancers has always been, and still is important. Misty Copeland at ABT is from LA. Tiler Peck at NYCB is from LA. Allegra Kent was from LA!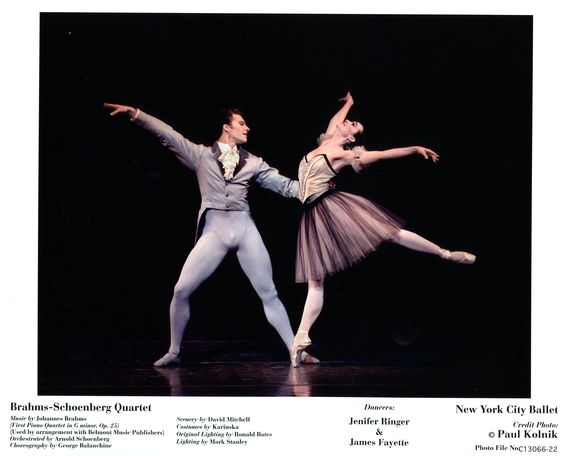 But Benjamin Millepied and his participation in Black Swan (and eventual marriage to star Natalie Portman) has really been a game changer for the city. Millepied's LA Dance Project, coproduced by impresario Charles Fabius, has become a touring company around Europe and U.S. with his relocation to Paris to run the Paris Opera Ballet but keeps its headquarters here and will return next year for a season -- which I hope gets longer and longer. (This way the dancers can be paid year round) All too often, Europe has supported and recognized dance in a way that the U.S. has not.
But Millepied has left LA another invaluable legacy: Besides his own company, he was responsible for luring James Fayette and Jenifer Ringer, also ex-NYCB, out to LA. Jenifer is the director of the Colburn Dance Academy, James is the point person in LA for LA Dance Project as well as an instructor at the Colburn School which adds this program to its very significant music offerings to students of all ages. Millepied was instrumental in designing the program, teaches master classes when he can, and helps raise money for a scholarship in his name. He has a lorgnette which reaches 6000 miles away! (A new dance film about Millepied had its LA premiere this weekend as part of Dance Camera West, a very good look at what makes Millepied tick and to LA Dance project in particular.)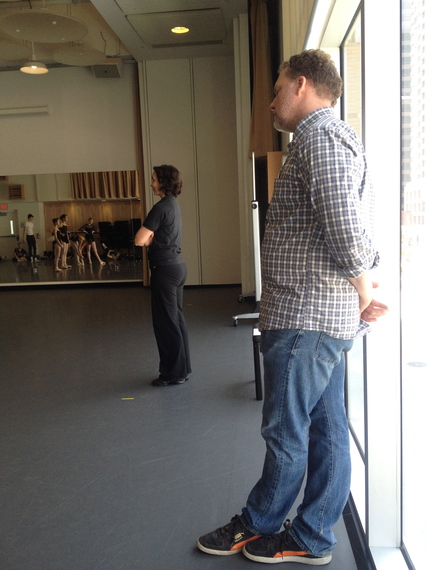 Jenifer Ringer and James Fayette instructing at the Colburn Dance Academy
He need not worry, as he has left the program in excellent hands. Jenifer was a 24-year vet of NYCB, James a 15 year vet. They were both principal dancers. To see them interacting in the studio with these dancers is a joy and privilege.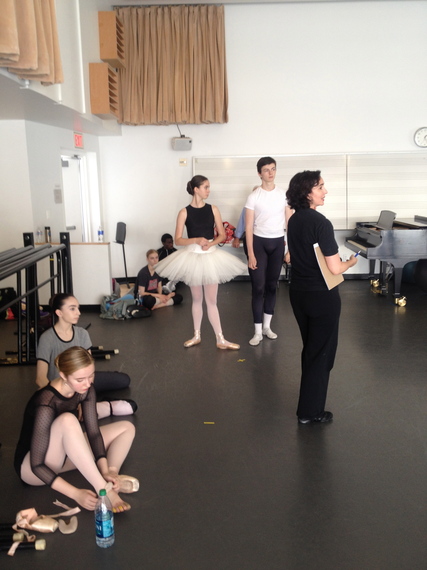 Jenifer Ringer in the studio with Colburn Dance Academy students
And this is really the most exciting news of all. For as George Balanchine famously said when he was conceiving a New York company, "First, a school." College-age students are wonderful and dance companies are also wonderful. But there is nothing that feeds dance as well as the high-level formation of young dancers and the ethic that promotes. The Colburn program as an integral part of the Colburn School is able to provide pre-professional training for students that is unusually rigorous and deep. Jenifer and James are in the studio every day with their 12 first year dancers, ranging in age from 14-18, setting the bar high.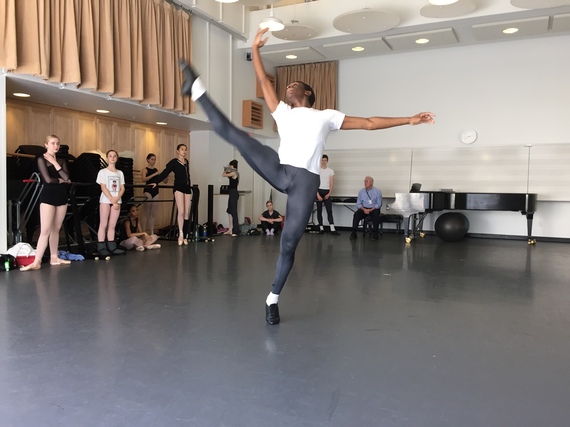 Colburn student Nicholas Rose kicks high at rehearsal. Rose will dance next year with the Verb Ballet in Cleveland. Photo by James Fayette.
And they have the benefit of being surrounded by music all day long: The Colburn School, now a conservatory that vies for the best young musicians with Juilliard and other top-tier conservatories is a fertile environment for experimentation and collaboration. (Full disclosure: Husband is architect.) Now, as the students set their pirouettes by centering them on the Broad Museum façade right out their window, as well as Disney Hall, there is everything Grand (Avenue) to aspire to.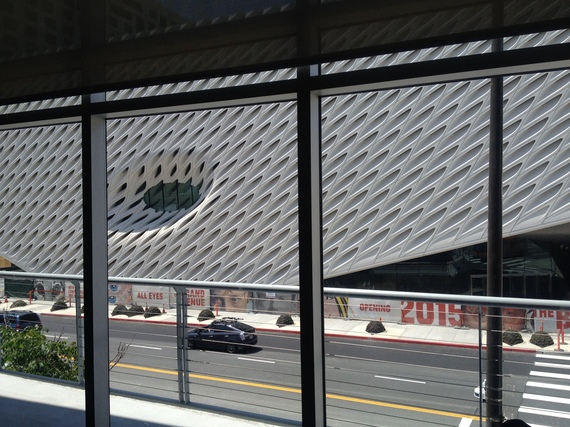 View of Broad Museum facade from the Colburn School Dance Academy studios Grand Avenue
And the evidence is in this first-year final dance program. Two males and 10 females (about a typical ratio) are in performance this weekend with an extraordinarily demanding program that showcases just how strong the training has been. I was there for the first day of rehearsals many months ago and now have been to a final rehearsal this weekend. And what leaps the students have taken.
Colburn students Madeline Davis and Jackson Bradshaw rehearsing
According to James, he and Jenifer complement each other: She is a
gifted teacher who understands how to encourage the best dancing while being sensitive to the challenges of being a teenager who has committed to this art form. I draw a lot from my partnering experience... understanding a dancer's body, balance and how to create beautiful forms.
Jennifer is honored to be one of the few dancers who is officially allowed to "set" Jerome Robbins choreography by his trust and Zappora Karz, also ex-NYCB, is a faculty member who is able to "set" Balanchine ballets by his. Thus, the program comes straight from the grand ballet tradition of many generations. To see Who Cares a charming Balanchine ballet danced with such aplomb and wit and 2 and 3 Part Inventions danced with the ingenuity that marked all Robbins choreography would certainly please them both.
And to see two very talented young men and two African American students as part of the program is even better. World class knows no boundaries.
Jenifer says that their
dream is to make something new and unique. With such a small number of students, we can have a deeper and more individualized relationship with each dancer.... and bring an artistic sensibility informed by the rich experience they are exposed to at Colburn which includes art, music and other styles of dance.
It will be interesting to see how this plays out with professional assignments these dancers eventually are able to land.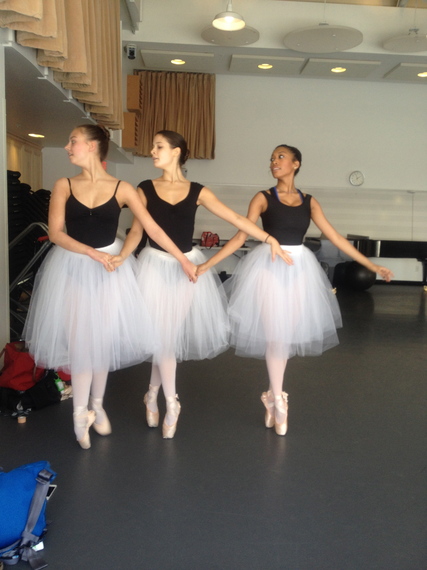 Colburn Students Juliet Prine, Anna Barnes, Kaylani Parks
More good news for LA: In the fall, one of the world's top ballet choreographers, William Forsythe, will be in residence at the new Gloria Kaufman School of Dance at USC, a truly phenomenal coup (His only other residency is at the Paris Opera Ballet with Millepied.) If Forsythe has chosen LA it is really a sign that things are changing. It's as good as having Gustavo Dudamel!
This past Sunday, the New York Times in its typically schizophrenic fashion about LA, had the cover of the Style section documenting how so many young artists are moving from NY to LA and the cover of the Opinion section reporting how California the state is going down the tubes of drought and decline.
As someone who is truly bicoastal, I long ago gave up that old stew: There are wonderful offerings in each city, totally different. (One great bit of recent news for New York for example: Jennifer Homans, head of the NYU Center for Ballet and the Arts is focusing on female choreographers, something that also needs our support.)
But if it can happen in the art world, it can happen in the dance world too. It depends on a critical mass, and the audience to welcome them. I think our dance drought, at least, is over.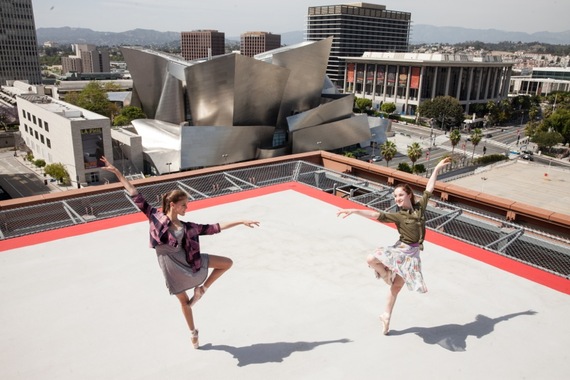 See for yourself. There are Colburn premieres by Philip Neal (NYCB), Kelly Ann Sloan (Colburn) and the Balanchine and Robbins ballets being performed Sunday night at 6 pm at the Raymond Cortines school right next to Disney Hall. Tickets are only $10. Turn out and keep the LA arts growth spurt going.