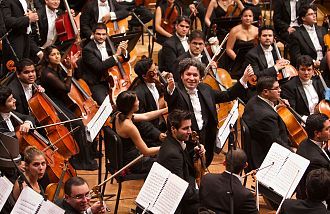 Gustavo Dudamel amidst his Venezuelan Simon Bolivar Orchestra
For those of us in Los Angeles who have had the true pleasure of Gustavo Dudamel for the last six years, my ode to him may come as just so much icing on the cake.
And yet.
For me Dudamel has become the embodiment of the cultural renaissance of Los Angeles, a personal touchstone (See Gustavo's own personal site for marvelous photos and his history.) Now there is the new Broad Museum, a critical mass of artists and galleries, and a spectacular dance renaissance as well, but Dudamel has also brought a Latin American hero to a city that so desperately needs one for the largest minority of its population (latest stats: 48 percent Latino 2014 and rising). I never tire of watching him, the dip in his knees when a particularly pungent musical passage comes along and then the way he rises on his toes for a fanfare, the way he connects with his orchestra members and singles them out so sincerely after every performance. Still only 34, Dudamel like Roger Federer has a sincerity and a steady, passionate commitment to what he does that is unsurpassed.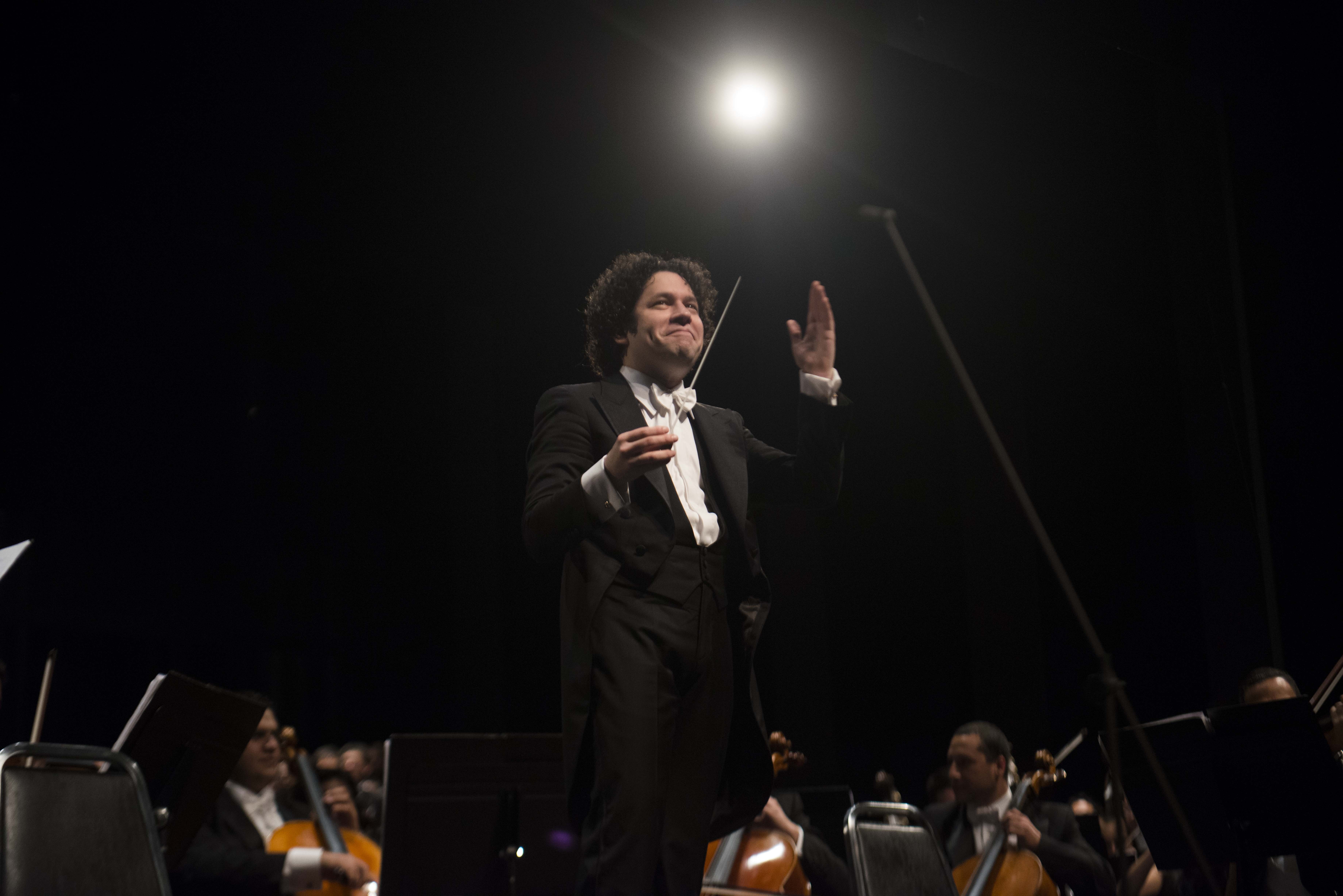 (Photo credit: Leo Ramirez/AFP/Getty Images)
When I talk to music lovers in other cities, the one name that comes up, the one thing they are really jealous about in LA, is Gustavo. You can be sure he has been approached over and over again like a Laker or a Dodger being poached by a rival team. They have created an Amazon TV series based on him. He is a pop culture figure!
I am only sorry that you can now sometimes see empty seats in the hall (it's expensive for most citizens), and I curse the 405 and the 10 and the 110 and the 5 for making it so impossible for us to get downtown. (Two hours last week to the Broad. Two hours to dinner in Pasadena a few nights later.) I don't care how many fantastic buildings they put up on Grand Ave, they won't get the critical mass they need without fixing this. (Santa Monica Gold Line opens, they claim, in the spring) But this should give impetus to those who think tickets for his concerts are impossible to find -- and there are last minute deals for every concert.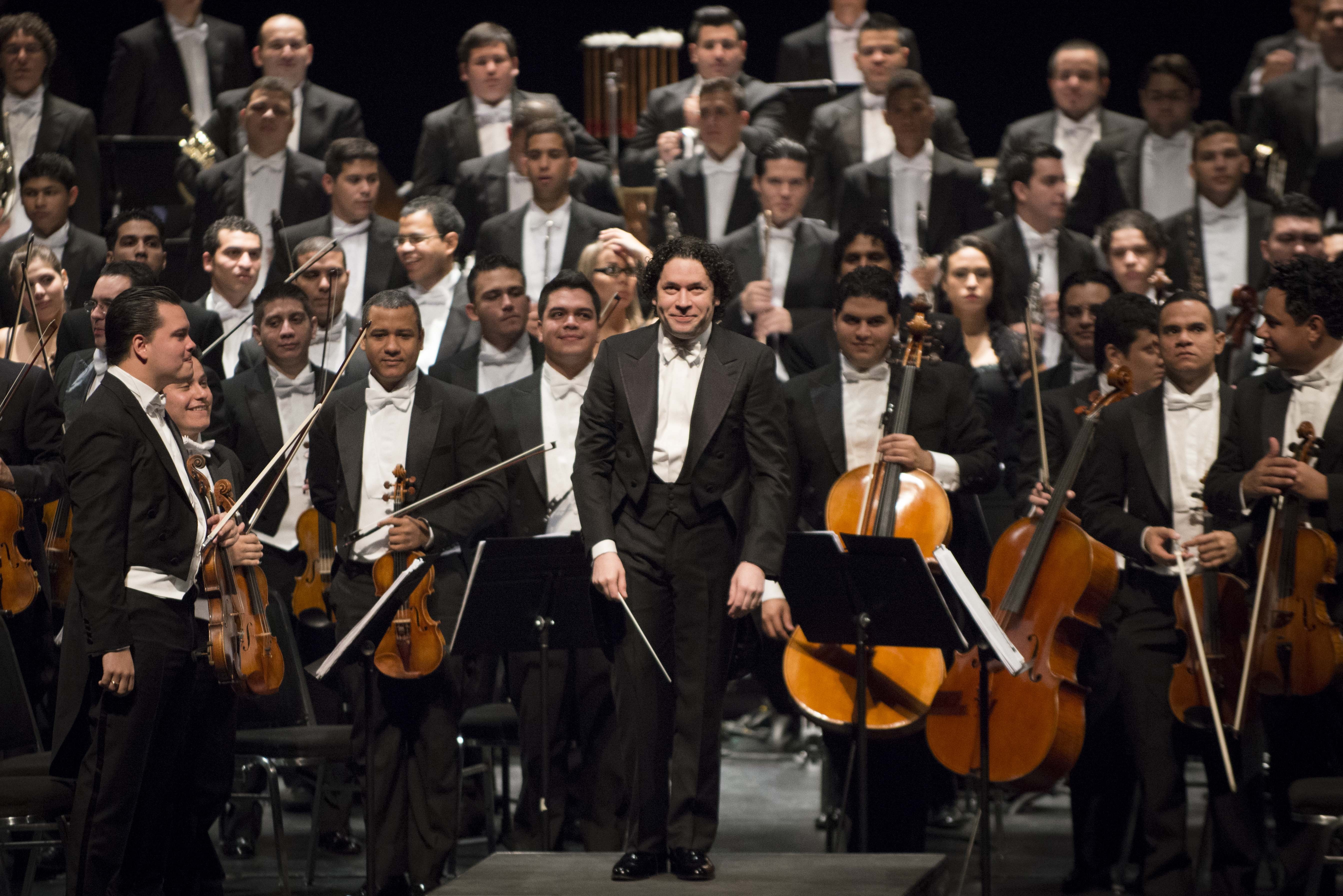 (Photo credit: Leo Ramirez/AFP/Getty Images)
Dudamel has determined to open this season, his sixth, with the nine Beethoven symphonies. I was reminded just this week that for many years German Beethoven was composer non grata here in the U.S. during both World Wars,and so it is fitting that Dudamel is devoting time to this brilliant prodigious composer just when he himself is being held accountable for his quiet stance on Venezuela. More on this in a minute.
Beethoven was almost entirely deaf by age 47 when he wrote the 9th Symphony and the final movement, the Ode to Joy that will be the closing number on tonight's program. Based on a poem by Friedrich Schiller celebrating the brotherhood and unity of all mankind, it may have originally been an "Ode to Freedom" and the word "Joy" came as a substitute for the more overtly political theme, said Leonard Bernstein once about a rumor in musical circles." It has been used in Clockwork Orange, in Help, the Beatles film. But most traditionally it is used as a protest anthem for freedom from repression. Is this Dudamel's sotto voce answer to his critics who decry his silence on Venezuela, his troubled native country? Beethoven may have been deaf but Dudamel is not.
I don't want this to be the subject of our story about this immensely generous gifted man. I want it to be about Beethoven and these two young geniuses meeting each other at Disney Hall. But I would be remiss if I did not allude to this burgeoning scenario.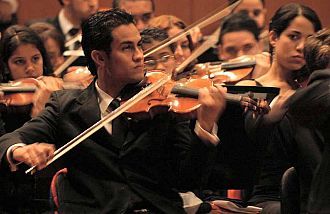 A member of the Simon Bolivar Orchestra
A new book by Geoffrey Baker on the Sistema, the musical education system that empowers any young Venezuelan who wants to play, a corollary review by Nicholas Kenyon in the NYRB, an earlier interview by Mark Swed with Gabriela Montero, Dudamel's Southern California fellow countrywoman bête noire who is exhorting his Venezuelan expat activism, and a recent NYT op ed by a Venezuelan prisoner of conscience gives a fuller picture of the complicated situation facing our beloved maestro. Dudamel's actions in solidarity with the youth of his country is commendable and this is where he feels his focus should be.
El Sistema, Dudamel's Venezuelan musical womb, has become a model here in LA, even though youth orchestra has a long tradition both here and around the U.S. Enabling young musicians has long been understood to be the way to generating classical musicians and music lovers. This summer in Aspen, watching the music students from all over the country, many on scholarship, and speaking last week with a young Canadian scholarship violinist in her first year at the Colburn conservatory (all tuition is free), it becomes clear that its not just Venezuelan students that are benefitting from largesse, be it state run or private.
What is it about music and culture however that can be so inflammatory? In Hollywood, we have a history of revered cultural figures who did not take the right stand during the HUAC hearings even as LA had become a welcoming home to so many émigrés fleeing WW II. Leonard Bernstein, the conductor of my youth in New York did speak out. I like to think that by keeping his own council, and doing what he does best, The Dude will not end up like The Lenny however, famously infamous as he hosted a party for the Black Panthers (see Tom Wolfe's seminal piece from 1970.) The last thing we need now is more Radical Chic. But Dudamel is Venezuelan. He is authentically a product of this system, their golden boy. He could never be accused of being radically chic. He has both the legitimacy -- and the painful awkwardness and loyalty -- to be able to speak out.
It is going to become more and more challenging for Dudamel to duck what is going on in his country (parliamentary elections upcoming in early December that could make a difference). Now that Chavez is dead (Dudamel prominently attended the funeral) there will be more demanding cries for his voice.
For the moment, he and his two beloved orchestras, the Simon Bolivar and the LA Philharmonic, will join together tonight and over the coming weeks to infuse our city with the joyful noise of Beethoven and their own heartfelt musical gifts. Let us give thanks.
Get tickets for the LA Phil/Simon Bolivar 9 Beethoven Symphonies here.
See my interview with Gustavo Dudamel and earlier pieces exploring his work in the U.S.: