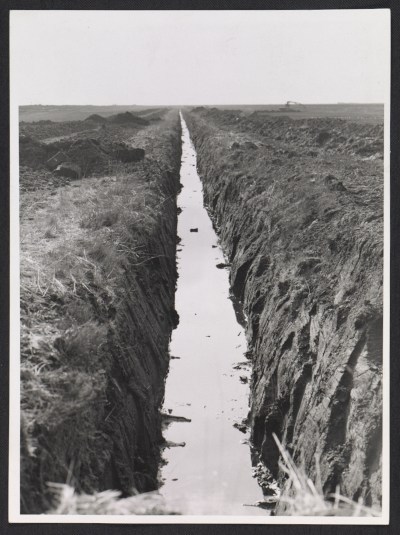 Robert Smithson,
I'm immediately drawn to any film with the title of Troublemakers and this one does not let go.
The film by James Crump does something that is rare for art documentaries: It is very beautiful and dynamic itself in examining work that is challenging. It meets the subject head-on.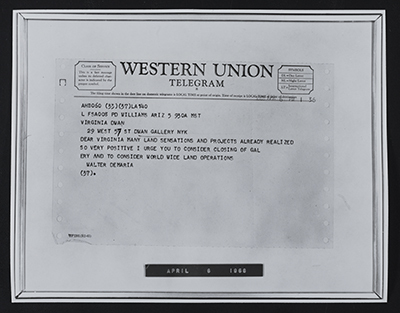 "Dear Virginia: Many Land sensations and projects already realized. So very positive. I urge you to consider closing of gallery and to consider world wide land operations. Walter De Maria
"The story needed to be told now, with the express intention of retrieving the spirit of land art in the late 1960s and early 1970s," Crump says,
with the rebels who created the works that defined it. It is important to me that a new generation of much younger artists rediscover these troublemakers in order to fully realize that making art is not simply for the market and that celebrity or net worth are a rather inadequate justification for a career in the visual arts.
The Land Artists, artists who defined themselves as "artist-explorers," including Michael Heizer, Robert Smithson, his wife Nancy Holt, Walter de Maria and Charles Ross, were a rebellious lot whose paths diverged from hermetically sealed commercial galleries to the wide open (mostly south) west which was uniquely suited to their grand visions and also acted as a collaborator for their work: In this case the unconventional medium: rock, stone, water, desert, sky, light, certainly was integral to the message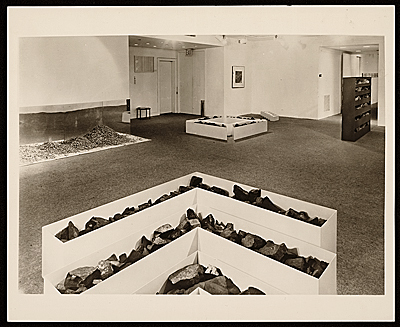 Smithson Mono Lake at Dwan Gallery 1970
In "looking for a larger canvas," they rejected the frame, the plinth, even the wall, and sought to create experiences for themselves and for the viewer that would give the word "art" an entirely new dimension.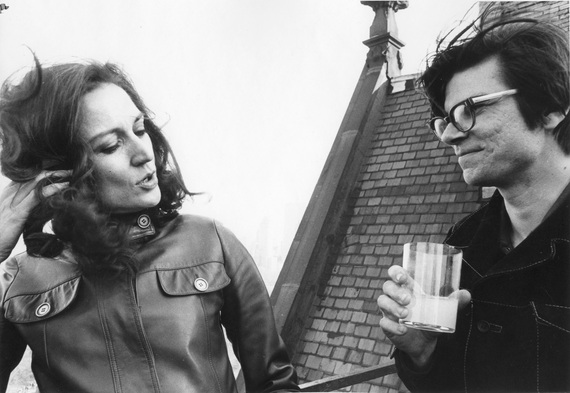 Dwan and Smithson, 1969
I hesitate to even say "they" for each forged his/her own unique set of tools to excavate this vision. They hiked and dug and hammered and Caterpillared their way to sorting out what they were trying to say, in some cases taking years to be able to interpret their own "connection with dark forces." They were "hardcore" and some say, macho, yet their angel, Virginia Dwan, a gallerist turned patron was very beautiful and brilliant and made a great deal of it possible. As one of 18 heirs of 3M, this Midwestern woman understood before anyone else, first in LA and then in NY, their challenges and was sympathetic to their nascent attempts. Dwan says there was "something devilish" in them.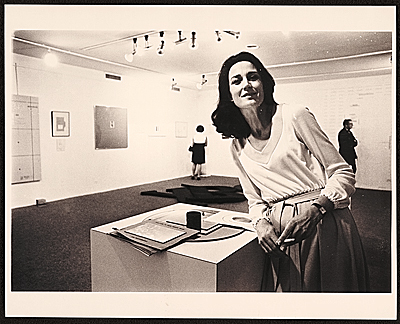 Virginia Dwan 1969
Coming at a time in the '60s when the Vietnam War, Civil Rights and murder of our heroes was the defining ethos, the Land Artists channeled the darkness of this era. Ambitious iconoclasts, they gave short shrift to the drift of contemporary art to commerce. But they were not unlike Pollock and de Kooning and Fontana and Burri who tore at the canvas in a different way. Destroying in order to create.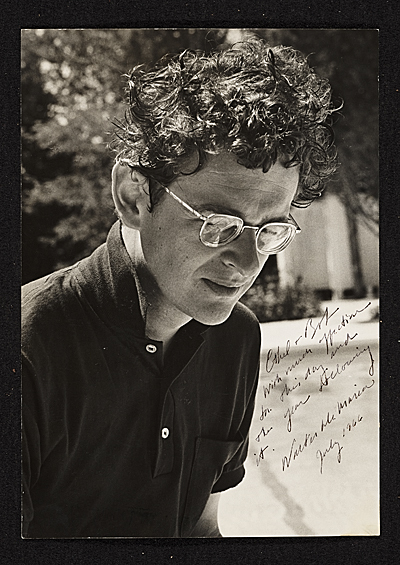 Walter De Maria 1966 inscribed to patrons Robert and Ethel Scull
They reminded me of David Foster Wallace in a way, who dug so deep into his darker forces to make his work that he could not survive it.
But survival is what the film is testament to. Heizer's Levitated Mass took heaven and earth and a great deal of time and freeway management to arrive recently in Los Angeles at Lacma.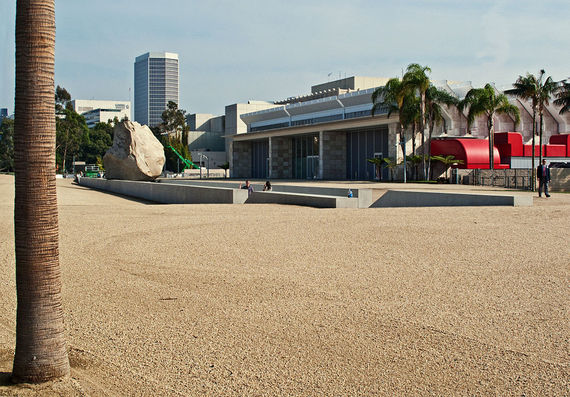 Michael Heizer's Levitated Mass at Lacma
The film shows him as incredibly dynamic, yet very still and quiet in the face of his massive works.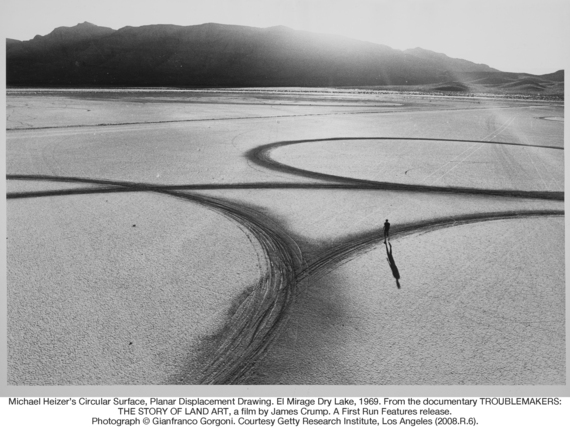 Smithson, known as more social and congenial, made some of his own films, but sadly ended up dying well before his time in a plane crash while surveying sites for a work in Texas.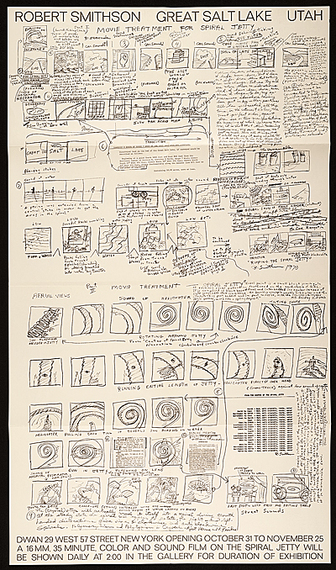 Smithson's notes on his movie project for the Spiral Jetty
The film's images are thrilling and majestic. Anyone who has driven through the west (and you must drive -- though the work is also designed to be seen from the air) understands the overwhelming sense of the endless horizon, the scrub, the heat, the canyons, the layers of history. Though some claimed this sense of perspective came from Duchamp it is hard to travel from his Readymades to the scale of the spiral nebulas and giant cuts formed from millennia of rock formations. "My new brush is my Caterpillar" said de Maria.
When they weren't in the desert, the competitive, instinctual, dynamic artists often held court at Max's Kansas City. They were seeking the eternal by hard labor, willing to sacrifice themselves on their caverns and pyramids but they liked to hang out also.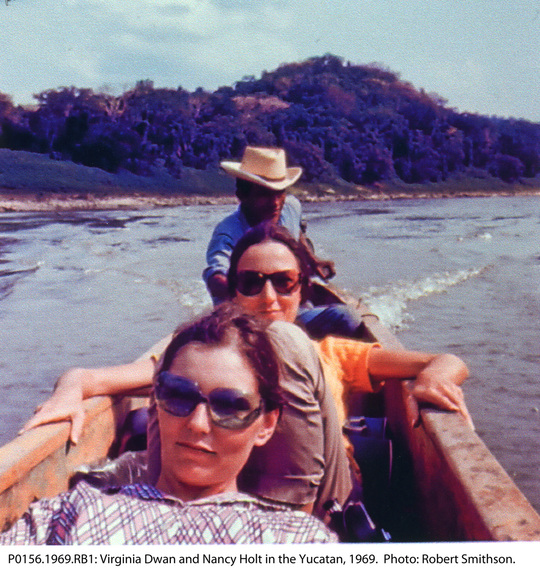 Courtesy Holt/Smithson Archives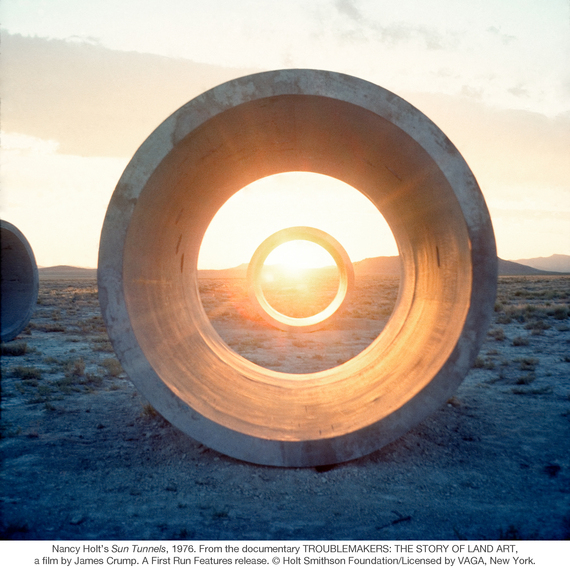 I reached out to Virginia Dwan whose prized collection will open the National Gallery's revamp in the fall. She intrigued me (she needs a documentary of her own) and I asked her what drew her to these artists. "I had already been showing them in the gallery before the exhibition on his Mono Lake project. I was very excited by their ideas."
Michael Govan, now Director of Lacma but earlier director of the Dia Foundation and one of the most important supporters of Land Art said,
Virginia Dwan certainly wasn't the most successful art dealer in terms of making money. But she ended up being one of the great art patrons of that moment. She had money and she had faith, like the very best patrons over time. And at that time she supported artists in what they did. Those were heady times. So much was new.
Dwan also showed Chamberlain, LeWitt, and many other cutting-edge artists.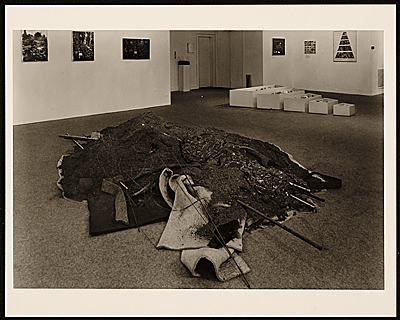 Smithson Earthworks show at Dwan Gallery, 1968
"Many of these artists were my friends," adds Dwan. "I was very close with LeWitt, Andre, Smithson and Heizer. Perhaps closest with LeWitt and Heizer." (Govan adds, "Heizer and De Maria had patrons who were equally critical to their work in those same early days, namely Robert Scull, and Heiner Freidrich (co-founder of Dia)." "These relationships endured well past the gallery years -- to present with those still with us," adds Dwan's curator Anne Kovach.
"She was incredibly attractive and desirable, so I would be surprised if all her artists weren't in love with her at some time," said Ronnie Sassoon, executive producer of the film and a patron herself. "She was a patron for these artists and unabashedly believed in their mad ideas," Sassoon continues "and supported them in whatever they were compelled to do. "Was she like Peggy Guggenheim without the histrionics, a patron and collaborator more than a dealer?" I asked Dwan. "No", she says, "I was influenced more by Leo Castelli [who was so close to his artists and supported their lives as well as their work] than Peggy Guggenheim."
The archival material that Crump has pulled together is excellent (he himself did an interview with Heizer in 2003 ) and a capsule version of each artist and Virginia Dwan's participation is compelling.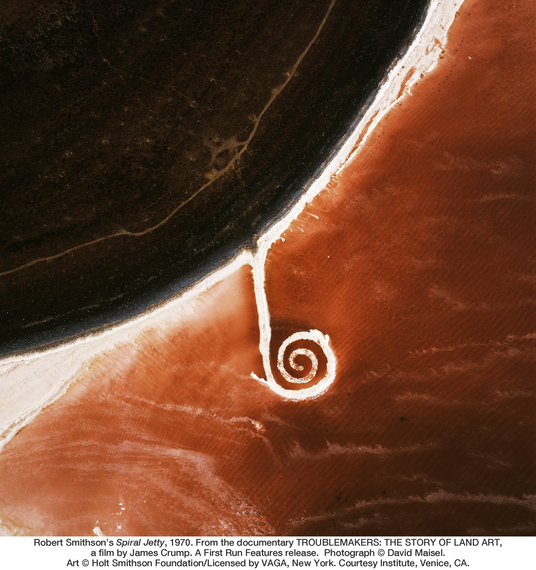 The film comes at a time when the notion of preservation of federal lands is under siege. The film provides a counterpoint to preservation, as the works do change the landscape and though art lovers are thrilled, I'm not sure that the guys who took a federal preserve hostage in Oregon last month would see these artist's work as any more important than their cattle and perhaps as pesky as the coyotes and foxes they're keen to annihilate.
But Aurora Tang, a researcher and curator, who did her thesis on the Smithson Jetty and is now a program manager at the Center for Land Use Interpretation said Michael Heizer's City's recent National Monument status is an interesting reversal of that... Land Art becoming federally protected land.
"I've worked with ranchers around Heizer, De Maria, and [James] Turrell's projects" says Govan,
and most have taken great interest and pride in the idea of preserving great American artworks in the land. Through efforts over many years, land has been purchased with government and private support to help preserve De Maria's Lightning Field in New Mexico, for example. Artists often use their own resources to protect their work -- especially in Heizer and Turrell's cases. And President Obama, with Senator Harry Reid's encouragement, has just created a National Monument to preserve a big swath of nature and the art of Michael Heizer's City project.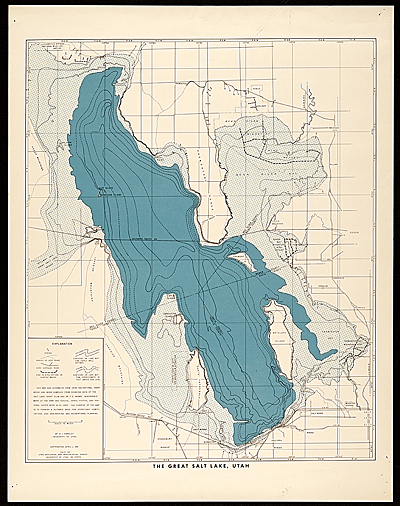 Smithson's map of the Great Salt Lake
Govan flies his own small plane to see the earthworks. But, he says,
Contrary to the photography of Land Art in books and magazines,(and some indications in the film) most of those artworks are very much meant to be experienced from the ground, and I always prefer seeing them from the ground.
Tang says,
The [Great Salt] lake's water levels have been dropping. The Jetty has been above water the past few years. Salt Lake City based art historian Hikmet Loe has been informally tracking the lake levels. Via USGS you can see precise water levels for that part of the Great Salt Lake. For the last year or so, Dia (who has owned the work for years) has been working with two local organizations, The Great Salt Lake Institute at Westminster College and Utah Museum of Fine Art (UMFA) to help monitor.
Tang visited the Sun Tunnels, a work by Nancy Holt, Smithson's wife, also a land artist and friend of Dwan's, in Nevada.
We went to the Cowboy Bar in Montello, NV (a very small town, and the closest to Sun Tunnels). She started chatting with one of the locals who was probably in his 40s, and who told her he remembered her coming to town in the 1970s, and what a big deal it was for him and the town. She was a private, spiritual person, who was 100 percent dedicated to her work and her work with Smithson until the very end.
Accessing the sites themselves is easier than ever according to Tang. UMFA (who doesn't have any sort of official partnership with the Holt/Smithson Foundation) provides driving directions to Sun Tunnels on their website, and organizes public programming to the site every year or so. These vast projects which combine technology, information and history, nomadism are at the top of my bucket list.
The road to Spiral Jetty was improved/leveled out several years ago, and directional signs were installed years before that, so the previously difficult 20+ mile stretch from the Golden Spike to the Jetty itself (which was captured in Tacita Dean's 1997 sound work Trying to Find the Spiral Jetty) can now easily be traversed by any type of passenger car.
Govan adds,
All were interested in having their work last over time, although perhaps that wasn't the most important issue in the early years 1968-1970. Not all art survives. We do our best to let future generations share the best art experiences we have. But that is difficult in the case of art that exists beyond the restricted confines of museums and requires land preservation as well as art preservation. There is hope though.
All vintage photographs courtesy of the Archives of American Art, Smithsonian, unless otherwise credited.
The film opens in Los Angeles Friday February 5th and can be seen in other cities in the next month. Director James Crump will be doing a Q and A following the 7:20 screening at the Laemmle Monica.
More info on visiting the Dia sites is here.