An obviously well-loved, stained recipe for gazpacho is projected on the scrim as you walk into the Belasco Theater on Broadway for the highly anticipated Lincoln Center Theater Bartlett Sher adaptation of Pedro Almodóvar's Women on the Verge of a Nervous Breakdown.
Almodóvar's soufflé of a film upon which it is based was the first in his breakthrough as a commercial filmmaker with a twist in what he identifies as a time when:
Democracy had arrived in our country (Spain) and the most playful, hedonistic side of the Spanish character had exploded... you could say that even grief was joyful... thus the Baroque style, the humor and the colorfulness of the story and its characters.
But the leitmotif of food, and its ability to seduce us, or in the case of WOTV, to confuse us, is part and parcel of the Sher-Almodóvar effort. It's nigh on impossible to separate the two for inspection, for though this production is Sher's handiwork, he has been exceedingly faithful to the film, both in its frothy style, a hybrid of stage and film, and its spirit, which brings the perspective of the amorous travails of five women to our attention front and center. The women in Women on the Verge are already on the verge from the opening moments, and by the Act I curtain, when the women are literally hanging from circus-style wires, you know that being a woman can often leave you without a net.
You have practically everything in a story about women being left by bad guys; the alliances and misalliances between scorned or betrayed women are a marvelous theatrical subject, filled with the kitschy and the deep, the mundane and the sublime. Despite the patent stylization in the story (less present in the musical than in the film), there's not a woman alive who can't identify with the underlying sexual politics: a woman scorned is a magisterial thing.
Again, Almodóvar:
The theory propounded by the script is that life is a celebration. There's just one problem: men abandon and cheat on women. Men and women don't understand each other and they never will.
Though Almodóvar goes on to say that men too could be in this position of abandonment, he believes that women fall apart in more surprising, brazen and funnier ways.
"I'm sick of being good," says Pepa (Sherie Renee Scott), as she mixes a gazpacho cocktail with a Valium kick.
Already, we are on her side. Who doesn't want to throw off the yoke of a good girl whenever possible?
An actress who makes her living dubbing movie musicals (in the film it was dubbing dialog), Pepa is suffering from being left behind by self-styled playboy actor Ivan (a mellifluous Brian Stokes Mitchell) and his disinformation campaign by phone breakup messages and does everything from setting fire to her mattress to befriending his son to redress the wrong.
From the moment the "turn off your cell phone" announcement comes in a Spanish accent (this one infinitely more authentic than the pseudo-Spanish accents that go hot and cold as the production wears on, sometimes, in the case of Patti LuPone who plays Ivan's stalking ex-wife Lucia who has actually gone crazy and been institutionalized for 20 years, veering on a sort of mashup with Russian-Jewish) and we enter in a splash of gazpacho (or is it the blood on every page of a relationship?), we know we are in Madrid, though Almodóvar insists this could have taken place in NY. Sure it could have. Women are being seduced and abandoned in NY every day, too.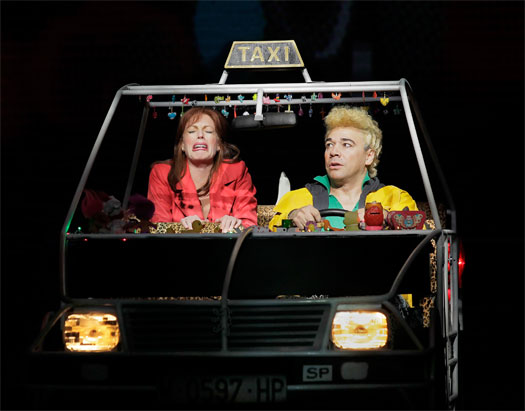 Pepa and the taxi driver. Photo by Paul Kolnik
But there is something delicious about being left in a Spanish accent, sexier, more romantic and carrying the freight of our perpetual fascination with Italo-Hispanic lovers (Nine) and how they are different from the bond traders who work on Wall Street. Though Sher buttresses the role of the Sancho Panza-esque bleached blonde taxi driver (Danny Burstein) who conveniently turns up daily to help Pepa find her way as narrator, this occasional device does not obscure the fact that the women are here telling their own stories of abandonment in Feydeau farce-worthy style (Sher even adds this as a line), and while moving ramps make the exits and entrances smooth, the spirit of pratfall and mistaken identity is akin to its source. Almodóvar says he based his film on this theatrical tradition, its tongue in cheek spirit held in check only by the gorgeous visuals. In the end, the musical has come full circle to its legitimate roots.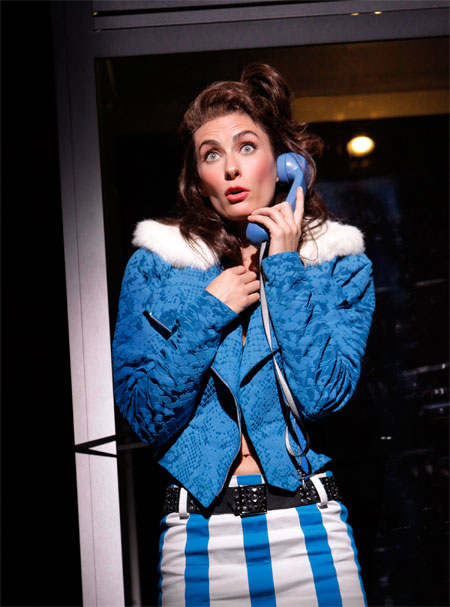 Candela. Photo by Paul Kolnik.
LuPone gets the best, show-stopping songs in the mostly Latin-themed score--but she, and the entire cast are eclipsed by Laura Benanti who plays Candela, Pepa's best friend, a mincing, hysterical sexpot in a panic who fears she will be arrested for fraternizing and harboring her terrorist lover and who also runs away with the heart and soul of this production. As she proudly shows Pepa the goosebumps she still gets from thinking about the first weekend of nonstop sex with him and blithely wraps herself around Ivan's son Carlos (Justin Guarini) on the couch, she draws every eye, and every laugh, to her lithe, wide-eyed performance.
Sher, librettist Jeffrey Lane, and composerand lyricist David Yazbek give nods to their own antecedents--you could swear a little of West Side Story and Damn Yankees and Barber of Seville had made their way into snatches of song. As Almodóvar was not afraid of homage to his favorites, neither are they. Besides the taxi driver-as-narrator, they've also added a lawsuit to give LuPone another moment of her very own (in the film she's more of a cipher who doesn't get her fifteen minutes until the very end). LuPone, channeling Evita and Mama Rose, is impossible to ignore. The plot, which devolves around revenge of one sort or another and ends in a shootout at the airport, is loopy enough to contain just about every iteration of over-the-top.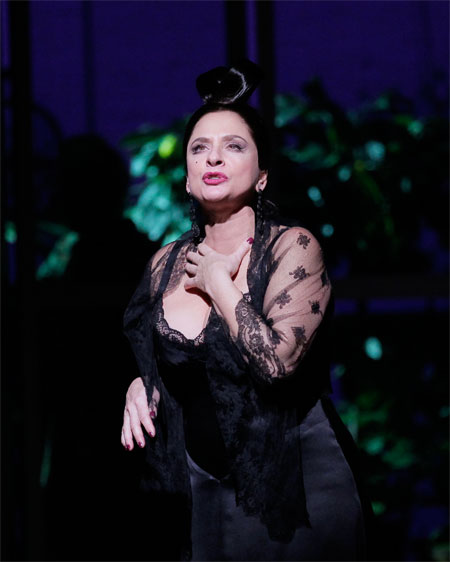 Lucia. Photo by Paul Kolnik.
Sher himself is surprisingly standing at the door where they are handing out the press tickets, a self-identified glutton for the high wire. Two years ago at the Metropolitan Opera I saw his cheeky production of the Barber of Seville, with its innovative catwalk out into the orchestra, and then last year his raffish Tales of Hoffman. His production of South Pacific, now the standard by which this musical will always being measured, and his uniformly lauded Joe Turner's Come and Gone, have only added to his diverse series of daunting accomplishments.
Once again, Sher has put his chaotic and difficult upbringing to bear on a musical--his father abandoned his mother and six sibs. As Sher told the NYT before South Pacific, "I like having had it be so hard."
Though the women of WOTV seem about as far as possible from good girl Nellie Forbush, they are sisters under the skin, trying to wash men out of their hair with guns and toxic cocktails.
Life is not a bowl of gazpacho any more than it is of cherries. Sher's production does not have the lightness of touch and warmth and wit of the film, especially in the role of Pepa, who we do not love enough to empathize with as she muddles through the vicissitudes of being left behind. Still, I feel that the whole thing could jell--I know I am mixing my food metaphors here--over the next few months if the characters are allowed the time to know themselves and each other better. Even now, by Act 2, they are already more in sync with each other--a cardinal requirement of well-done farce.

Women on the Verge of a Nervous Breakdown is playing at the Belasco Theater. Check here for tickets.