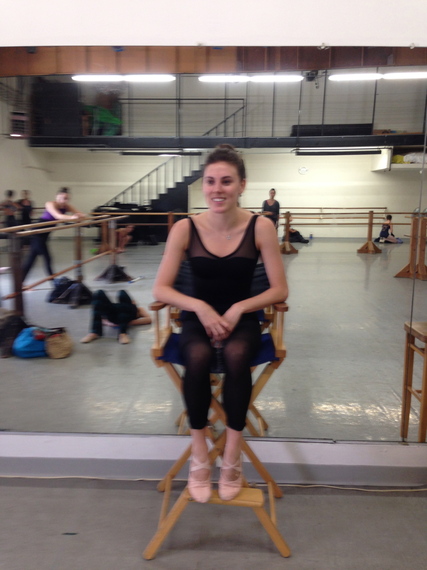 Sitting in a directors chair in (Studio 6) at Westside Ballet in Los Angeles it's hard to believe Tiler Peck:
--has just gotten married;
--returned from a honeymoon in Bora Bora where according to her new husband and colleague Robert Fairchild they went off the grid and "only turned the phone on once to speak to our mothers and once to check on the New York Times style section story on their wedding";
--danced a weekend full of work at Jacob's Pillow;
--is now in LA teaching a three-day workshop at Westside;
--will then be en route to Vail where she and Robbie will perform in Damian Woetzel's Vaildance festival.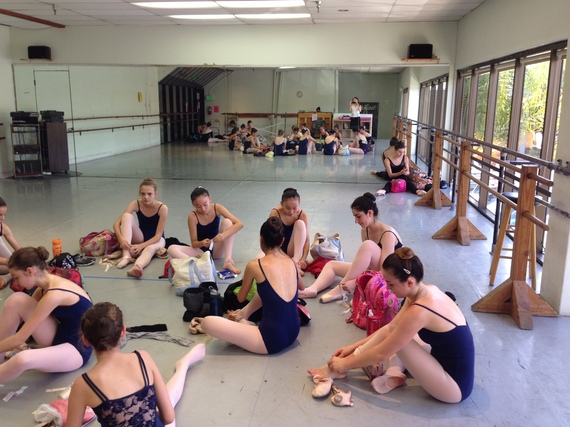 She looks unfazed after a sleepless night of travel, not much older then the couple of dozen blue letotarded (advanced intermediate) and black leotarded (advanced) ballet students in this, the first class of the workshop. She is unfailingly gracious to the students, not just favoring the most promising dancers but also correcting and coaxing those not quite up to professional level (which is most of them).
"Present the foot," "Arms too low," "Point your feet like daggers," "Place your head as if you're getting a kiss on the cheek," "Your hands should feel like they're going through water" -- cues passed from generation to generation of dancers that keep ballet unique.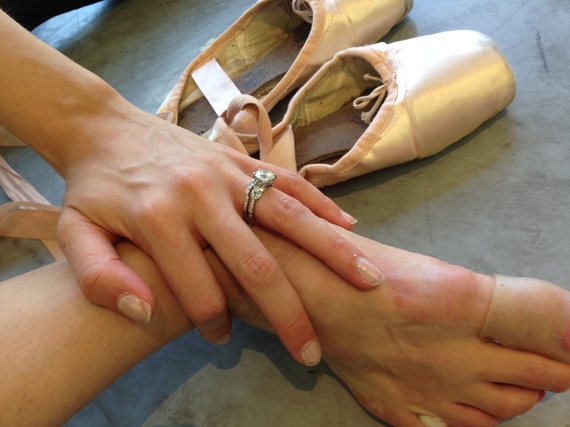 Her new diamond ring is prominently displayed on her left hand but her smile competes in radiance. The young dancers (only one brave boy among them) set forth in fours or fives on the combination of steps she has rapidly explained. Some are able to smile back, adjust their heads and elongate their necks and arms properly, others are clearly nervous about getting it right. The accompanists (there is still the wonderful tradition of live piano at Westside, which has a pre-professional program as well as adult) keep a close eye on Tiler as she sets the tempo. But she's charming and not scary.
My teachers were not like this. I had Russian ballet mistresses -- two at the School of American Ballet -- one wore pink and one wore blue -- who made us hold our hands with thumb and forefinger touching and another who only wore black at my Ballet Russes school who used to tap us on our calves with her ruler. Smiling was at a premium.
Over time, ballet has become more athletic, Olympian in its rigorous training schedule and the dancers look neither anorexic nor wan. They have roses in their cheeks and though I can sense the competitiveness, it is not yet the unruly mess of Black Swan where girls give each other drugs and drive each other crazy with jealousy. What about anorexia? I ask her. "They are so much more in top of it," Tiler says about the NYCB PT team. "If you get too skinny -- or too thick -- they speak to you." When she orders a giant strawberry smoothie and a health bar and then gulps it down, I feel like she could be any Young Woman USA. Yes, there are buns but there are also "buns." Good deal.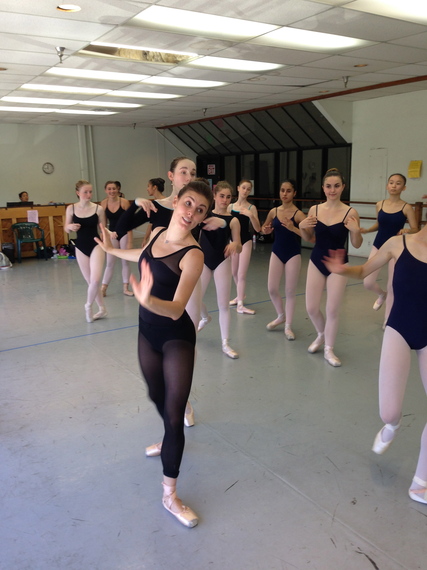 Despite their uniforms and Tiler's egalitarian treatment, you can see the budding stars even at 12 or 13. They are gifted with the naturally long-legged, short-torsoed bodies that Balanchine also favored -- and generally a lovely face. But even the ones who will end up as Google engineers or account execs will benefit from this rigorous training. Like athletics, it sets a standard both for personal excellence and collaboration. The rest is up to them.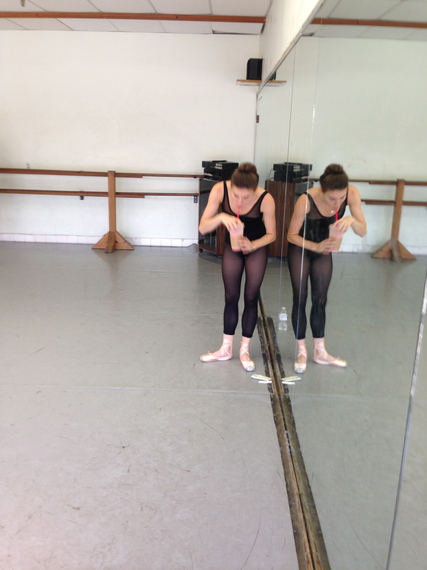 Tiler is a SoCal native and Robbie's parents are both from California so they have an affection for 'home" and Tiler has been coming back to Westside where she studied to teach for the last three years. "I love California, she insists, "had there been a really great dance company here I would have just stayed here. It's hard to get people [in LA] to go to see live theater and live dance especially ballet. It's so much easier to get to in NY. The fact that Benjamin's Company (LA Dance Project) and LA Ballet have lasted, I feel like that's a good start, but I wish it was something that had more of a foundation here." Now, Tiler and Robbie tell me, Janie Taylor, Sebastien Marcovici, and Jennifer Ringer, recently of the NYCB are all in California. We can always hope.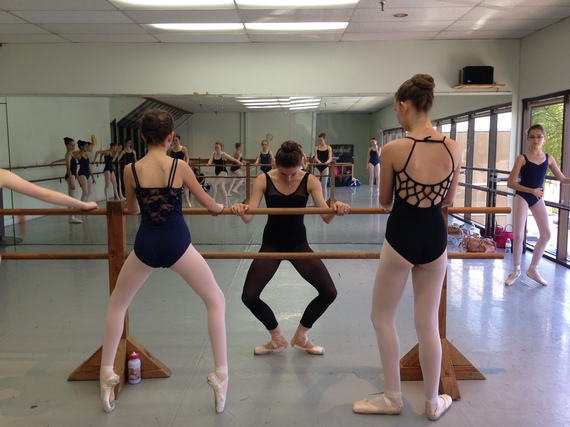 But how does teaching compare to dancing when they are still in the prime of their careers? Tiler reminds me her mother also owned a dance studio and her father was a football coach so teaching is in her blood, she taught her first classes at 11. Robbie's older sister Megan is also a NYCB principal so he too has dance in his blood. They couldn't be happier about that now that Megan is also married to a NYCB principal, Andrew Veyette. Robbie says," It's been a miraculously supportive unit." Tiler adds, "There's four of us in this family."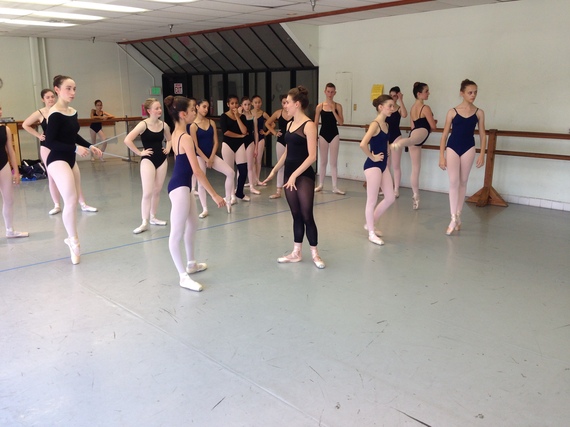 I couldn't be happier that ballet now has its reality shows, competitions and stars for they bring attention to a very expensive medium which like all the classical art forms with large budgets needs more youthful support. Black Swan was very helpful but mostly to performances of Swan Lake, which now rival the Nutcracker in viewers. But it is the younger choreographers like Justin Peck, recently named choreographer in residence of NYCB and Christopher Wheeldon and Benjamin Millepied (now at the Paris Opera Ballet) and dancers like Tiler and Robbie who need to drum up business. Robbie is skeptical of programming that does not have an organic connection to dance.
"You can't just bring in names, it has to a smart creative, unpretentious scheme. People see through that."
"Paul McCartney, fashion designers, bring in a totally different crowd, Tiler adds, "it's cross culture... you have to appeal to other audiences."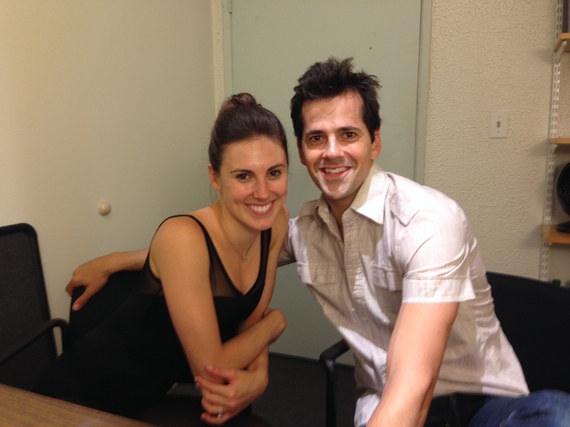 What about the future for Tiler and Robbie:? Two children, a larger two bedroom apartment, maybe some choreography together. "Just because you are choreographed a lot on, you have a voice too," Robbie says, "and you want to see. I do my best stuff with Tiler, we complement each other, we both started in jazz."
In fact Broadway is in their very near future. Tiler is going to inhabit Degas' Little Dancer beginning in DC, an entirely new musical being choreographed by Susan Stroman. She marvels at William Ivey Long's plan for her costume which will perfectly emulate the original on the bronze sculpture in the National Gallery down to the third button. Robbie will star in the Gene Kelly role in the first staged version of the film An American in Paris, beginning, naturally, in Paris.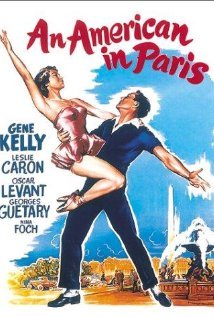 How do their colleagues react to this cornucopia of opportunity for these two stars whose marriage makes an even brighter beacon? Robbie says, "Our most valued friends are outside the company. Tiler says, "My best friend who was in the company now runs a Pilates Studio."
Others are pre-med, lawyers, or in real estate. "We have a dinner party that we do, a couple from the company comes, but it's nice to get away from dance to talk about other things. To be able to say I got this I'm so excited without having to feel somebody's jealous about it. They're really happy for you. You're like, I can be happy for myself, you want so much to keep a peaceful atmosphere at work, you don't allow yourself to get excited. You're good but you're not giving yourself credit."
"Everybody in the ballet is trying to get the same place," Tiler adds, "but I always take it as healthy competition to try to make yourself dance better." That said, the new, hot younger choreographers are casting them left and right. "I've done the last two Benjamin Millepied ballets and he texted me from Paris and he said you guys have to come over here and I said anytime you want." In fact, they add diplomatically, the whole company would go for a tour. They are not arrogant, but inclusive, choosing their words carefully. "Competition is so healthy when you have self confidence," Robbie reminds me.
"But when you don't, it's a sad, depressing situation, you can't get away from it."
"It starts from school, then to get into the company, then become a principal," Tiler chimes in, "once you become a principal you all want that same role." They're finishing each other's sentences the same way they might complement each other in a pas de deux, watching, anticipating, holding tight.
Do they have time for anything else? Not much. Tiler loves Law and Order and Robbie binged on Orange Is the New Black "when I got sick before the wedding and I was quarantined to the bedroom so as not to get the bride sick and I just kept going, next next, next." For her role in Little Dancer Tiler studied up on Degas at the National Gallery and for his role in An American in Paris, Robbie went to the Met to check out the Legers prompted by one of the lines in the script. Otherwise, museums "mean you have to walk so much" and extra stress on their feet and backs is something neither needs.
Ballet vs. Broadway? Jerome Robbins managed to keep a foot in both worlds and I'm hopeful that Tiler and Robbie will also. If you think Dancing with the Stars is sexy you should check out Tiler and Robbie then make up your mind.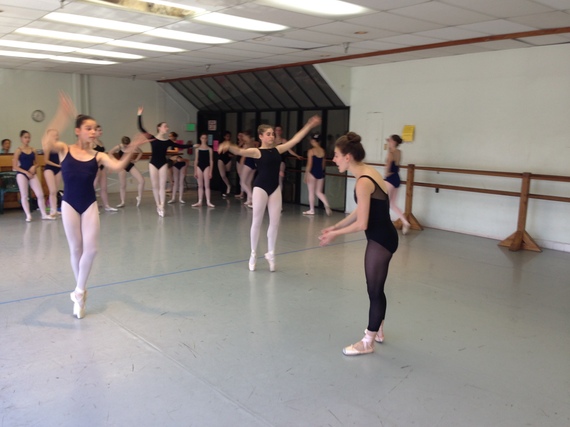 "You have to practice finishing," Tiler reminds the toe students after a series of turns, "you can't just stop in mid-step and freeze."
A good lesson for life as well as ballet.