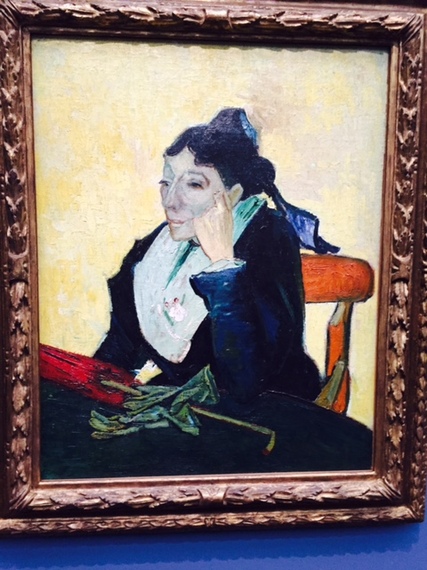 L'Arlesienne by Van Gogh, Musee d'Orsay, Paris
I was lucky enough to be invited by a series of friends to southern France this summer and took advantage of it to catch up after many decades of absence. Yes it was hot. But it was also heavenly. I want to share because so many of us have stayed away for various reasons, and I think it's a very good time to either go for the first time, or to return.
While I was there Hollande was helping broker the Greece deal so I felt a certain detente in the air. There but for fortune go they, I imagine he thought.
And the French have indeed been reading the tea leaves. There is a new spirit of generosity in everyone except the waiters who still have an hauteur about them which is totally undeserved -- but classic.
So many people are trooping off to art fairs and yet the most exciting performing art fairs are less well attended by Americans. The South of France has a disproportionate number of them.
For starters, begin with the three A's, the big triad of southern festivals, Aix, Avignon and Arles. I was only able to have little tastes. But what delicious ones!
1. Aix en Provence
I saw only one opera, the Mozart The Abduction in the Seraglio, admittedly not my favorite. However, the Theatre de l'Archeveche is a dream. Outdoors, partially covered, with incredibly chic Provencales in attendance, you can hear the birds chirping--occasionally eclipsing the rather lackluster cast.
This minimal production by Martin Kušej brought Mozart--somewhat reluctantly I would imagine--to the 1920s when the Middle East conflicts began. Following the recent terrorist attacks, a program noted two scenes were actually removed. But there was still plenty of gore and allusions to Islam, racism and sexism. The set was a tent and a lot of sand, and the night I was there the lighting was not working. But this was not Lawrence of Arabia-charging-romantically-through-the-desert type of sand but rather Afghani or Syrian, troubled and exhausting sand. (It might have been that I had 12 hours en route from LA and then a three-hour train and then two-hour museum visit and then two-hour dinner and then the 3.5-hour opera, but that said, I felt myself to be trudging through the sand along with them.)Much booing ensued and then concomitant cheering. Politics or the production, it was hard to tell.

L'enlevement au Serail, Mozart, Aix en Provence Festival 2015
A side bonus: The new Caumont Art Center a few blocks away is now open. It's a charming 18-century private mansion that has been updated to include art along with period rooms. The best: a tea in the pink café overlooking the garden.
2. Avignon is sprawling with a lot of theater and dance. A much bigger venue but less focused. Papered with posters, you can get a bit lost. The highlight: a sidebar, the concordan(s)e Dance Festival. I caught a triple bill of half hour dance pieces at 10 am (less hot!) in a small courtyard theater, La Parenthese. It was my first view of the multi-talented Jonah Bokaer whom I've been hearing about for years from the most in-the-know dance buffs in NY.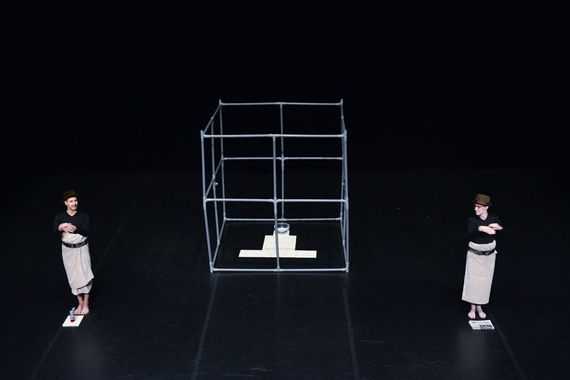 Jonah Bokaer and Antoine Dufeu in The Museum of Nothing
Bokaer collaborated with poet and writer Antoine Dufeu in The Museum of Nothing, both a clever homage to Joseph Beuys and a commentary on U.S. relations with other countries. So once again, there was an underlying political motif to the performance. And yet, this minimal production with a cage and bowl of water as the two set pieces, along with the signature Beuys hat, managed to elevate the topic. Bokaer, a choreographer who is really a Renaissance man is charming, handsome and extremely talented. He speaks French, pretends to speak German and can howl like a coyote. He links with Alfred Jarry and Samuel Beckett as well as Beuys, whose locking himself up in a NY gallery for three days inspired the piece.
The last part of the triple bill was 16-year-old phenom Anastasia who has been guided and cultivated by Mickaël Phelippeau, who discovered her in Orleans in a high school dance workshop. Born in Guinea, she introduces her "hair dance" -- with her gorgeous dreads, bouncing all over the stage, telling her story through words and music. Raw and engaging, Anastasia has the chance to become a mature and powerful artist.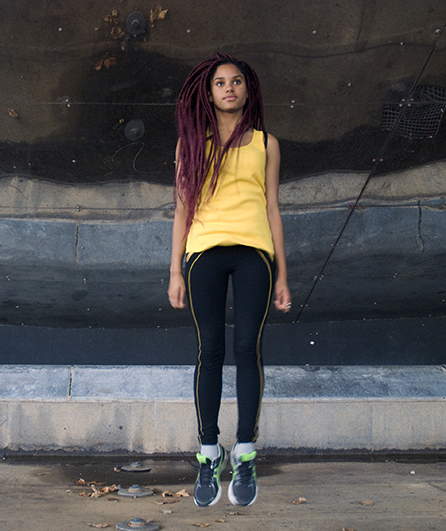 Sixteen-year-old Anastasia
A Museum of Something -- the Lambert Collection also with a new building -- was blocks away in the center and also worthy.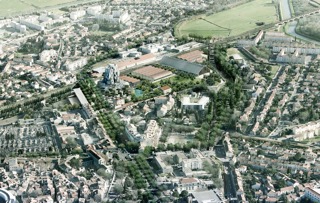 Model of Frank Gehry Luma Arles in the city
3. Arles is known for its photography festival. This year, for my taste, way too many Americans were being honored or highlighted: Stephen Shore, Walker Evans, the Venturis, Tony Oursler. Frank Gehry's new titanium tower for the Luma Foundation is barely out of the ground and is still the subject of much controversy with the locals. Why so much emphasis on the U.S.? The Ateliers, large structures being repurposed for the Foundation as well by Annabelle Selldorf, have more of a chance of being integrated into the hearts of Arlesiens who are a lovely and welcoming people but fiercely proud of their own distinguished heritage.
Arles is a delightful city with Roman ruins and a small enough town center to be able to walk almost everywhere. For me the highlight was seeing the Van Gogh Foundation, a smaller, much more tightly focused version of the one in Amsterdam. The Van Gogh drawings and paintings on display were not the usual and made me admire and respect his work in an entirely new way.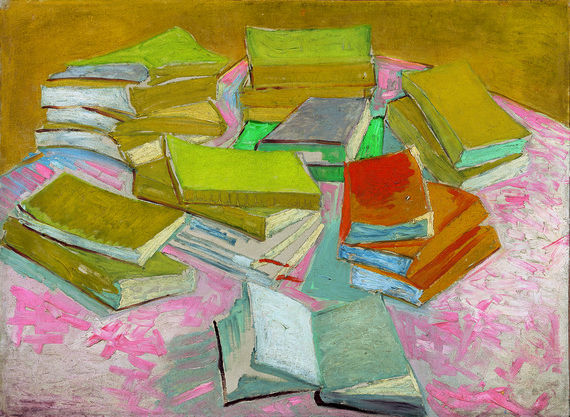 Van Gogh, Piles de romans français, 1887, Van Gogh Museum, Amsterdam
A contemporary show by the Japanese artist Tabaimo was also very intriguing and her clever drawing and animation skills are on ample display.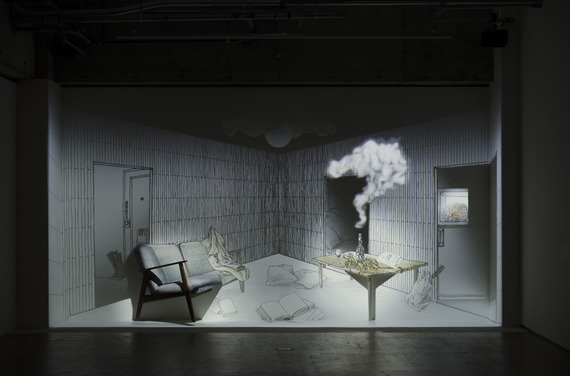 Tabaimo, 2015 aitaisei-josei photo by Kakuriai
Her short film about a courtesan easily eclipsed the much longer film by Oursler which had been commissioned by Luma and which was about Conan Doyle and magic but which had no magic at all for me even though I thought his recent piece at the Park Avenue Armory show was very strong. At night, I sat outside the walls of the Theatre Ancien and listened to a host of musicians and singers from the music Festival du Sud, in particular the contemporary Flamenco singer Rocio Marquez who combines the fire of flamenco with some pop elements. Now that was magic.
Southern France is especially good on private houses and spaces as so many artists spent significant time there. Aside from the well-known Picasso Museum in Antibes and the Matisse Chapel in Vence, still enormously compelling especially after the wonderful MoMA show this year (my favorite piece this time was the white confessional door.)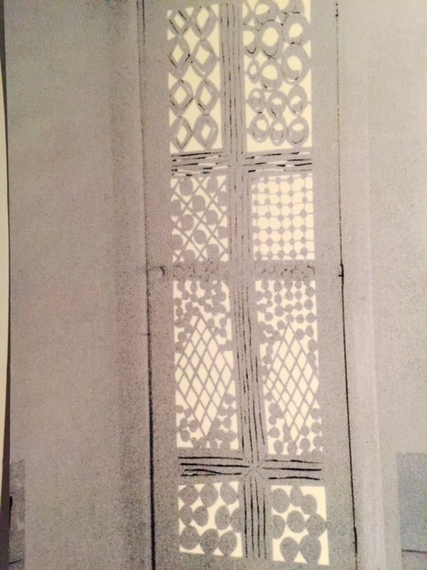 Door to Confessional, Matisse Chapel, Vence
Here are a few special more hidden places artists made their own: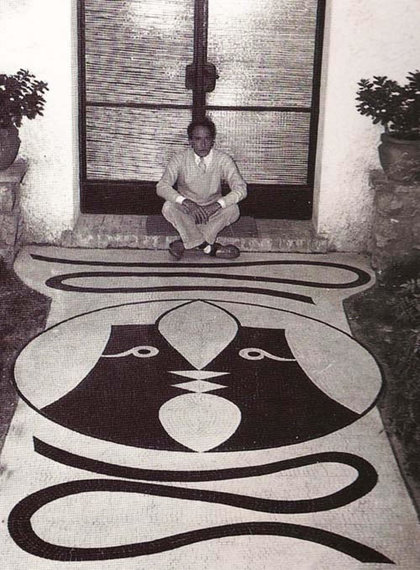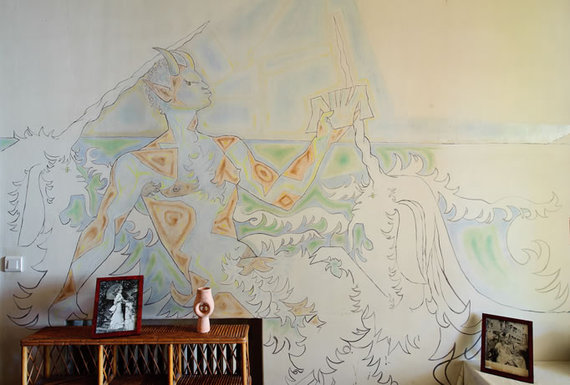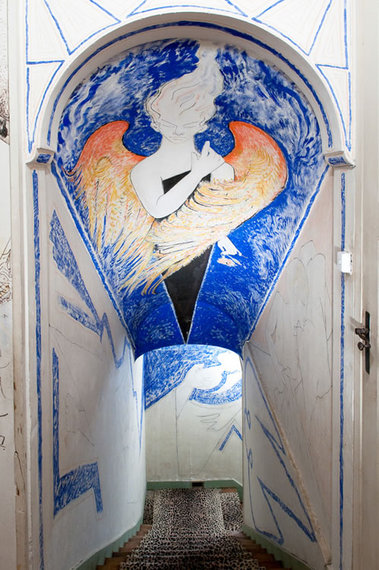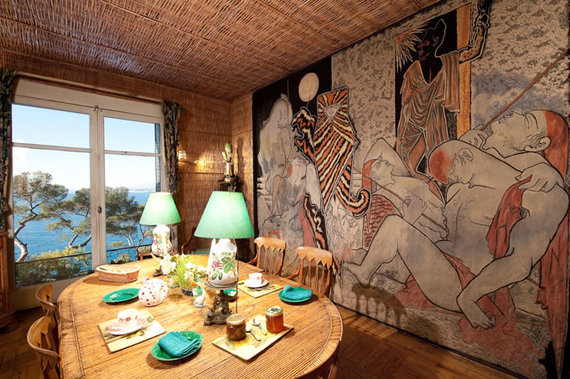 Views of the Villa Santo Sospir
I have been wanting to see the villa of Francine Weisweiller, Jean Cocteau's last patronesse, in Cap Ferrat for decades as I once worked with her daughter Carole. Finally, the chance to drive the windy road to the house-by-the-lighthouse appeared. Weisweiller, a rich, Jewish Frenchwoman had come down to the south to get out of the way of the war. Cocteau painted her walls, famed decorator Madeleine Castaing did the décor and the house, untouched by any renovations, feels as if they all left yesterday. It's a rewarding and worthy detour open by appointment.
Silencio Resort
5. Bonnieux is home to the new Silencio cultural resort, with its mama club in Paris, formerly the home of Agnes Varda (Chloe de 5 a 7) one of my cinema heroines who was once married to Jacques Demy (Umbrellas of Cherbourg et al) , another hero. Now owned by their daughter (imagine growing up in that house!) the hotel and cottages are simple and the countryside virgin. A very hip group -- both patrons and management -- made me feel at home, and after dinner though the club was offering a screening of Guys and Dolls (selected by Varda) it seemed ideal instead to borrow a copy of one of my favorite Varda films, The Gleaners, a documentary about people who collect precious leftovers, as I felt a bit like them. Varda's films have recently been re-released by the ever marvelous Criterion Collection. The hotel has also put together a very personal very detailed guide to culture in the region which I highly recommend.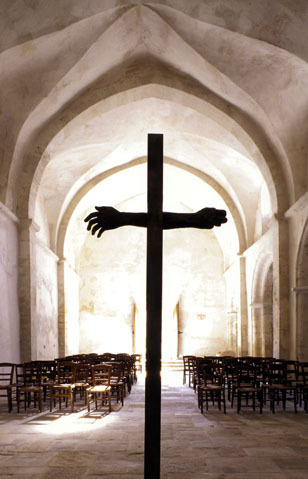 Chappelle Louise Bourgeois
6. The next day I visited the literally heavenly Louise Bourgeois Chapel. A rich Parisian bought this property, including the old chapel and had Bourgeois install five pieces. Against the white austerity, her work is as always provocative and multilayered. The whole hidden space is like walking into another world.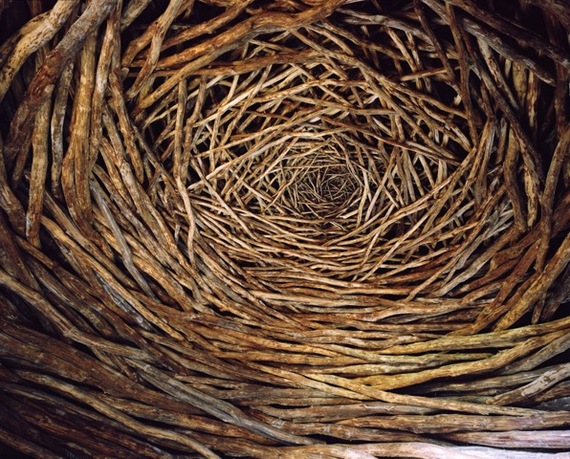 Interior of Andy Goldsworthy structure, Chateau La Coste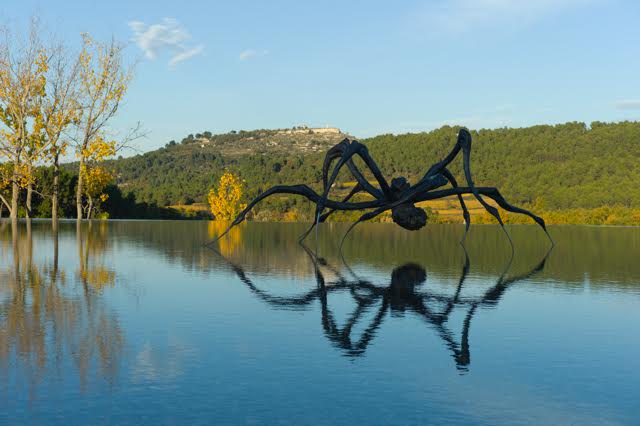 Louise Bourgeois at Chateau La Coste
7. The Chateau La Coste: a wondrous fantasy land of architecture and vineyards cultivated and overseen by the Irish brother-sister duo of Paddy and Mara McKillen -- the antithesis of the funky Silencio. Paddy has thrown some of his millions at some very good works in the midst of his glorious vineyard and added fine dining restaurants and a museum to boot. Installations by Ando, Bourgeois, Scully, Goldsworthy and Gehry (which was his pavilion at the Serpentine some years ago) are not all equally successful, but the ambition and scale of this project more than make up for any lesser pieces and are well more than grace notes amidst the intense beauty of the surrounding hills of Provence and the absolutely delicious wine. A hike around the property takes time, but just coming for lunch is a mistake. Next year will be a hotel, and I hope many performances set amongst the various possible venues. An absolute must-see.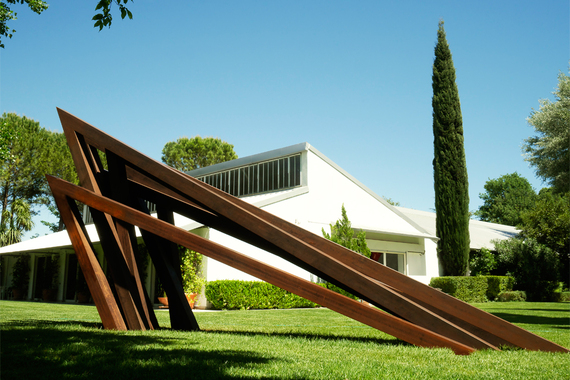 Venet Foundation, Le Muy
8. The Venet Foundationin Le Muy is a version of this, very beautiful, a bit narcissistic as its Bernar Venet's own work that is its primary focus. Venet is known in France, not so much in the U.S., but has devoted family funds to some other artists (Frank Stella, Jean Tinguely) and plans are afoot for a more generalized body of work.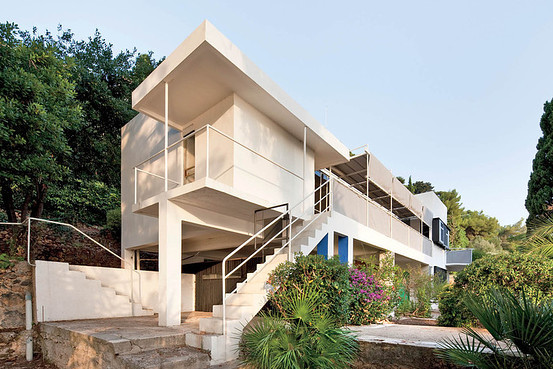 Eileen Gray house
9. I tried multiple times to get to Cap Moderne the modernist house of Eileen Gray whose restoration and history including Le Corbusier's murals and a murder is well-documented at a time I could get there near Menton and the Italian border, but I was stymied in my efforts as it has just opened and is overbooked. Next time.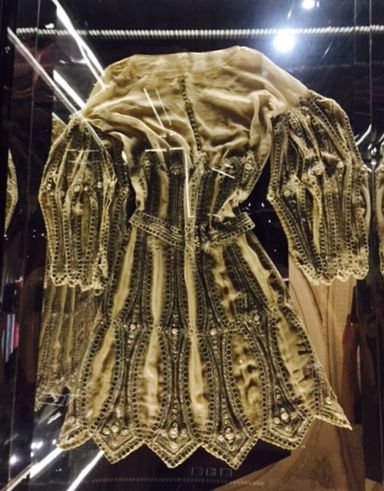 Jeanne Lanvin gown for the 1925 Art Deco Exhibition, Paris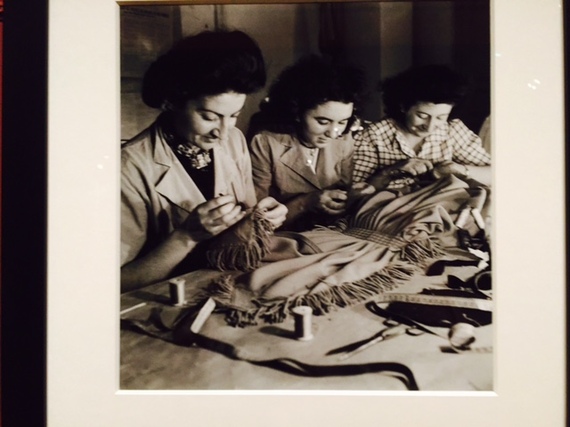 Jeanne Lanvin atelier
10. Jeanne Lanvin at the Palais Galleria in Paris. Yes, I had a few days in Paris to run around. I had missed the Velasquez show, alas, but oh how I loved this exhibition. Lanvin, a contemporary of Coco Chanel's, was the ultimate couturier, encrusting her dresses and gowns with extraordinary beads and jewels yet with a captivating wit. Perfectly installed so that you can see the work from many angles, the show has none of the Met Costume bells and whistles and yet manages to convey the essence of this unique personality. Lanvin was devoted to her daughter and her houses in equal measure but above all, a worker bee. Old film clips from her atelier with three or more women working on a dress at the same time was a new definition of sweat shop -- albeit a more elegant, refined one. How lucky the owners of a Lanvin, a house that still today under the guidance of Abner Elbaz is for me the essence of good draping and line.
The dollar is strong. Both the US and France are struggling with a serious uptick of both insidious and violent racism, retreats in feminism, and nationalism, issues we thought we had put the lid on long ago. I am an unapologetic Francophile so I read with a sinking feeling once home, the excellently reported Marie Brenner story in Vanity Fair which details the massacre in the Paris Kosher market and local efforts to derail further racist animosity. 500,000 Jews live in France among five million Muslims, mostly in the banlieux. It is from among these that are found the ones either fleeing to Israel or alas, to Jihad training.
A French TV series Un Village Francais --which I was in the middle of binging, but is not available on U.S. but only French Netflix -- gives a strong portrait of what it was like to live under the German collaborationist Vichy era. Like Louis Malle's Lacombe Lucien, it offers a nuanced version of how complicated and difficult it was at the time for the average French person.
On the plane to Paris from the south in the two rows next to me were an Muslim family, the woman in purdah, and a Jewish family right behind them, the woman in a wig, her body also entirely covered. Perhaps, I thought, if we could only leave it to the women to sort things out... The theme of mothers and daughters inspiring each other's work had not escaped me all along the glorious hilly roads.
Vive la France!