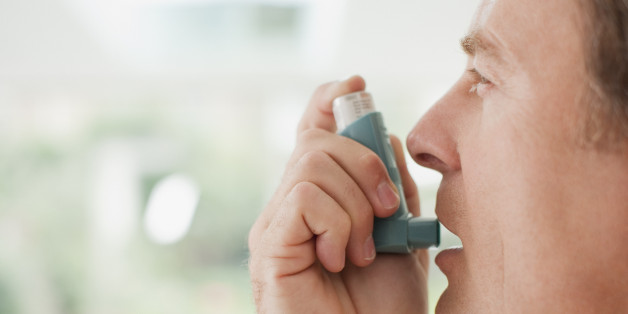 "If anyone asks, you're my cousin." Up until then, I was trying to play it cool. Yes, I felt like my lungs were closing up on me, my breath labored and in shorter supply. "This is what asthma feels like," I try and joke to myself. But my joke falls as flat as the limited air in my chest, and I'm caught up in fear and uncertainty. I haven't felt like this since I was a teenager. What happens if I have an asthma attack abroad? I was leading a delegation from the university I work at, and so I kept thinking about the group of people under my care, going through the most emotional day of our week-long journey, and how can I care for them sitting in an emergency room? I also had a case of travel stubbornness: I'm a travel blogger who has been through much worse, I tried to tell myself, I can't let this stop me now! As we walk into the hospital, Elba, my friend and contact at the nonprofit we work with in El Salvador, is the essence of the calm I seek to project. She calls over a doctor and then calmly whispers to me, "If anyone asks, you're my cousin. Otherwise, they won't let me stay with you and there's no way in hell I am leaving you." Before a doctor even approaches, I breathe a little easier.
I don't like hospitals to begin with. But one thing I appreciate about hospitals is the way they pull us out of our protected shells and into a world of vulnerability we spend so much time fighting against. I was sick for days and refused to acknowledge it. I lead groups on immersion trips abroad on a monthly basis, sometimes more, and I have never been the one that needed care. I provide care and support to anxious students overwhelmed by the poverty that surrounds them. I am the shoulder to cry on, as emotions overwhelm a student who is processing that the injustice they are witness to is more than some political punchline or debate, it's the result of another human being suffering. I clean vomit out of the van when a freshman gets sick on the drive south to Tijuana. I am the face of confidence when there is a mini crisis, quietly mapping out every possible solution while keeping participants calm and focused on the bigger picture. The point is this: I am the caretaker, never the one to be taken care of, and so as I became more ill and my lungs felt under greater attack, I still refused to acknowledge what was happening.
And then walking around the campus of the Universidad Centro Americana in San Salvador, it happened. A persistent cough morphed into a stunning inability to really just breathe. Wheezing, something every asthmatic knows a thing or two about, was no longer a threat or symptom but rather a luxury I found myself longing for as my breathing struggled to even reach wheezing levels. And all this developed moments before what should be the most emotional experience of the week for the group. I needed to be there I told myself. I was in a dilemma, but a little voice reason said this: What you need to do is be able to breathe, and that's not so certain at this point. And so I reason won out: I sent a text to Elba, the coordinator of our delegation in El Salvador, who for days had been reminding me to take care of my health, by any means necessary. "Too late to take you up on that visit to the doctor? I am really struggling to breathe." The reply was simple: "I am on my way to get you, we're going to take care of you."
Not long after, we walked into the ER. A quick chat with the doctor, and a minute later the question is directed to Elba: "Who is he to you?" "He's my cousin," she says so clearly I almost believe it to be true. The doctor hesitates, looks back and forth between us, shrugs, and goes to begin my treatment. Elba kept me calm through it all. She got pushy when I needed care, she kept the mood light-hearted when I was tempted to let my nerves get the better of me. She was looking over me like the concerned mother we all secretly yearn for when we get sick in our adult years. Not long after, my friend Francisco, the Director of CRISPAZ (the group hosting our delegation), was also by my side in the ER. We laughed (some of us harder than others) when I was required to be escorted everywhere in the hospital in a wheelchair. When my blood was drawn and the needle decided to fly out of my arm (hard to explain, impossible to ever forget sadly), I slowly laid down as the stars and ringing bells appeared and Francisco quickly explained to the doctor the meaning of my calm whisper: "Please let the doctor know I am afraid of needles and am now passing out." Forgetting the word in Spanish for faint, I hoped "Ya me voy" (I'm going now) might make sense to the doctor, but alas it did not.
The point of this story is this: Vulnerability, hard as it is to believe for many of us, isn't a cuss word. It's actually one of the greatest strengths of our human existence. Vulnerability is an acknowledgement of our need for community, our inability to be everything to everyone. As I write this, I am reflecting on Pope Francis' visit to the Philippines, where a 12-year-old girl, tears in her eyes, asked the Pope, "Why does God allow children to become prostitutes?" The Pope, visibly shaken, vulnerable to the moment, abandoned his prepared remarks and spoke movingly in response, challenging the crowd to be vulnerable to the poor: "I invite each one of you to ask yourselves, 'Have I learned how to weep, how to cry when I see a hungry child, a child on the street who uses drugs, a homeless child, an abandoned child, an abused child, a child that society uses as a slave'?" To be fully alive is to experience the world, its joys, its frustrations, and its fears, not to hide from them or build up walls to protect us from the reality of others in our midst.
My friends guided me through the medical process in a foreign country at a time I was so afraid and tempted to feel so isolated. Instead I was wrapped up in the love and support of two people who had 8 other places to be at that time and who were present to me, my fears, and my health. Some time spent with the old reliable nebulizer (think breathing machine) brought me back from the brink. Only an asthmatic may fully ever understand how beautiful your first deep or semi-deep breath feels after laboring in panic for whatever oxygen your lungs have been willing to suck in only moments prior.
El Salvador is a powerful place. It's Oscar Romero and the Jesuit Martyrs. It's a brutal and ugly civil war. It's a country battling a new form of violence full of gangs and families torn apart by migration. It's Sister Peggie O'Neill, a modern-day saint who reminds us to use our lives for goodness in a world in so much hunger for, so as to "not die before we're dead." It's pupusas, resilience, great beaches and beautiful countryside. But in a significant way, it's the place I was reminded of the vulnerability that made my time living in Ecuador so very real, intense, and blessed. El Salvador conjures up many images and sayings, but chief among them now has to be a simple phrase that will fill my heart and my lungs for some time to come: If anyone asks, you're my cousin.