A night at the museum was the launching point for me at this year's Outside Lands Festival in San Francisco's Golden Gate Park. In between the Albino Alligator and the African Penguins at one the best museums in San Fran (Academy of Science), I caught a very intimate Of Monsters and Men show. The Icelandic group brought a new kind of life to the museum -- one in which the musical human was the exhibit.

This brisk Thursday night show set the tone for the festival's weather -- perpetual fogging -- yet the climate only encouraged both the artists and attendees to rock a little harder.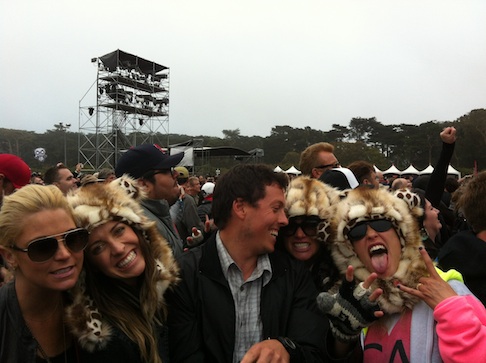 The bands at Outside Lands are like Swiss trains. I don't mean that the bands play fast and have a dining car. I mean the bands start at the time that it actually says on the schedule so you can really plan your day and not miss anything (or at least know you are going to miss something). Not to mention the smart-phone app. The only thing it doesn't do is pick your schedule. The spectrum of choices at OSL 2012 were quite excellent, allowing all generations to live in their element, or to experience a taste of the future or past. The main stage, which featured seasoned musicians, such a Metallica and the Foo Fighters, not only provided a musical experience, but also added aspects of performance and bedazzle. The smaller stages, while usually paired nicely with their respective acts (and expected crowds) showed how dynamic fandom is: the Alabama Shakes not only filled their "venue," but herds of newly curious fans stretched all the way back hundreds of yards, clogging the festival's main entrance.
Outside Lands, due to strict curfew restrictions imposed by the City of San Francisco, is in fact really a day festival. The sun sets just after 8pm, and darkness only really takes hold for the last hour of each day. While multiple artists commented on their not-preferred time slots; Jack White made up for the lack of the night ambiance with a stunning surprise show in a more remote part of the park, in a dense Blum Gum Eucalyptus and Monterey Cypress tree "forest."
One of the headliners, Neil Young, who did have the late slot (ending at 10 p.m.), used the main stage at his discretion -- unrestricted jamming. I could sense from the very first song that we were on Neil's musical journey, and if you accepted that, it was a phenomenal show. There is a weird beauty to see someone so talented explore such raw musical tones. At times I got lost, but with the backing of Crazyhorse, the songs had strong melding conclusions. (It was also nice to hear Neil Young play his own hits, rather than Beck, who unfortunately botched Neil's: "After the GoldRush").
Metallica rocked a fan-pleasing Saturday night set chocked with "Ride the Lightning," "Enter Sandman," and the standard yet crushing Encore from the Kill 'Em All album: "Seek and Destroy." For a band that has had its contentious moments with its fans (read the Napster saga) it was really nice to see how thankful Lars was to be playing OSL. "Look mom, I am playing Golden Gate Park." And, they seemed to genuinely care about their fans, as they passed out guitar picks and threw their drum sticks in a post-Encore love fest.
Those looking for a more intimate setting under dark skies or a fog-proof roof had many options this year with the night shows. In addition to Monsters and Men, I also got to check out Electric Guest on Saturday night. The intimacy of a smaller venue really allowed these guys to cleanly project their indy-rock sound to a packed house, which was much tougher to do during their next day's set.
For my eco-conscious San Francisco brethren, last year's festival had a very strong waste-diversion rate of 77 percent (think of it this way: you use 100 unique items -- forks, plates, wrappers, bowls -- and 77 of them end up being composted or recycled rather than rotting in the local dump). I have to imagine that this year's will surpass that; it's almost as if people felt bad tossing in the wrong bin, or leaving their cigarette butts on the ground.
The eco-feel of San Francisco was further noticed through the audience's fashion choices: plenty of whiskers, bunny ears, feathers and face paint. Where the climate of Bonnaroo is much more conducive to wearing nothing, Golden Gate park inspired its attendees to get a bit more creative. Can you say "Pata-Gucci"?
Sunday night closed on two different ends of the spectrum: Stevie Wonder and Skrillex, many fans opting to start with Stevie and end with the latter. With this year's show selling out, the daily 65,000 fans came out stronger than ever. There was something for everyone. The job-affordable ticket price was enough to attract a significant number of the SF local scene as well. I have to imagine the SF start-up/social workplace community had a hangover today.