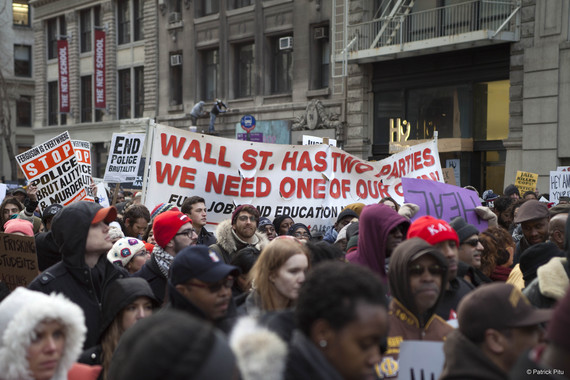 It started with the death of Michael Brown. It was the necessary fever pitch to spark the kind of outrage that would fire its way from coast to coast like a synaptic impulse. But I felt it long before Ferguson. In our early post-911 world, I often felt disenfranchised from my generation -my friends and coworkers supine and supplanted by trashy reality television, i-products, and social media -- while I watched perennial war and the extermination of civil rights infuse and metastasize like a global cancer. There were few protests then; few eruptions of youthful revolt. While we saw the emergence of a well-meaning but unfocused Occupy movement, most Americans were M.I.A. It took the amassing of a militarized police state, blatant public executions and gunshots to break the pervasive silence and apathy of a nation. Proudly, many of us have stood up and joined the ranks of those before us who fought for change.
With every protest, now, is a clear and hopeful war cry: We will be heard. We will not be dismissed. We will no longer be placated and anesthetized by cute cat videos, Kim Kardashian's oily backside, and Apple's latest innovation in incremental cell phone screen expansion. We are a reinvented generation who gives a damn. Not only do we give a damn, but this year saw citizens all over the United States swarming major cities; shutting down highways and bridges, and even staging "die-in" protests at flagship retailers. Instead of justice, however, the flames were only fanned by another judicial debauchery devoid of any indictment or accountability for Officer Daniel Pantaleo, whom in the company of six other New York City police officials, was captured on video placing Eric Garner in a lethal chokehold. All for selling untaxed cigarettes. If we've learned anything this year, it's that tobacco products will kill you.
Eric Garner's last words, "I can't breathe," have now echoed through the streets of New York, Boston, Chicago, Washington D.C., Berkeley, and the collective consciousness of a country once restrained by the hypnotic glow of their smartphones. But are enough of us really awake? Brazen injustice is nothing new. It's been happening for decades, and it is not exclusive to police brutality. The police are merely a symptom of a greater pandemic. While citizens die at the hands of police for meager infractions, like selling loose cigarettes, the real criminals are getting a pass. Big banks and transnational corporations avoid paying millions in taxes. Our own politicians spout Christian rhetoric while allowing the rape and unmerciful torture of prisoners held without due process. We have been spied on, lied to, and led into illegal wars. When you take stock of the broader and even more insidious atrocities endorsed by our government, suddenly the throngs of protesters seem small for an America that has become unrecognizable in it's fundamental values, and in such desperate need of revolution.
Now that we have figured out how to convert our smartphones from tools of distraction to weapons of dissent, maybe can we can continue to remind ourselves that we do not have to accept the way things are. Together we can change it. We can continue to collectivize and shift every reckless paradigm into extinction. But there is still work to be done; still those who are asleep; and still more treacherous corruption to be combated. Because if you think the police are scary, take a look over their heads.
The view will shock you.