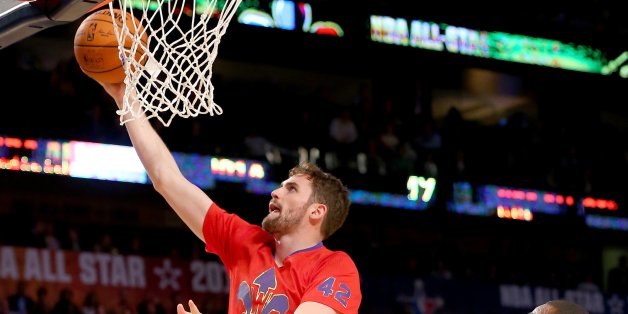 According to ESPN, the Minnesota Timberwolves have finally decided to trade Kevin Love to the Cleveland Cavaliers for the 2014 No. 1 overall pick Andrew Wiggins, last year's No. 1 overall pick Anthony Bennett, and a first-round pick in 2015.
ESPN also reported "according to Yahoo sources, Love has committed to opt out of his contract in 2015 and re-sign with Cleveland next summer for five years and $120 million-plus."
It is further believed that once the deal is made later this month (Wiggins cannot be traded until August 23), the Cavaliers will pursue sharpshooter Ray Allen and big man Shawn Marion to shore up their bench, where they've already included Mike Miller and James Jones.
And so in a matter of months the Cavaliers have gone from bottom feeders to top dogs in the Eastern Conference food chain. They've fashioned themselves a new Big 3 with Love, LeBron James, and Kyrie Irving. They've also got Dion Waiters and Anderson Varejao, giving them one of the strongest starting fives in the league. They've also got plenty of shooting to help open up lanes for James, just like the Miami Heat had the last four seasons.
The question, then, is how does the Cavs' ascension affect the rest of the league?
For one, the Central Division will be stacked for years to come. The Cavs, the Chicago Bulls, and the Indiana Pacers (once Paul George returns) will all be vying for Eastern supremacy, not to mention the Milwaukee Bucks will undoubtedly build around No. 2 overall pick Jabari Parker and potentially become a Central Division hopeful.
The New York Knicks were also hoping to upgrade in the near future, and now that James and Love have both committed to the Cavs their options are a bit more limited. But if this prompts someone like Dwight Howard or Rajon Rondo to move out to the Big Apple, the East suddenly becomes pretty top-heavy.
The Timberwolves are also put in an interesting position, gaining two young prospects on rookie contracts and an additional first round pick, allowing them to build from the ground-up (once again) without much financial restriction. The question will be what kind of talent they can lure in free agency in order to build around a young Wiggins and Ricky Rubio combination.
The Cavs have just as many question marks surrounding their new team. There's no doubt they'll be able to score, but what about the defensive end. Love, Irving, Waiters -- these guys known to be lock down defenders. In fact, LeBron may be the only legitimate defensive player on their team.
They also shipped in new head coach David Blatt from overseas, where he enjoyed lots of success coaching Israel's Maccabi Tel Aviv. But will he be able to draw up schemes that help this group gel on defense? Will he be able to adjust to the NBA game quick enough to see the same success he saw in Europe?
In any case, the NBA has seen great competition among the league's best the last few seasons, and with all these changes things are shaping up to be even more interesting in the coming years.