Right before Thanksgiving, the good folks at Blisstree posted "My Wife and I Spend the Holidays Apart (And We Like It That Way)," a little look at our non-traditional, non-together festivities. The piece struck an online nerve, eliciting a fair number of comments, both here and abroad. It even landed Kim and me a guest spot on a the public radio show "The Story," fulfilling a personal goal even if it had nothing to do with Ira Glass. Nevertheless, host Dick Gordon has a much more soothing put-you-at-ease voice, the kind made for hot cocoa. (Hear for yourself: our segment begins around 29:30.)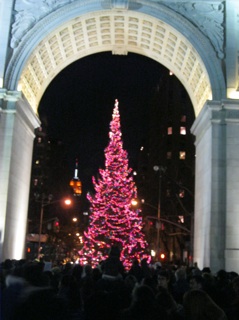 Overall, I was pleasantly surprised with the responses. (I'm looking at you, loyal HuffPost readers!) Not that everyone thought our way of doing things made a lick of sense, but nearly everyone took a live-and-let-live, whatever-works-for-you attitude about it. It warmed my Grinchy heart, but it also made me feel guilty for a bit of writerly withholding to the readers. I apologize. I wasn't entirely forthcoming.
I knew that this year, my wife and I would be spending the holidays together. All of them.
Now, in my defense, when I wrote the original piece, this scenario was accurate. There was no journalistic shenanigans, but I knew one line was no longer true: "We have no kids (yet)."
We do. Thus, the holidays have taken on a whole new meaning. In a word, logistics.
On Thanksgiving, our family of three hosted our first-ever home-cooked turkey dinner. We filled our Fort Greene apartment to capacity with eight adults, two young boys, our new daughter Molly, a fold-out table borrowed from the laundry room, a smaller-than-ordered 19-pound turkey, six delicious sides, a cooler full of beer, a counter full of wine, three pies, and a jug of "Stoop Party," a pre-game cocktail made with Spike Lee's Absolut Brooklyn that doubled as my sole -- er, soul? -- contribution to the meal.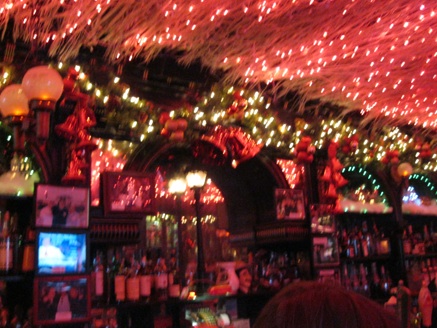 There have been a few Thanksgivings where Kim and I stayed together, but there has never been one where we were in charge. We've never looked this so-called "holiday stress" dead in the eye. So how'd it go? Delightful. Really. A bit cramped, but I was proud of the effort... Not to say I didn't learn a few things:
Never, ever, ever, ever watch any portion the Macy's Thanksgiving Day parade.

Me to wife: How is it I've never noticed how excruciatingly terrible this corporate awfulness is?

Wife to me: We're usually apart, remember? You'd normally still be asleep. Molly and I wanted to watch it.

Me to Molly (whispering): The Macy's Day parade sucks... cheerleading is lame... sororities are evil... The Macy's Day parade sucks... cheerleading is--

Wife to me: Go back to bed. Not like you're cooking anything, anyway.

Me to TV: Oh, I beg to differ, Meredith! I do think you can have too many Smurfing Smurfs at your Smursfgiving.

Don't prepare your own food.

My brother's a chef who wanted to handle the bird (mainly, I suspect, to get four quiet hours away from his boys). My dad's wife is the kind of all-encompassing food preparer who sent him back to the store to get "the right" pecans and brought her own salt-and-pepper shakers from Billings, Mont. Does this break standard holiday protocol? Probably. But hey, Molly was only four weeks old. She needs me. Babies are great for getting lazy fathers out of stuff.

If you have to subway into the city to a farmer's market to haggle with an Israeli turkey farmer who didn't deliver the 25-pound turkey as ordered...

Come to a mutually beneficial arrangement, like a 19-pound bird and a five-pound breast at half price. Shalom.

A half-soused relative, a four-year-old-boy, and a baby-rocking glider near a booze rack filled with glass bottles makes for a bad combination.
Don't worry. The decanter only suffered minor damage. The whiskey is fine. I repeat, the whiskey is fine.
In all honesty, spending Thanksgiving in a big familial way was great. Nothing changes the game like watching others fawn over one's offspring. That doesn't, however, mean that there are parts of the old way of doing things that I already miss. Logistics were never an issue. Kim goes that way; I go the other way. See you in a few days. Boom. Done. Now, we need a war room with one of those big maps where troops can be maneuvered around with a stick just to figure out our plan of attack. When it comes to being forced to move our army about in a game of holiday Risk...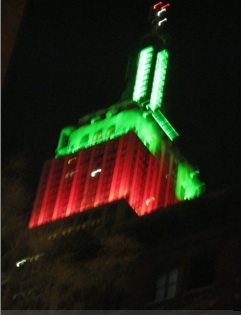 I'm nostalgic for the good ol' days of 2009.
Because no sooner had Thanksgiving ended than we were strategizing Christmas number one at Grandma's house in Philadelphia. (Actual notes: Rental car? Check. Restaurant for the family dinner -- call Uncle Joe? Dan and boys' sleeping arrangements? Make separate list for baby items... Will stroller fit in trunk? How many Aero beds? Heavy traffic times? Eagles game at Mick's Inn? Facebook Cuz Mike...)
I never quite understood what the expression "the devil is in the details" meant. Now I get it. Hell on Earth is making plans for the holidays.
And yet, Christmas number one was also fantastic. Grandma was in high spirits. She gave me a great gift by giving Molly the ring she wore as a little girl.
And for sheer holiday kicks, you can stuff Clarence Oddbody in a snowdrift. We got to watch two of our nephews stomp around the house in our gifts to them, talking Darth Vader and Boba Fett helmets. Every time the leader of the Dark Side breathes deeply, a Jedi gets his wings.
However, Before the warmth of Christmas number one washes over, we'll be headed up to Massachusetts for Christmas number three, which, due to external outside factors like out-of-town flights and e-mail snafus, actually takes place over New Year's Eve. This time, it's Kim's side of the family, and we need to secure another car, figure out sleeping arrangements, get a ferry pass for the detour to Martha's Vineyard, take down the decorations and dispose of the fir carcass on the 26th...
Oh, right, Christmas number two. Back home. No guests means no cooking, of course. We'll be dining on steaks and live holiday music at the Knickerbocker in Greenwich Village. Then we'll head back to Brooklyn to watch Molly fall asleep under the lights of our Christmas tree and Flakes, the illuminated plastic snowman we bought for $5 at a street sale last summer.
We've got new traditions in the making.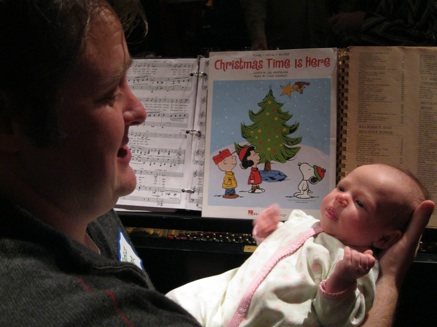 For the first time as husband and wife, Kim and I will be together on Christmas. Alone, with Molly.
That's the best gift of all.
Happy holidays, everyone.
This post originally ran on Blisstree, a great site if you dig this kind of thing. Patrick Sauer is a writer who lives in New York City. Read more of his work at patrickjsauer.com or follow him on Twitter @pjsauer.