Here is a tragic statistic that just blew my mind recently. Of the veterans from the all US wars on average, 18 veterans commit suicide each day. "Of the more than 30,000 suicides in this country each year, fully 20 percent of them are acts by veterans,'' said VA Secretary Eric Shinseki at a VA-sponsored Suicide Prevention Conference Jan.11, 2010 "That means on average 18 veterans commit suicide each day. Five of those veterans are under our care at VA." Now there are those within the VA that dispute this number and others that say that there has been under reporting of suicides by the VA Here is an article link that speaks directly to this http://ipsnorthamerica.net/news.php?idnews=2784
I don't think that very many people are aware of this statistic. I know that I wasn't and my husband is a veteran. That is until I saw a recent interview by John Roberts interviewing Tammy Duckworth on CNN. Scrolling along the bottom of the screen was "18 veterans commit suicide each day " Duckworth is an Iraq War veteran and former U.S. Army helicopter pilot whose severe combat wounds cost her both of her legs and damaged her right arm. She is also the Assistant Secretary of Public and Intergovernmental Affairs for the United States Department of Veterans Affairs. Tammy Duckworth went on to say in the interview that the VA and the society as a whole have a long way to go to help returning veterans feel whole and connected again. For her CNN interview visit this link http://www.youtube.com/watch?v=9YQJFrngYvY&feature=fvsr

My husband Kenneth is a Vietnam Veteran so I am in and out of the VA Medical Center in East Orange New Jersey quite often. Last week I was sitting in the pharmacy and to the left of me was a young man. I leaned over and asked him "Which war are you returning from?". "He said Afghanistan." I said "Thank you for your service to our country" I went on to say that it must be very hard to re-enter society when you can't really share your experiences with anyone and I assumed that is why so many vets go back for more tours. "He said, that even though he had plastic in his head from a traumatic injury and that his leg was screwed up he still wanted to go back but the army wouldn't let him because his wounds were too serious. I thought to myself, "My god he is saying it is easier to go back to the horrors of war than it is to rejoin American society." I went on to say that recently I had seen a statistic that every day 18 veterans commit suicide. He said, "Yeah, I tried that" He also told me that the divorce rate was very high, especially for newly married veterans. I asked him what could people do to help returning vets. He said, "It always helps to be thanked. And that just having someone care enough to reach out try to connect is also a good thing." I thought to myself a simple "thank you" is the very least that we, as a society should do. For soldiers that have been asked to volunteer their service again and again in wars that exacted such a toll in their lives
In an opinion article titled: "Back from Iraq war, and alone" Mike Scotti who served in Afghanistan in 2001 and Iraq in 2003 writes a very real and clear picture of what a returning vet feels. He is also the founder of Reserve Aid http://reserveaid.org/ Read Scotti's opinion piece about what veteran's experience when they get home from the wars in Iraq and Afghanistan at the following link.
http://www.cnn.com/2010/OPINION/03/10/scotti.war.veterans/index.html
I spoke with Dr. Petru Tintea who is Chief of the VA Mental Health Clinic -East Orange, New Jersey He said, "In the wars in the Middle East where soldiers do second and even fifth tours the stresses of combat, fear, anxiety, boredom, missing family run extremely high. The Muslim culture is very different than ours in many aspects and this adds to the emotional state of our soldiers." This was not true in WWII, Korea, or Vietnam where soldiers, who at that time where mostly all men, could much more easily vent the stresses of war.
All of this compounds the unusual high levels of post-traumatic stress disorder (PTSD) that comes home in communities across America with these returning veterans. It is these male and female volunteer service veterans who have borne the weight of many tours in Iraq and Afghanistan where there has been an alarming 26 percent increase from 2005 to 2007 in suicide. And that percentage has continued to climb in 2009. As a society we have to find ways within communities to communicate with all veterans of Americas wars to help to begin the process of closing the gap of alienation which, in our most recent wars, has become increasingly deadly. Visit the Iraq and Afghanistan Veterans of America http://iava.org/ to learn how to help returning volunteer veterans in your community.
Here is a picture of a floral flag next to Vandenberg AFB in Santa Maria, CA It is a tribute to men and woman serving in the military. And to veterans of all America's wars. A veteran is someone who, at one point in his or her life, wrote a blank check made payable to 'The United States of America ' for an amount of 'up to and including My life.'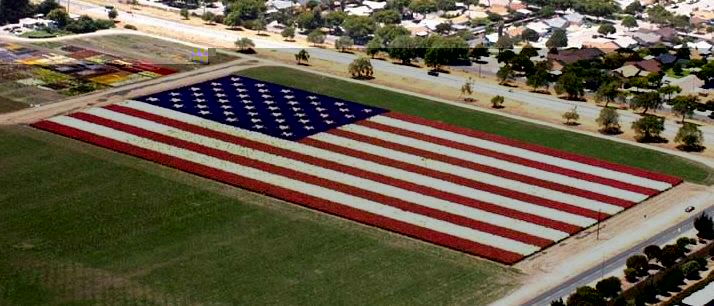 Goodbye to turning a blind eye to returning veterans of Iraq and Afghanistan in our communities
Hello to trying to see through their eyes how difficult their return from these wars can be.
Goodbye to broken connections and bridges of no return for our veterans
Hello to building bridges and connectors for these veterans to return to.
Goodbye to our society not grasping the emotional toll these wars have taken on our veterans.
Hello to our society stepping up to shoulder some emotional toll for our veterans