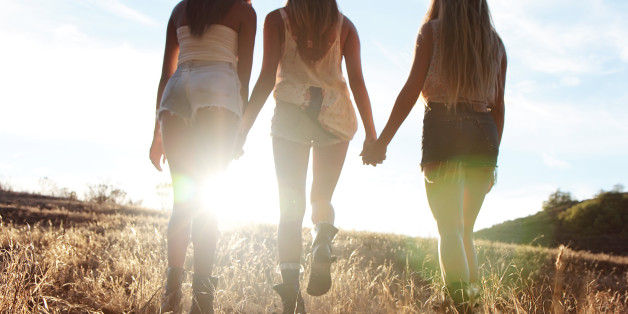 A small class of girls sat on the floor discussing the online coverage of the girls who were kidnapped in Nigeria. Thoughts about the responses to the Internet phenomena on Twitter abounded. Being members of an all girl's school themselves, they grappled with the concept of education being seen as a danger. Thus was born a simple compassion campaign: Every girl in in the school would write a letter to the kidnapped girls' parents. These were not political statements; rather, each girl reached out to say, we hear you, we support you, you are not alone and you are brave to send your daughters to school.
The letters they wrote were simple, beautiful and personal. Some included drawing, symbols, and poems. In the wake of Maya Angelou's passing, the girls' letters reinforced the power of one girl reaching out to another girl in the world. The words conveyed strength through solidarity: We stand with you.
Independently of the letter writing campaign, an email circulated around the community to organize a photo to post on #Bringbackourgirls. One girl organized the entire event and in a matter of hours it was on social media sites joining other girls voices.
As a long-time teacher and school counselor, I read far too many articles that manufacture an "epidemic" of teenage girls' negative qualities. These words transform into movements that generate fear and market a lot of books and movies. Don't get me wrong -- I enjoyed the movies Mean Girls and Easy A, and how they magnified teenage girl "issues" with a bit of humor and wisdom. Moreover, I have seen girls act out in ways that are hurtful and cruel. The consequences of some of these negative behaviors should not be minimized, but the industry built around "bullying" and "relational aggression" is disappointing to me. These labels don't address the complexity of social interaction, and this is small thinking in my book.
What about the uniquely positive qualities of girls' interactions? Let's notice and label them. When do we take the time to listen to a girl's voice when she is speaking from her heart and write about that? I saw a recent conference for educators entitled "Mean Girls." What about a conference that focuses on understanding and building girls' potential from a positive angle?
Contrary to the negative media messages, I find that girls have a fierce desire to stand up for their friends -- and will risk a lot to do so. They know that feelings count. They hear more and more about the global challenges of women and girls who are mistreated and denied equal access because of their gender. On their journey to adulthood, girls are learning how to build and terminate friendships, stand up for themselves, say no, develop a sense of self, and find purpose. Their interactions along the way are complicated and messy but deserve to be guided by positive expectations rather than pejorative labels. From my experience, when encouraged to use their voice for good, girls are willing to (in Maya Angelou's words) "Dare to Kick Ass." And in the complex world we are sending them into, girls will need compassion as well as courage and confidence to look injustice in the face and have the guts to say, "no way."