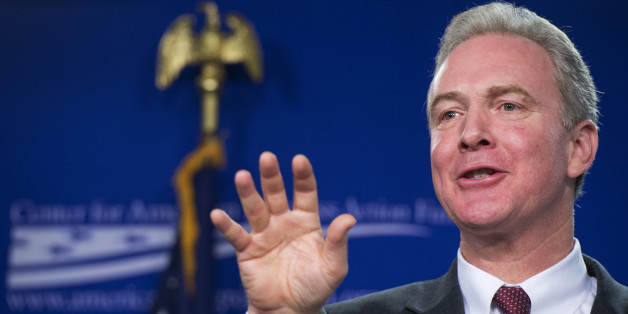 Chris Van Hollen (D-MD) is being lauded for proposing a revenue-neutral, middle-class tax cut funded by financial activities tax ("FAT").
Jared Bernstein, TV commentator and former chief economic advisor to Vice-President Biden, has called Van Hollen's plan "new", "bold", "far-reaching".
The Roosevelt Institute's Richard Kirsch called it "an economic and political home run".
Huffington Post's Zach Carter referred to the pay-for as a "Wall Street Tax".
Well, guess what boys and girls? This was proposed in these pages in September, 2014.
You remember September, 2014, don't you?
It was just when the mid-terms began getting traction with the American people. Despite what the always-wrong pollsters were saying, the election was up for grabs, for whomever would seize it.
September, 2014, was when Democrats decided to run away from President Obama by shuffling their feet and looking at their shoes when attacked for supporting him. [As the Carter article makes clear, offering this would have been running away from the president, but in a "new, bold, far-reaching" direction as the Bernstein article says].
It was before they handed the right wing the Congress on a silver platter.
It was called the "Wall Street Tax". Along with the minimum wage, it was proposed as the both awesome economics and politics, as the Kirsch article explains.
Indeed, it was bolder, more far-reaching, and simpler to convey than Van Hollen's proposal. It raised $350 billion per year by taxing Wall Street transactions in stocks, bonds and derivatives all at less than 1 percent.
It was also more practical -- a movement, a wave, could perhaps have passed it. Depending on loophole closing has not shown itself to be as lucrative as was supposed.
The proposal was well-publicized, highlighted here on the front page, and received a substantial commentary.
Republicans could not have wailed about deficits, debt, raising taxes or spending. Deficits would actually go down as the economy would tick up; taxes would be shifted, not raised; government spending would remain the same.
Elections are not "locked" as early as politicians and pollsters would have you believe. Moods change, and a constant drum beat for relief of Main Street via fractional taxes of Wall Street could have permeated the electorate's consciousness.
So, how did Van Hollen et al. respond to this proposal?
Silence.
And, therein lay the real problem.