One of the coolest things about HuffingtonPost is the people we have a chance to work with and the amazing bloggers and personalities we publish. Thanks to the launch of our Books vertical, we are now lucky enough to work with Amy Hertz who is running the section. We've been working together to revise the sort of sad Amazon-only widget that we had for so long.
So I'm proud to announce that there is a cool new widget appearing today at the bottom of book articles, going site-wide next week, and we're really excited about bringing it to you. What we love most is the variety of information about books as well as the variety of choice in online purchase. There are a lot of options out there and we want to make sure you know what they are.
Here's what it does: the widget highlights books that are relevant to the article or blog - it'll capture either books written by the author of the article or books related to the topic discussed.

And then the fun begins. When you click on the book jacket's thumbnail, an overlay appears.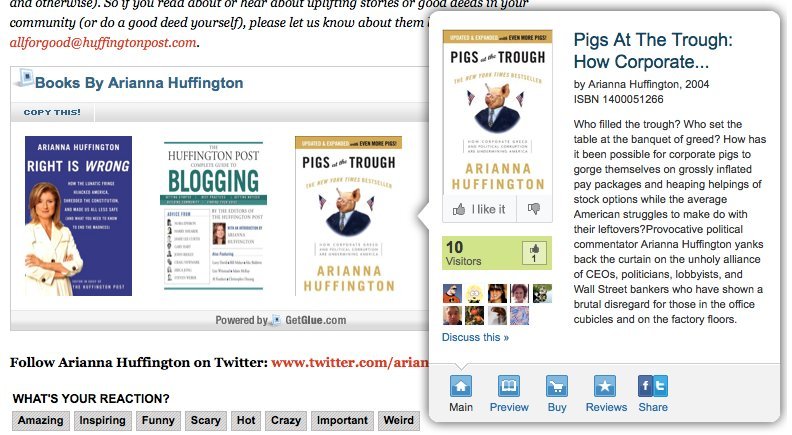 The main tab of the overlay has the book's title, author, cover art, a short summary and a social element. Complimenting the main tab are four individual tabs with additional information about the specific book.

The Preview tab enables individuals to access the "browse inside" feature for the book. The "Buy" tab provides a direct way to purchase the book from a preferred online retailer and there are lots of choices. The "Reviews" tab provides in-place reviews for the book. The "Share" tab makes it easy to share the book with a single click to Facebook or Twitter.

The widgets are powered by the social recommendation network GetGlue.com.

We have a lot of bloggers who have written books and we're really excited to be broadening the range of information we can bring to you on each one. Let us know what you think of the new addition.