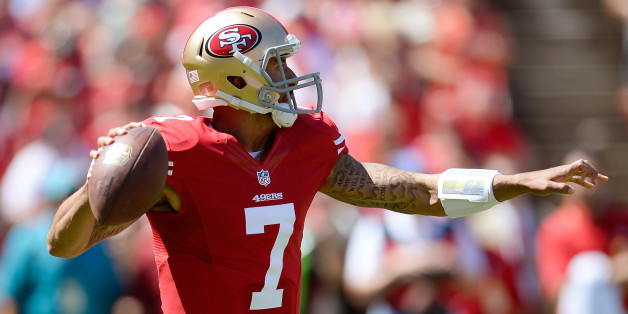 The Predictalator has run every Week 9 2014 NFL game 50,000 times. Below we present the up-to-date top three at each fantasy position for the week, a sleeper likely to have a breakout game (generally chosen as the best $/FP value on daily fantasy sites), a player to avoid (the worst $/FP value) and some injury situations to monitor heading into the week. Also, check out free projections for every player in every future week in our Rest of Season Fantasy Football Rankings.
Quarterbacks
1. Colin Kaepernick 26.3 (SF vs. STL) – Kaepernick and the 49ers return from their bye week with an advantageous matchup with a banged up and beleaguered Rams team. The Rams have allowed 6.16 yards-per-play this season (second worst to the Giants) and are without three cornerbacks with recent starting experience. Just three weeks ago, Kaepernick put up 35.4 fantasy points against this defense. Now, he plays at home with a healthier team.
2. Andrew Luck 25.9 FPs (IND @ NYG) – Monday Night Football's game between the Giants and Colts looks like clear of weather concerns and likely to be a shootout. As just noted, the Giants have the league's worst defense with respect to yards-per-play allowed. Luck has been great this season with seven 300+ yard games and five games with at least 370 yards passing.
3. Russell Wilson 25.7 FPs (SEA vs. OAK) – Wilson has half as many passing touchdowns as Luck this season, but an almost identical projection for fantasy points this week. The Seahawks quarterback leads all quarterbacks with 362 yards rushing on 8.2 yards-per-carry with three rushing touchdowns. He has also thrown for 35 touchdowns and just nine interceptions in 19 career home games. Oh yeah, and Oakland is not very good.
Breakout Candidate: Eli Manning 22.3 FPs (NYG vs. IND) - Manning is on the opposite end of the Monday night shootout. Eli has been great in his career both after a bye and in the second half of the season. That could be even more noticeable this season as Manning gets an extra week in of practice time with new offensive coordinator Ben McAdoo's system and starting wide receiver Odell Beckham who missed all of training camp. He may not match Ben Roethlisberger's performance from Week 8 against the Colts (especially with Vontae Davis back and practicing), but this projects to be one of Eli Manning's best days of the year.
Must Avoid: Tom Brady 18.8 FPs (NE vs. DEN) – In the marquee matchup of Week 9, expect weather (40+ MPH wind gusts) and defense (both teams have top six NFL pass defenses) to tell more of the story in Foxborough than quarterbacks Tom Brady and Peyton Manning (though Manning is still worth a start because he is Peyton Manning).
Running Backs
1. Arian Foster 19.0 FPs (HOU vs. PHI) – It's a mild upset in that anyone else besides DeMarco Murray is in this spot, but Foster was essentially Murray before Murray. Both are elite rushers on teams (in Texas for what that's worth) with above average offensive lines who are fed the ball at historically high rates and, not too surprisingly, also have injury concerns. Both are healthy now. Both should be started.
2. DeMarco Murray 17.8 FPs (DAL vs. ARI) – This is just the second week all season for which we are not projecting Murray to top 100 yards rushing (he totals 128 yards between rushing and receiving). The Cardinals allow just 3.3 yards-per-carry on the season. A defense that good can knock Murray from first to second in our rankings (technically, by Sunday morning last week, Mark Ingram was our #1 RB in standard leagues and Murray was #2 then as well).
3. Jeremy Hill 16.9 FPs (CIN vs. JAC) – Clearly, this is predicated on Gio Bernard missing the game this week against the Jacksonville Jaguars. It's a great matchup for Hill who was our top running back in this year's draft class and faces the Jaguars' 27th ranked defense. In the fourth quarter against Baltimore last week, while Bernard was out due to injury, Hill had nine touches for 42 yards. That probably won't perfectly extrapolate to 36 touches for 168 yards this week, but he is a great bet for 20+ touches and 100+ total yards if Bernard misses time (Cedric Peerman is the backup in that scenario).
Breakout Candidate: Bobby Rainey 12.2 FPs (TB @ CLE) - Rainey should fully take over the reigns as the starting running back for Tampa Bay as Doug Martin continues to be injured and ineffective. Rainey has been one of the more efficient backs in the league, averaging 4.6 yards-per-carry and topping 20 yards on the ground three times in just 62 carries. In previous starts, Rainey has averaged 20.2 touches-a-game for 86.9 yards-a-game. This may be the last week of Rainey's relevance, though, as versatile back Charles Sims can be activated from short-term IR as early as this week (he is worth an add for the future).
Must Avoid: Matt Asiata (MIN vs. WAS) – Matt Asiata is a touchdown-dependent running back who offers little value to fantasy teams or the Vikings aside from his ability to pick up short yardage situations. He is barely more fantasy relevant than John Kuhn of the Packers and has not topped 40 total yards since Week 5.
Wide Receiver
1. Antonio Brown 14.0 FPs (PIT vs. BAL) – Brown is targeted on 28.6% of the Steelers' throws, which is fifth highest in the league. He leads the top ten in team target percentage with catches on 69% of his targets and is third in that ground with 9.8 yards-per-target. Few players are more consistently great in this league.
2. Demaryius Thomas 13.2 FPs (DEN @ NE) – Even with the winds swirling and the Patriots' strong pass defense, Thomas appears in line for another great game. Due to his elite after the catch abilities in space, Thomas is both the Broncos' best deep threat and the team's focal point on bubble screens and quick passes. If he gets the looks (he has been targeted on 30% of Peyton Manning's throws this season), he should put up numbers.
3. Jeremy Maclin 11.8 FPs (PHI @ HOU) – Maclin's 16.3 yards-per-catch are tops amongst any NFL player who has been targeted at least 70 times this season. Nick Foles' inconsistencies have led to a bumpy road (just 16 receiving yards in Week 6), but Maclin's productivity is elite when he gets the ball in his hands.
Breakout Candidate: Odell Beckham Jr. 10.8 FPs (NYG vs. IND) – Stepping up as the starter in place of injured Victor Cruz, Beckham has a defined role and is healthy for the first time in his brief career. Beckham has averaged 13.3 PPR fantasy points in his three NFL games. That looks sustainable as his importance to the offense grows as well.
Must Avoid: Percy Harvin 5.2 FPs (NYJ @ KC) – Harvin as a decoy and as a constant home run threat makes him a far better real-life player (on the field) than he is a fantasy player. He looked explosive in seven touches for the Jets last week, but that still just amounted to 50 total yards and no touchdowns. He has just 275 yards and one TD on the season, topping 50 total yards just once.
Tight End
1. Rob Gronkowski 9.7 FPs (NE vs. DEN)
2. Julius Thomas 8.9 FPs (DEN @ NE)
3. Antonio Gates 8.6 FPs (SD @ MIA)
Breakout Candidate: Zach Ertz 7.3 FPs (PHI @ HOU)
Must Avoid: Jace Amaro 4.7 FPs (NYJ @ KC)
Kickers
1. Phil Dawson 10.7 FPs (SF vs. STL)
2. Chandler Cantanzaro 9.8 FPs (ARI @ DAL)
3. Billy Cundiff 9.8 FPs (CLE vs. TB)
Breakout Candidate: Randy Bullock 9.3 FPs (HOU vs. PHI)
Must Avoid: Greg Zuerlein 5.8 FPs (STL @ SF)
Defense
1. Seattle Seahawks 13.6 FPs (SEA vs. OAK)
2. Cincinnati Bengals 11.8 FPs (CIN vs. JAC)
3. Kansas City Chiefs 11.3 FPs (KC vs. NYJ)
Breakout Candidate: Washington Redskins 8.0 FPs (WAS @ MIN)
Must Avoid: Arizona Cardinals 0.2 FPs (ARI @ DAL)
Injuries to Watch
1. Cincinnati Bengals - A juicy for the Bengals against the Jaguars is muddled for fantasy purposes due to injuries to Gio Bernard and A.J. Green. It looks most likely that Gio will miss the game and Green will play. In that case, Jeremy Hill is a top five RB and both Green and Mohamed Sanu are Top 20 wide receivers. If Bernard plays, he would be splitting time with Hill, yet would still be a top ten RB with Hill sliding just outside the top 25. If Green misses the game, Sanu would become a top five WR for Week 9. If everyone plays, quarterback Andy Dalton moves up from the #9 QB to #6 for the week.
2. RGIII/Tony Romo - Robert Griffin III and Tony Romo both appear likely to play this week. They rank #10 and #8 respectively in our quarterback rankings. If either misses the game, his backup would not be a top 12 quarterback. However, missing time would affect other players. Running back DeMarco Murray and wide receiver Dez Bryant would still be decent plays for the Cowboys, but it would end there for Dallas' startable players without Romo. Without RGIII, running back Alfred Morris would actually move up the rankings a litlte bit, while other Redskins' fantasy players would be slightly downgraded.
3. Tampa Bay Buccaneers - It's a different scale, but the Buccaneers are similarly questionable at running back and wide receiver. In a week wtih six teams on bye and several adverse weather issues impacting other offenses, these question marks have a tangible impact on the fantasy landscape. Doug Martin is unlikely to be much of a factor, but if it is announced that he will play/contribute, all Tampa Bay running backs should be avoided. If he is out, but Charles Sims plays, Bobby Rainey is #13 for the week. If Sims and Martin both miss the game, Rainey is a top ten play at RB for the week. Vincent Jackson and Mike Evans are both on the injury report. Either only has startable value this week if the other is out.
Fantasy Football Rankings for the top 200 players in standard and PPR scoring leagues each week will be posted on Wednesdays at 8 pm ET during the season. Subscribers to the weekly Picks or Fantasy packages will receive projections for every player as well. Rankings and projections will be updated throughout the week as injury information or other news dictates. Subscribers also receive optimized daily fantasy lineups and in-depth analysis for DraftKings.com and FanDuel.com in an feature that posts every Friday. To know exactly when picks and rankings are posted, please sign up for our NFL Pick Availability Alerts.