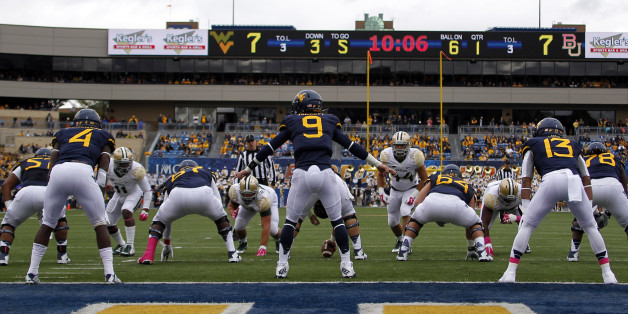 We turn our attention this week to a conference that quietly has five top 15 teams in our latest College Football Power Rankings -- the Big 12 (the SEC also fits that billing, but has dominated the Game of the Week). Fresh off a win over Big 12 conference favorite (at the time) Baylor, West Virginia travels to face Oklahoma State in this week's Game of the Week. The Mountaineers are slight underdogs to Mike Gundy's squad, yet should be favorites according to PredictionMachine.com's analysis, which includes 50,000 simulations of every college football game.
West Virginia has moved up to #15 in our College Football Power Rankings (just one spot ahead of in-state Marshall). The Mountaineers have the third best ranked offense overall, with a top ten pass offense led by senior quarterback Clint Trickett, a transfer from Florida State, and star senior receiver Kevin White, a junior college transfer. Trickett and White have combined for 1,020 yards on 69 completions for seven touchdowns already this season. White, a 6'3", 210 lbs pass catcher with great hands and elite speed, is quickly moving up draft boards with his performance and improvement this season. While Oklahoma State is known for its prolific receivers (Dez Bryant, Justin Blackmon, etc.), West Virginia has the best at that position in this matchup - and he just may be the best overall player on the field.
But this is not just about White. West Virginia has a top 40 defense against the pass and the run as well. On the year, the Mountaineers have played the 11th toughest schedule in the country so far and are 5-2 straight-up and 3-3 against-the-spread, while allowing 27.1 points-per-game and scoring 37.3 points-per-game. West Virginia is out-gaining its opponents by 0.79 yards-per-play and has picked up 11% more passing yards than its opponents on the season. With respect to the total, it is worth noting that 397 points (66.2 a game) have been scored in the Mountaineers six FBS games, including four of five Big 12 games topping 65 points.
Oklahoma State ranks 43rd overall in our College Football Power Rankings. Simply put, the Cowboys are not really good or really bad at anything. They rank between 29 and 55 nationally (out of 128 FBS teams) in all of our strength-of-schedule-adjusted efficiency metrics. That is a great way to remain competitive against decent teams, yet not usually characteristic of a team that should be favored against a top 15 squad in the nation (even with a top ten home field advantage).
The Cowboys are also 5-2 straight-up, yet have faced just the 56th ranked FBS schedule in the 2014 season. They are also just 2-3 against-the-spread. Oklahoma State has been out-gained on a per-play basis by its opponents. This has remained true through a quarterback change as Daxx Garman now starts with J.W. Walsh out for the season. Garman has completed just 55.4% of his passes and has been intercepted on 3.8% of his throws (average is just under 3% and close to 2.5% for Power 5 college teams). Oklahoma State is also well below average in allowing sacks on 8% of its passes (West Virginia dialed up constant pressure in a win over Baylor last week -- and it worked with four sacks and Bryce Petty's worst start in his career). The Cowboys have out-scored opponents by an average score of 33.1-27.0 (West Virginia has a double-digit margin against the 11th toughest schedule, Oklahoma State is less than a touchdown versus the 56th schedule).
According to 50,000 games played by the Predictalator, West Virginia wins over Oklahoma State by an average score of 38.4-30.7. As one point underdogs winning straight-up, the West Virginia Mountaineers cover the spread 57.2% of the time, which is strong enough to justify a $51 wager from a normal $50 player (our strongest free pick of the season, but there are five stronger sides on Saturday). The total goes OVER (63) 55.2% of the time, which warrants a $30 play from a normal $50 player and is the 14th best over/under play of the day.