Nardyne Jefferies stood up straight yesterday, unflinching in the bright mid-day sun, and looked at the crowd of journalists, politicians, and activists. "They didn't just kill my child. They killed my child's dreams, and they killed my dreams... They killed generations."
Just a few weeks ago, Jefferies lost her only child, Brishell, in a barrage of AK-47 bullets as the teen stood among friends in Southeast D.C. mourning the recent gun death of a peer. The ironies don't end there. Jefferies had been home-schooling her 16-year-old because she wanted to protect her from the reckless street violence that ultimately took that bright student's life, and the lives of four other youths in a gangland-style assault that surviving family members call a massacre.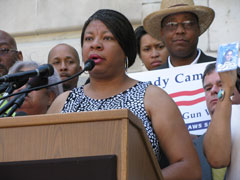 Want another irony? Jefferies and nearly a dozen others who lost loved ones to gun violence were standing on the steps of D.C.'s City Hall with D.C. City Council members and the mayor to protest yet another bill that bears the heartless insignia of the NRA. Sponsored by Senators John McCain (R-Ariz.) and Jon Tester (D-Mont.), the proposed legislation would gut D.C.'s laws -- written to comply with the recent Supreme Court decision -- that still try to make it harder for dangerous people to get guns. At the same moment, just two miles away, the Homeland Security Committee of the U.S. Senate was holding a hearing on closing the loophole that makes it easy for suspected terrorists to legally buy guns.
How much more ridiculous can Washington get? Closing the "terror gap" is the right thing to do. According to the latest General Accounting Office report, this breach in federal law allowed people on our government's Terrorist Watch List to buy guns and explosives 1,119 times over the past six years. Such legislation is long overdue. But another irony is that just closing the terrorist loophole wouldn't stop someone, such as a sympathizer of Osama bin Laden, from going to a gun show in almost any American community and buying a gun or assault-style weapon from a private seller. As of today, private sellers aren't required to conduct a Brady background check.
Consider the words of Sen. McCain, a lead sponsor of an amendment in 2004 to close this offensive legislative gap: "We need this amendment because our second amendment rights do not extend to criminals who violate our laws and terrorists who hate this country... We also need this amendment because my law-abiding constituents who attend gun shows in Arizona should not have to rub shoulders with the scum of the Earth who use this loophole to evade background checks to buy firearms to peddle to God knows who." This must be the richest of all ironies, and it sickens me.
Every day mothers like Jefferies, and fathers like D.C. resident Kenny Barnes, who arranged the news conference, suffer mentally and emotionally because, in many cases, as Jefferies pointed out, they don't just lose children. They lose their children's dreams and they lose chances to become grandparents and great-grandparents. They lose, and we lose, generations to gun violence because our elected representatives refuse to pass commonsense laws that won't cost a dime.
It was good to see Senator Joe Lieberman, who chairs the committee, speak so eloquently about closing the "terror gap." Several other senators attended the hearing and spoke persuasively as well. It is my hope that they close the "terror gap" and fast. But if Washington doesn't also close the gun show loophole and start passing other laws that could reduce the bloodshed and heartache witnessed by ordinary Americans every day (to the tune of 30,000 lives lost and 80,000 people injured each year) then the "terrorists" who attack our neighborhoods -- not just those who target Times Square -- will continue to win.