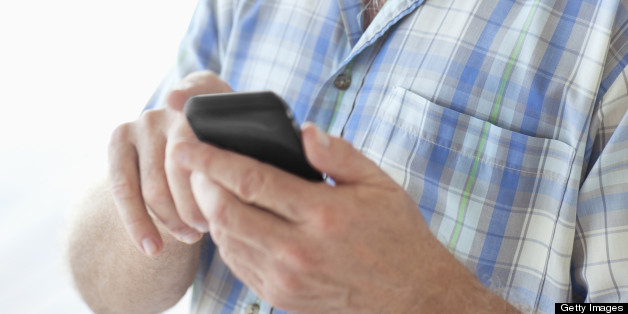 Just a few short years ago, the term "Smartphone" sparked confusion among all but the savviest of teens and young adults. Back when the cloud existed solely as white matter in the atmosphere and before Long Term Evolution (LTE) provided instantaneous access to the universe at fingertips' length, it would be difficult to imagine a cultural revolution as sweeping as smartphone adoption has been among the boomer generation.
A 2012 report by The Pew Research Center finds that adults near and above age 50 have contributed to a national shift in ownership from more basic mobile phones to advanced smartphones within the overall adult population.
The rapidity of this change is reflected in data captured over about a year. In 2012, 44 percent of adults ages 45-54 claimed smartphone ownership compared to only 28 percent in the previous year. Adjusting the demographic to adults between the ages of 55-64 still shows close to a ten percent increase in adoption, up from 22 percent to 31 percent in 2011 and 2012.
What's more striking than raw numbers is the influence -- a purchasing power of sorts -- that representation in the digital arena is affording older adults. Smartphone access and increasing knowledge of its functions and platforms means that this demographic can partake in what mobile analysts view as one of the biggest opportunities in the field -- digital health.
As recently as March 2013, the top ten mobile applications that help manage health, fitness and lifestyle generated up to four million free and 300,000 paid downloads daily, according to an article published by Mobile Marketer.
Approaching older age, boomers especially need to be cognizant of the critical role that management and monitoring play in maintaining good health. This is why the research that fellow Arizona Digestive Health gastroenterologists and I will be presenting at this year's Digestive Disease Week conference is both exciting and potentially lifesaving. We were able to develop the first doctor-created smartphone app that aims to increase quality bowel preparation with the aid of timed alerts, tips and pictures for colonoscopy preparation.
In the days leading up to a colonoscopy, there are several steps in bowel preparation that could invoke confusion, lead to mistakes and ultimately result in a "bad" or cancelled screening.
The study compared the quality of bowel preparation by patients who used the app to those who did not. We found that 84 percent of individuals who used the app received a good score on the 9-point Boston Bowel Preparation Scale. By contrast, only 56 percent of those who didn't use the app received a good score.
This finding has huge implications for treatment, patient satisfaction and further research in how the use of technology can impact healthy outcomes, specifically among this demographic.
Colorectal cancer is the third most prevalent cancer in the U.S. when considering men and women together. The American Cancer society anticipates that 142,820 people will be diagnosed and that 50,830 will die from colon cancer in the U.S. this year alone.
When polyps or precancerous growths are detected at a local stage confined to the colon or rectum, as colonoscopies enable, more than 90 percent of those diagnosed with cancer survive more than five years. As the cancer begins to spread, survivorship rates simultaneously plummet.
Several other researchers and app developers have realized that early intervention is pivotal to ensuring quality-of-life and cost-savings as related to health. Similar to cancer prevention, chronic issues, such as heart failure, hypertension and diabetes, have gained steam in the mobile marketplace, spawning an array of calorie-counting and heart-monitoring applications, now available to demographics predisposed to developing such conditions.
The success that we've experienced testing the efficacy of the Arizona Digestive Health app demonstrates new ways that physicians and experts in the field can bring cutting edge GI research into the hands of consumers, more tangibly than before. We are extremely excited to be featured among other presenters at Digestive Disease Week 2013, a forum that has enabled a network of digestive health professionals to explore future trends in prevention, diagnostics and treatment methods over the past several years.