Cold night. Some good art on the horizon.
Born in Illinois, William Conger has been a significant figure in Chicago's art landscape for many decades. But more than that he has witnessed the growth of art in Chicago as a participant for even longer. Conger is wise and experienced and the evidence is clear in his new paintings which opened with a reception at Roy Boyd Gallery.
Conger is a professional whose work I used at McCormick West where he was commissioned to make a huge 12 x 14 foot painting. And that considered aspect shows up here too, with thought out compositions and measured color combinations. Most often his compositions employ both abstraction and illusions to real topographical content, like the lake, a skyline, highways or other urban elements. I've always enjoyed the intensity of color and light, and the intelligent compositional play. Well done, William, for a long and solid career. I look forward to seeing more Conger paintings in his comprehensive survey exhibition which opens at Chicago"s Cultural Center in the weeks ahead.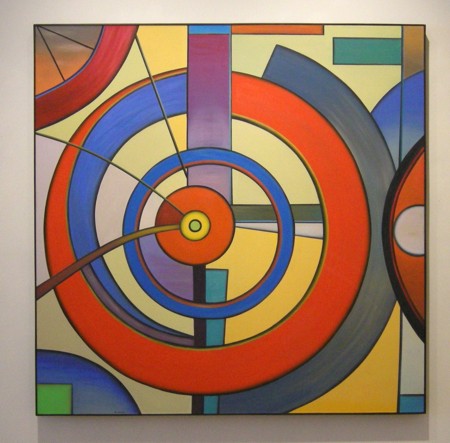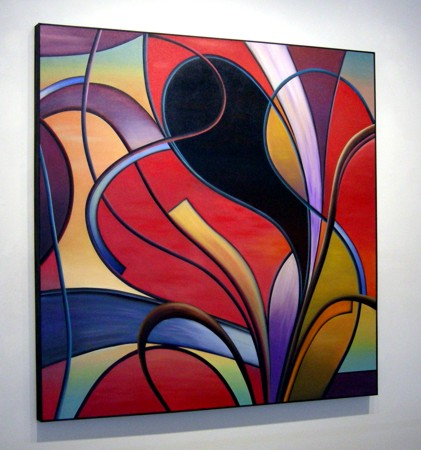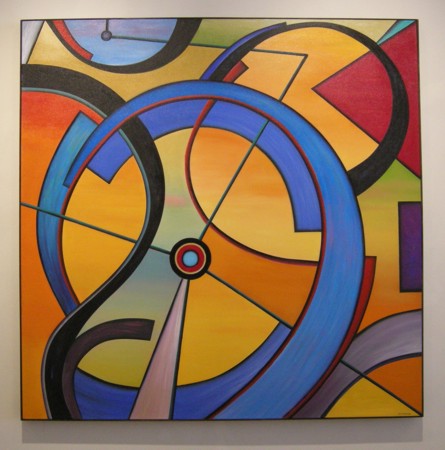 Scott Fife is damned good. He makes sculptural portraits out of mundane cardboard and drywall screws that are lyrical in their ability to reveal the soul of his subjects (A young Cassius Clay, Abe Lincoln and a young and old Ed Kienholz.). The offbeat use of divergent materials doesn't feel the slightest bit gimmicky in his convincing renderings of our real world and art world heroes. It's like getting to stare at someone you know almost intimately but would be too self conscious to actually do so. Most of these heads appear to be over two feet tall and one seems to be almost 4 foot. All the simplicity of the materials is present for us to examine, but somehow the whole of these pieces certainly transcends those materials and almost the art almost breathes. This is the kind of quality I expect to see more often in Chicago and unfortunately don't. In this exhibit Tony Wight sets a high bar for the level of gallery exhibits we should be seeing.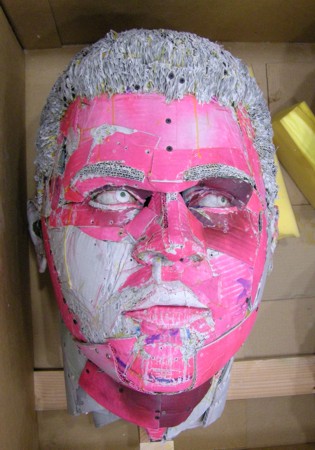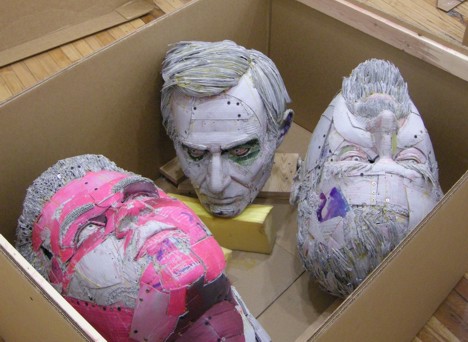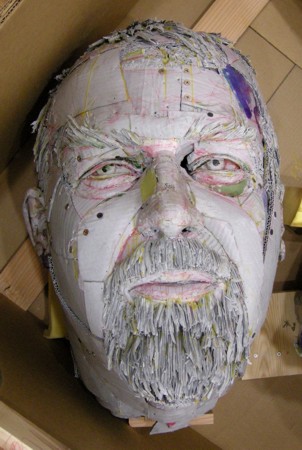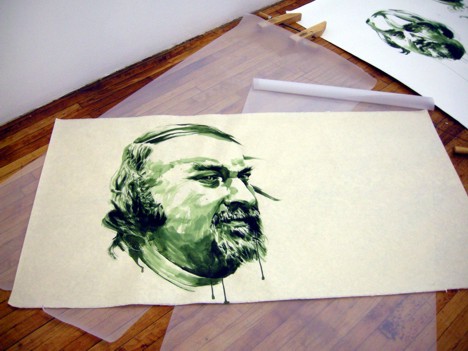 Two shows at Rhona Hoffman open tonight. Usually I agree enthusiastically with Rhona's taste and presentations. E.V. Day, one of those women who neutralizes her femininity by dispensing with her first name of course makes art about women's issues. This feels so 1973. She takes archetypal women's undergarments like a corset or underwear and pulls, tugs, and stretches it in ways that are actually interesting . . . until you realize that her intent is to free it from it's restraints, which of course doesn't happen in the art. The constructs are clumsy. She works with erector set looking corner bead, but Chris Burden she isn't, nor do I sense that she is comfortable with her materials. Wire, filament, couplings, and chain do not work well together and fight for attention. E.V. Day has talent. My hope is that by the time she realizes her content is passé she will learn how to make better use of her ability.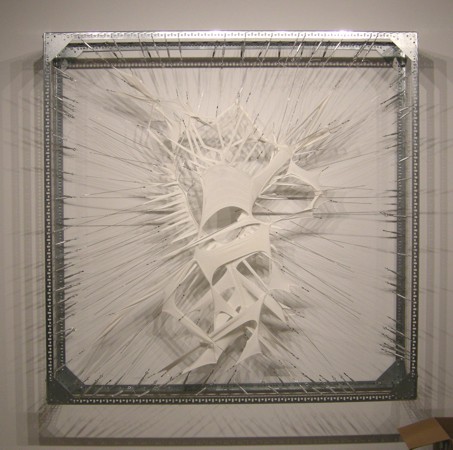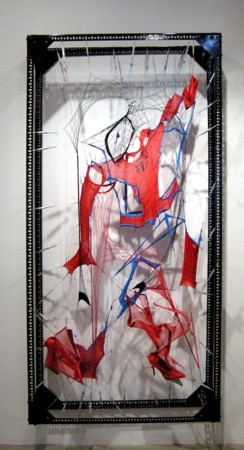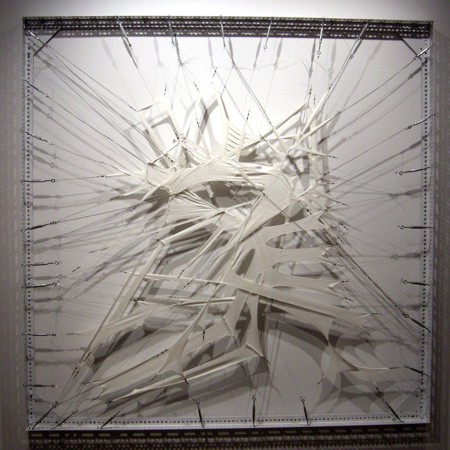 In the smaller front gallery at Rhona's, Stephanie Brooks presents simplistic poem facsimiles that have a profound beauty. They are so well fabricated they start to feel morose, as if E.E. Cummings stressed penmanship separate and over content. I like art that has some ambiguity to it, where I get to participate in the aesthetic deciphering. Here the work just exists, elegantly, perfectly and frozen. I sense a presence of humor in some of the work, but mostly I think it's good work that just isn't for me.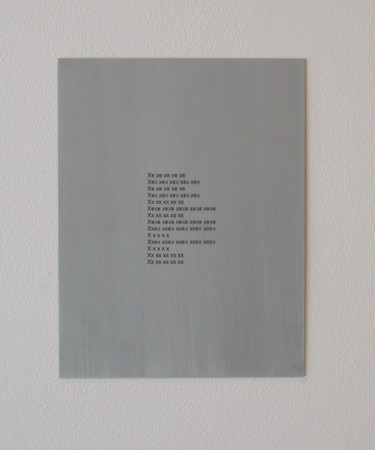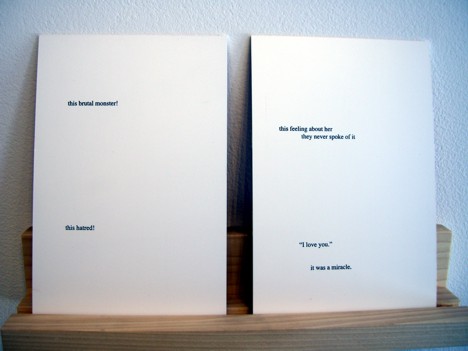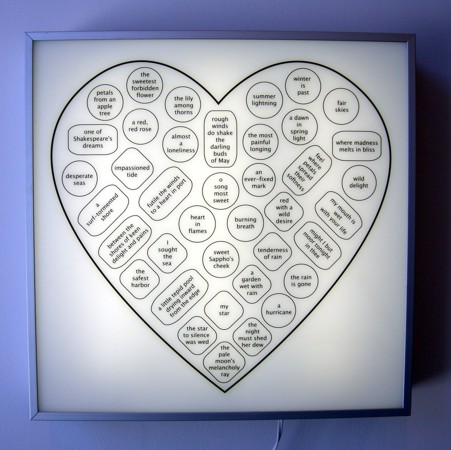 Feel free to let me know what you think. The shows I've discussed will get you thinking - or feeling. I'm interested in your response. In the meantime, I still want to see better exhibits more often.
Stay warm,
Paul Klein